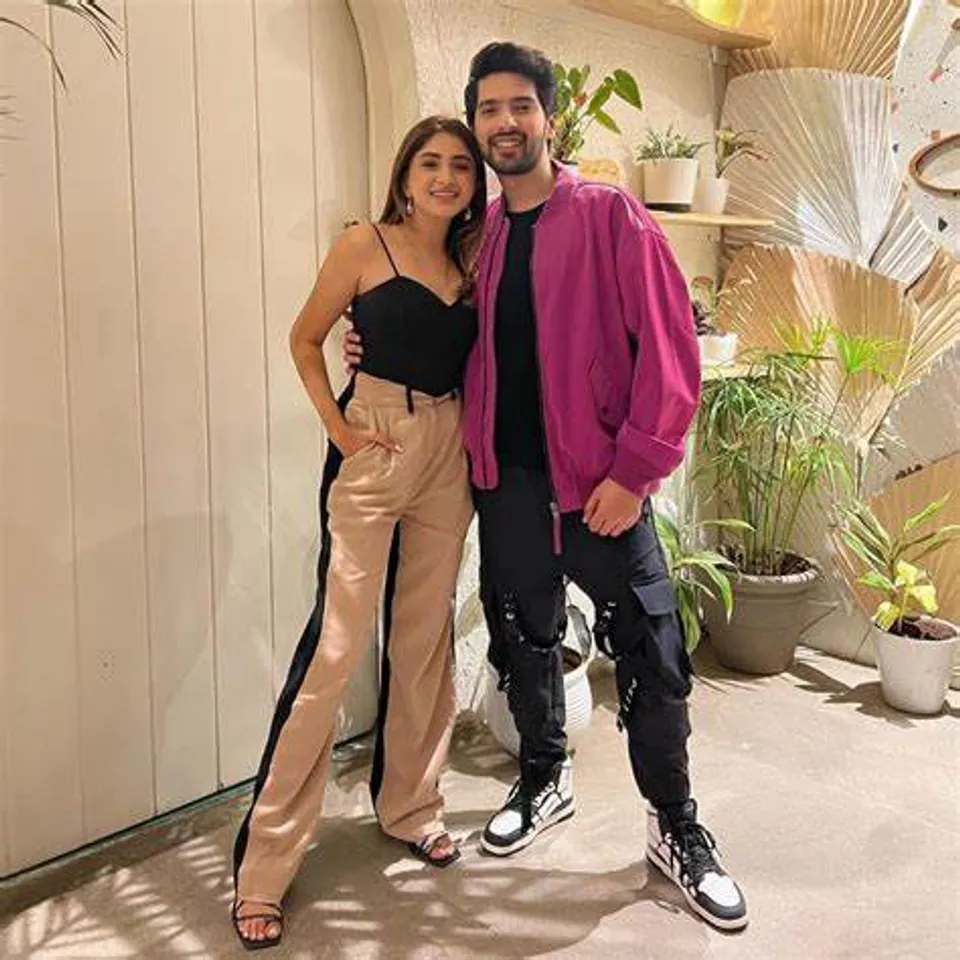 Love stories have a unique way of enchanting us, and when two souls connect in a beautiful bond of commitment, it becomes a moment of pure bliss. Recently, the Indian music industry witnessed a delightful celebration as renowned singer Armaan Malik and famous influencer Aashna Shroff exchanged rings, symbolizing their engagement. Stealing hearts with their captivating personalities and fashion choices, the couple embraced a pastel-themed ceremony that mirrored their elegance and romantic journey.
Fashion Choices: A Delicate Palette
The engagement ceremony testified to the couple's charming taste in fashion. Armaan Malik looked dashing in a tailored pastel-hued suit, radiating sophistication and panache. His soft tones complimented his charismatic persona, creating a visual harmony that matched the event's ambiance. This dapper look left everyone in awe, revealing the singer's exquisite taste in fashion.
Influencer Aashna Shroff exuded grace and beauty as she donned a pastel-colored ensemble that showcased her individuality and style. Her choice of a flowing gown in delicate hues was a nod to her feminine grace, becoming the epitome of elegance during the engagement ceremony. The couple's synchronized choice of pastels accentuated their natural chemistry and set the tone for the fairy-tale atmosphere.
A Celebration of Love
Armaan Malik and Aashna Shroff's engagement was more than just an exchange of rings; it celebrated their love and commitment. The couple's impeccable fashion sense seamlessly blended into the event's romance. The enchanting pastel decor, adorned with twinkling fairy lights, floral arrangements, and dreamy aesthetics, turned the ceremony into a magical affair, mesmerizing guests. The bond between Armaan and Aashna was evident as they exchanged heartfelt vows, promising to stand by each other in joy and difficulty. Their engagement marked a beautiful milestone in their journey together, capturing the essence of their love story in an enchanting celebration.
Looking Ahead
As Armaan Malik and Aashna Shroff embark on their journey towards matrimony, their engagement has set the bar high for the forthcoming wedding festivities. With their impeccable taste, there is no doubt that their wedding will be a delightful blend of elegance, style, and harmonious celebrations.
Armaan Malik and Aashna Shroff's engagement served as a reminder that love knows no boundaries and that the power of connection can be celebrated in the most enchanting of ways. Their choice of pastel-themed attires perfectly captured the radiance of their love on their special day.