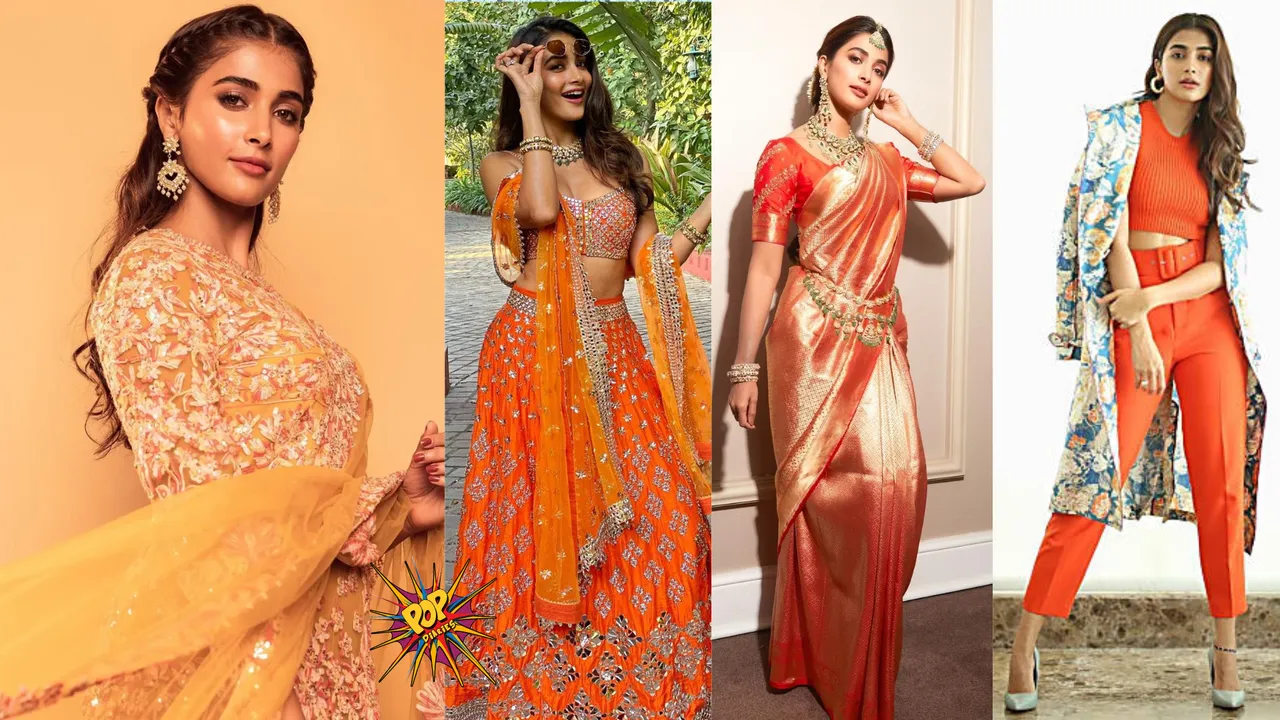 It's here, Navratri! Also called as Navaratri, Sharad Navratri, etc spans over nine nights, worshipping the supreme Goddess Durga Devi in nine forms. The forms include Maa Shailputri, Maa Brahmacharini, Maa Chandraghanta, Maa Kushmanda, Maa Skandamata, Maa Katyayani, Maa Kaalratri, Maa Mahagauri, and Maa Siddhidatri. Each Goddess holds a profound significance, representing various aspects of life, power, and spirituality that devotees celebrate by adorning in nine specific colours. 
As Navratri 2023 approaches (October 15-23), the first day embraces the vibrant hue of 'Orange', Symbolizing energy, and determination and representing the beginning of a new dawn, marking the birth of Goddess Shailputri, the daughter of the Himalayas. ALSO READ: The Divine Palette: Unveiling The List Of Nine Colours For Navratri 2023 & Maa Durga's Significance!
While devotees love to opt for specific colours in the worship of Maa Durga, here got you a perfect inspiration from none other than the actress Pooja Hegde. Celebrating her birthday today October 13, becomes the epitome of this hue. From lehengas to sarees, she offers style inspiration for Navratri day 1 occasion. 
All-Orange Outfit Inspiration by Birthday Queen, Pooja Hegde
Lehenga
To shine at Garba night? Here's an orange-coloured lehenga inspiration by Pooja, accessorizing the traditional attire with a few bangles, a kundan necklace, a small golden purse and glares to look cool.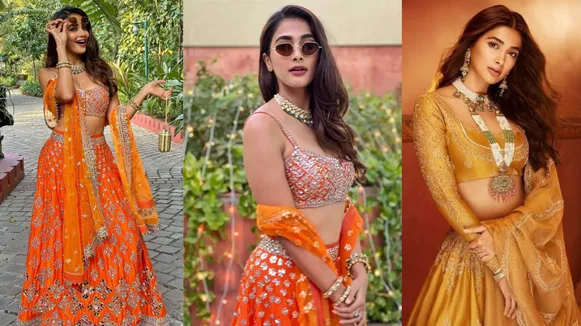 Durga Puja 2023: Tradition Meets Innovation, Look At Kolkata's Spectacular Theme Pandals!
Saree
South Indian beauty's ethnic silk saree and Maharashtrian's navhari saree to ruffle saree adding a modern twist, Pooja is a true icon for girls' every choice out there.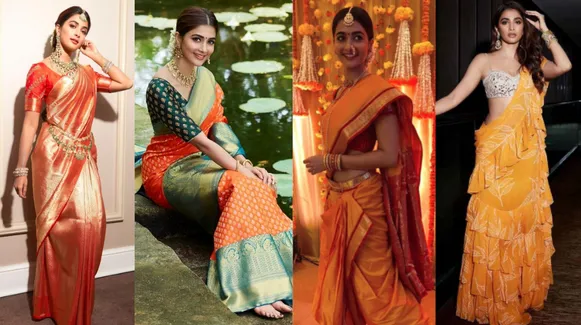 Traditional Dress Sets
If you are not a saree person, then dress sets mark its place. This festival, sparkle in an embellished traditional long dress paired with a net dupatta and if you are not a heavy dress person then, Pooja also has an inspiration of all-orange kurta set alluring simplicity.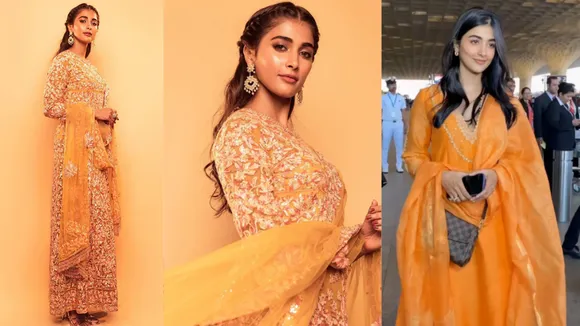 Durga Puja 2023: Biggest & Creatively Theme Pandals To Visit In Mumbai
Styling Formals, One pieces & Gowns In Office
Pooja is here to your rescue in professional mode also. Seamlessly gracing this rare hue through one-pieces, gowns, and co-ord set which are giving vibes of formal wear, stands as the best inspiration for office hours for this Navratri season.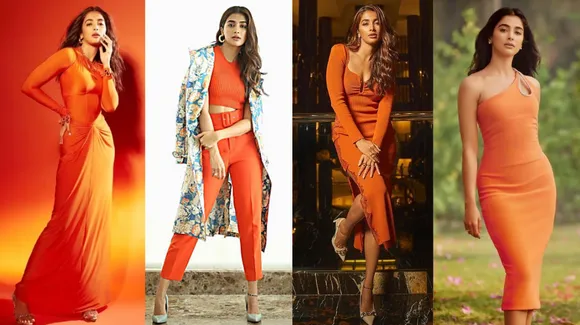 There's anything she cannot carry? The ability to effortlessly carry the vibrant hue of orange has made her stand as a true icon and symbol of inspiration, encouraging fashion enthusiasts to embrace the colour with confidence and flare, and dive into the festive spirit with Pooja's pure touch on Navratri fashion!
Here's wishing the stunning Pooja Hegde, a very Happy Birthday!
And of course, Happy Navratri! <3
ALSO READ: Long Live The Shahenshah: A Legacy Of Amitabh Bachchan & His Cinematic Greatness Continues!