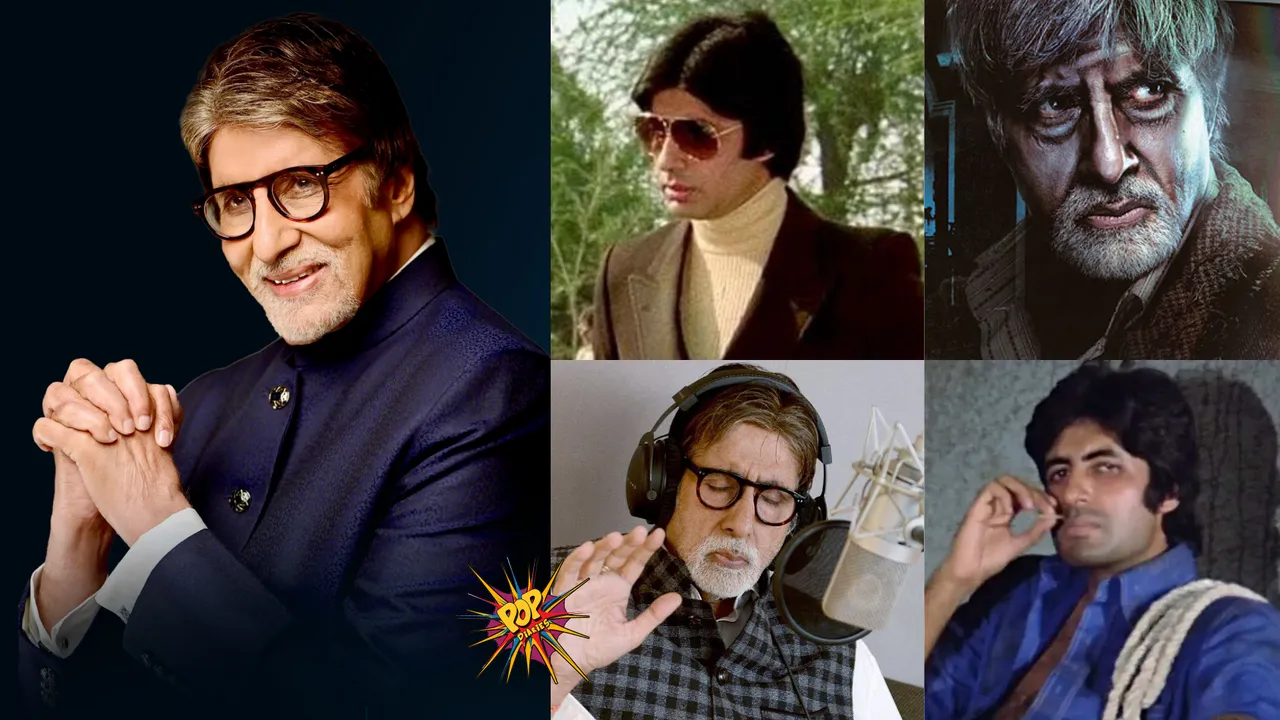 Greatest of All Time, The Amitabh Bachchan! The living legend needs no introduction on what enormous contribution he has given to the Indian cinema by taking at a global level. The man who never rests and invisibly continues to prove his unmatchable legacy from then till now, inspiring generations with his unstoppable force of reckoning. 
Today marks an auspicious day for not only him but for his fans too. Let us drive into Mr. Amitabh Bachchan's legacy which only he can continue to do. Anything might come and go but no one can ever match this timeless handsomest star!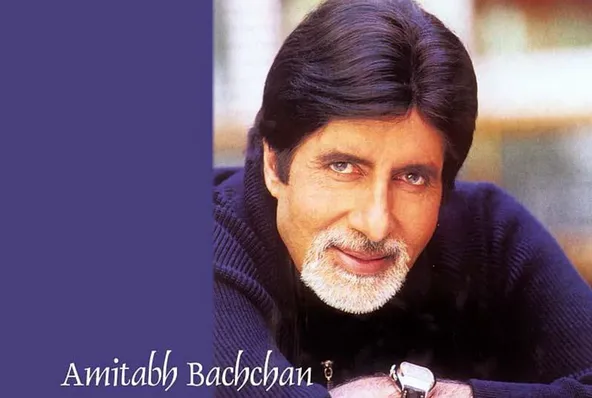 A Cinematic Legend Whose Reign Knows No Bounds!
A Cult Hero:
The way from the first film of Big B 'Saath Hindustani' earning a National Award for Best Newcomer to proving his charismatic screen presence rose him as a greatest cult hero in the 'one man industry' and a household name in every Indian heart. Brought the "stud" era into the glitzy world of cinema. Before him, no one used to call any hero a stud but whenever we see him our eyes shine and we call him a "stud", indeed a true one. Also, went on to introduce the 'tall dark handsome' feel through his attractive persona, with whom anyone can easily fall in love. Referring him with several names, including 'Shahenshah of Bollywood', 'Star of the Millenium', 'Greatest star of stage or screen', 'Reflection of the huge popularity of Indian films', 'The Undisputed Godfather of Bollywood', 'the Biggest Star in the World' and what not!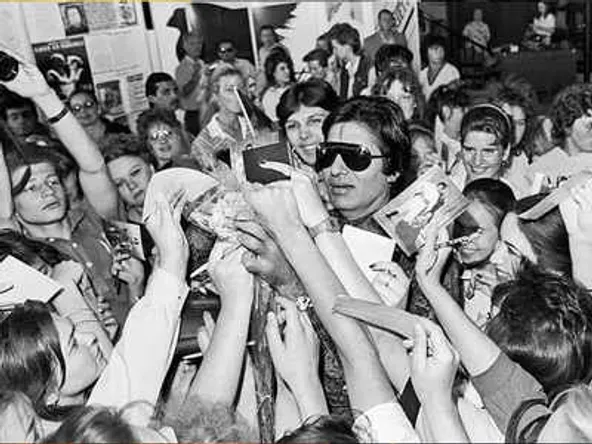 A true cult hero, who has introduced us to "what is stardom" and Mr Bachchan taught the meaning by driving us through his glory.
Leading a Cinematic Era:
The actor has led a complete era of cinema through his strike of angry young man, whose name has become synonymous with Indian cinema through his unparalleled talent and magnetic screen presence. Being a leading hero in every other film, his journey in the industry is marked by iconic and memorable performances. From the angry young man in movies like Zanjeer and Deewar to poignant roles such as Anand and Sholay, his impeccable expression of emotions has left an effortless connection and indelible mark in the hearts of millions.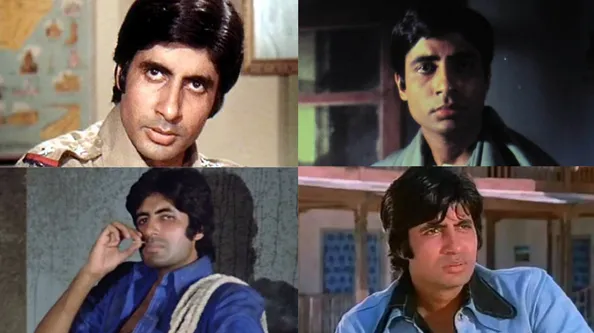 Mainly highlighting his leading cinematic era of the 1970s to 1980s, has made French director François Truffaut call him a "one-man industry". What's more to prove his legacy, that continues to rule!
An Unconventional Romantic Hero:
Romancing on-screen makes him an unconventional heartthrob and a stud hero! Unlike the typical chocolate-faced heroes of his time, he gave life to "tall, dark and handsome" vibes, just like the way we used to see in Mills & Boon's romantic books. The way publisher has always poured life into most mesmerizing heroes with pure stories, The Love Stories! So, every Mill & Boon has Mr Amitabh Bachchan in it because they are all tall, dark and handsome, looking his best and making every girl out there dream of a tall guy as their prince charming.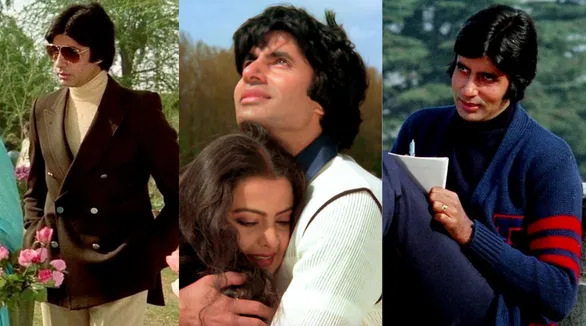 From the soulful lover in Kabhi Kabhie to the passionate poet in Silsila, Bachchan's presence has brought a refreshing authenticity to romantic roles which has not only endeared to fans but also shattered stereotypes, paving the way for a new era of leading men in Indian cinema.
Gravitas in His Voice:
If Big B's characters have a fanbase then his ethnicity in powerful voice is in a league of its own, being undefinably outstanding! The man who possesses a base that carries an unmatched gravitas with the greatest capability of evoking deep emotions and leaving a lasting impact. His rich, unique voice not only brings life to his own characters but also gives a heart-touching cinematic experience whenever he lifts up the mic for narrations that elevate the storytelling event. And beyond his acting prowess, he has also left his incredible mark in the playback singing and who said a hardcore voice cannot sing? Amit Ji vanishes such myths through his musical renditions. From Khaike Paan Banaras Wala, Mere Angne Mein, Rang Barse, and Shava Shava to Main Yahaan Tu Wahan he has given memorable songs in his voice which continue to play on every speaker even today.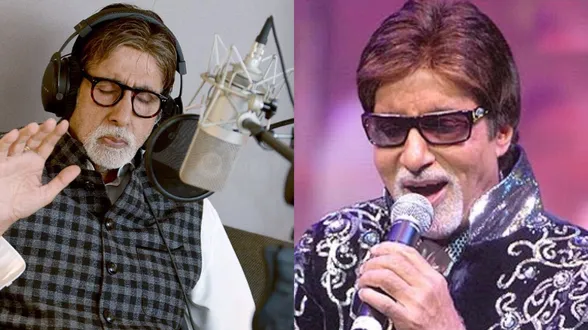 Whether narrating a tale or humming a melody, Mr Bachchan's voice dominates a rare quality that adds depth and sincerity to every word, making him a true maestro in the art of narration and playback singing too.
An All-rounder Entertainer:
Amitabh Bachchan's versatility knows no bounds, standing him as the epitome of an all-rounder entertainer on the Bollywood screens and seamlessly donning every role that has to be done. From bringing out our inner child by getting into the shoes of a kid suffering from progeria in Paa and teaching various lessons by being our backbone through his father roles. From leaving our core with teary eyes to tickling our stomachs with the loudest laughs. From scaring us with horror flicks to giving chills with gripping thrillers. From falling in love through his romance to bringing intensity to dramas. There's no character he has given depth and breathed life into, making him one of the most revered and cherished actors in the history of Indian cinema.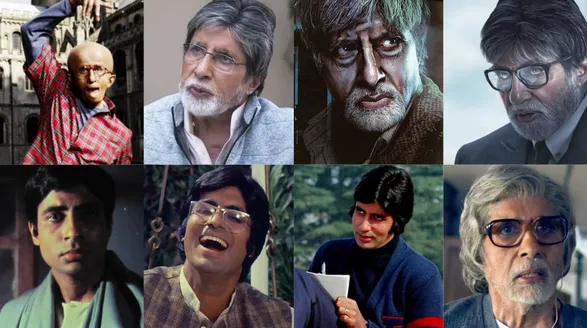 That's how his individuality roars and sets him apart, making him a true powerhouse performer. Leaving no stone unturned at the life of 81, the perfect inspiration to 'age is just a number', goes on to shine on big screens through his versatility even today. While our chase continues for more memorable and boundary-breaking roles from the one and only.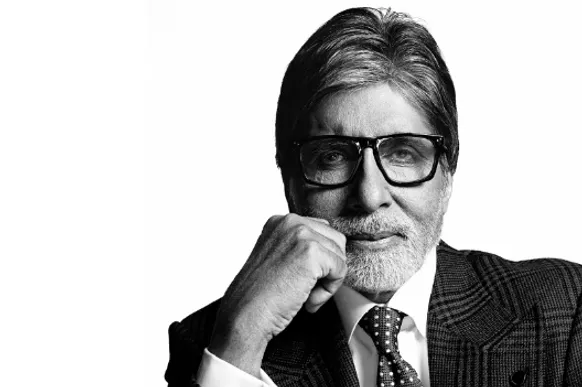 Dear Big B,
As you celebrate another year of brilliance, we salute your contribution, unparalleled talent, dedication, and timeless charisma and let you know that our love for you is endless forever. Here's wishing you a very
Happy Birthday, Amit Ji! ☆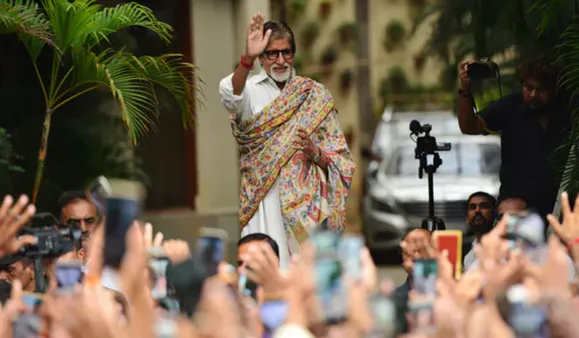 From being the first superstar of Indian cinema to always being the one, Long Live "The Shahenshah"! ♡
ALSO READ:
Beyond The Glamour: Rekha's Influence on Indian Fashion
From Shah Rukh Khan, Deepika Padukone To Rohit Saraf: These Bollywood Smiles Have The Power To Light Up The World
PAW Patrol: The Mighty Movie Review: Sweet Amusing & Heroic Adventure With Mighty Adorable Pups!
Durga Puja 2023: Tradition Meets Innovation, Look At Kolkata's Spectacular Theme Pandals!