Bhanurekha Ganesan aka Rekha! An incredible and unmatchable beauty rose from the Indian cinema. We cannot put in words how beautifully she has graced the silver screens with her astounding acting prowess, mesmerizing dance, striking fashion and a lot more. She can make us fall in love with her in a blink of an eye.
As we raise our glasses to toast the timeless diva on her birthday, it's impossible and isn't always enough to cheer and overlook at her profound influence on Indian fashion. Also, in the glitzy world of Bollywood, where fashion is often spoken, when we think of one name then it's without any doubt, Rekha! A powerful woman who has remarkably set her own mark and stood out as an individual by setting fashion statements in embracing Indian traditions wherever she goes!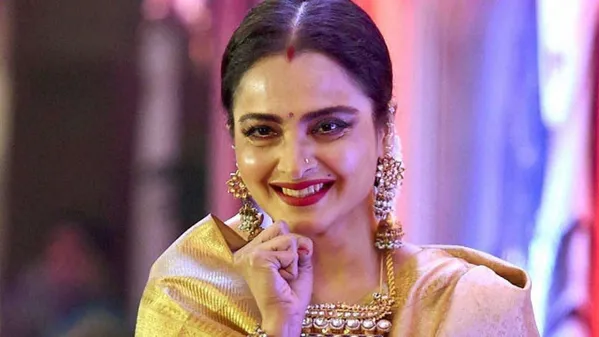 Exploring enchanting Rekha's fashion beyond glamour!
Elegance Chronicles of Kanjeevaram Sarees
Gracefully donning Kanjeevaram sarees, Rekha's love affair with it, is universally known. Finely draping this Indian woven silk over her shoulders everywhere she makes her appearance, has become a signature and a synonym with her name, inspiring generations with not just its piece of fabric but honouring our cultural pride by embracing the ethnic elegance. 
Whether it's a promotional event, her appearance on a television reality show, a glamorous red carpet or an award function, whichever place it is, the Silsila actress has always come up with sarees, making a strong statement of nailing six yards of drape anywhere you go.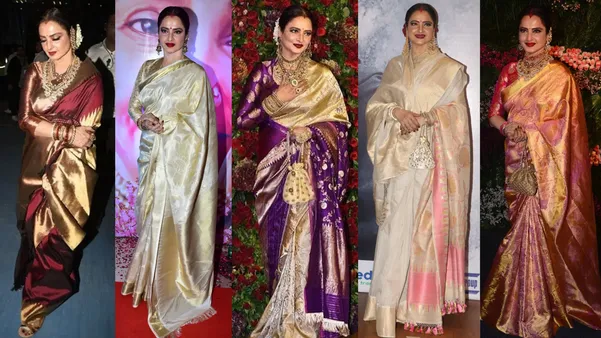 Queen Jewellery Fits
Not just sarees, but even the actress' jewellery are in a league of their own. Not simple but watching her effortlessly opting for heavy pieces of jewellery is outstanding to look out for. Delightfully enchanting the traditionally elaborated necklaces, a bundle of chunky bangles, intricate jhumkas, and not just that she also beautifully opts for a maang tikka which no one can do better than her. 
Everything at once! And she looks like a goddess.
Experimentation with Silhouettes
Rekha's regular saree drape wins the game but she also picks out in a fusion way too, which also makes her a modern diva. With a shiny full-sleeved blouse or a kurta paired with fit bottoms and draping this South Indian woven silk over it, aha, what an ethical fashionable fusion! A perfect inspiration for a contemporary style too.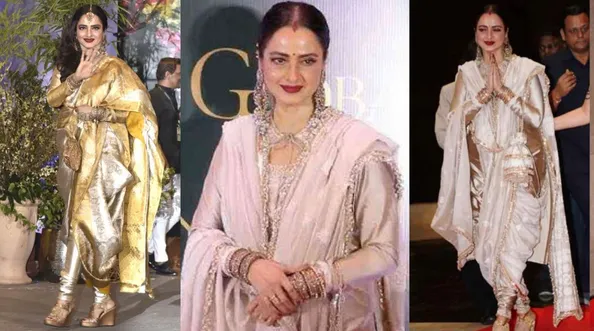 Ensembles apart from Kanjeevarams
Khubsoorat actress's fashion choices have never been conventional, her penchant for experimenting with an ethnicity other than just sarees, she is also seen in different silhouettes. From regal lehenga sets, and grand Anarkalis to chic palazzo suits which also bring out her love of honouring cultural pride with effortless grace.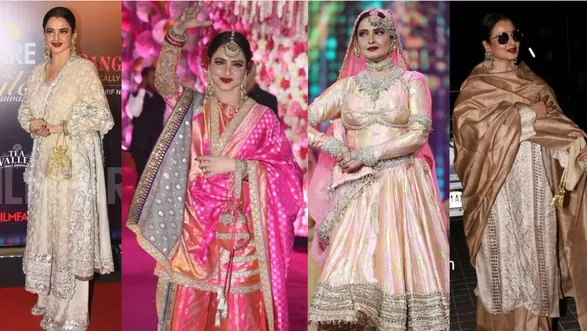 Classic Fashioning Hair & Makeup
At the age of 69, Rekha confidently defines age as just a number, carrying bold makeup looks very finely. Just like she aces red lip colour is what we highly admire her for, the same goes with her signature huge bindis, winged eyeliner, thick lashes, and bold eye makeup, there's nothing she can fix with ease. And what makes her even more special is adorning flowers on her hairdo by completing the overall traditional elegance!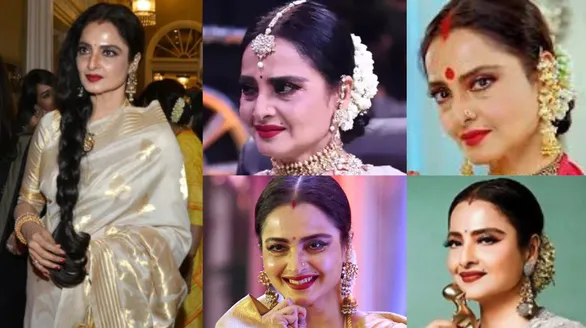 That's how the actress is set apart! In the sphere of Bollywood glamour, there's nothing to deny that Rekha has built her own world of glamour marvel that we cannot get enough of her ever. 
Here's to the woman guiding light in the ever-changing world of Indian fashion, confidently embracing what she always does and to the one who has turned every appearance into a fashion statement and every outfit into a masterpiece. An eternal queen of heart and style, 
Happy Birthday, Rekha! ♡
ALSO READ:
Durga Puja 2023: Biggest & Creatively Theme Pandals To Visit In Mumbai
Durga Puja 2023: Tradition Meets Innovation, Look At Kolkata's Spectacular Theme Pandals!