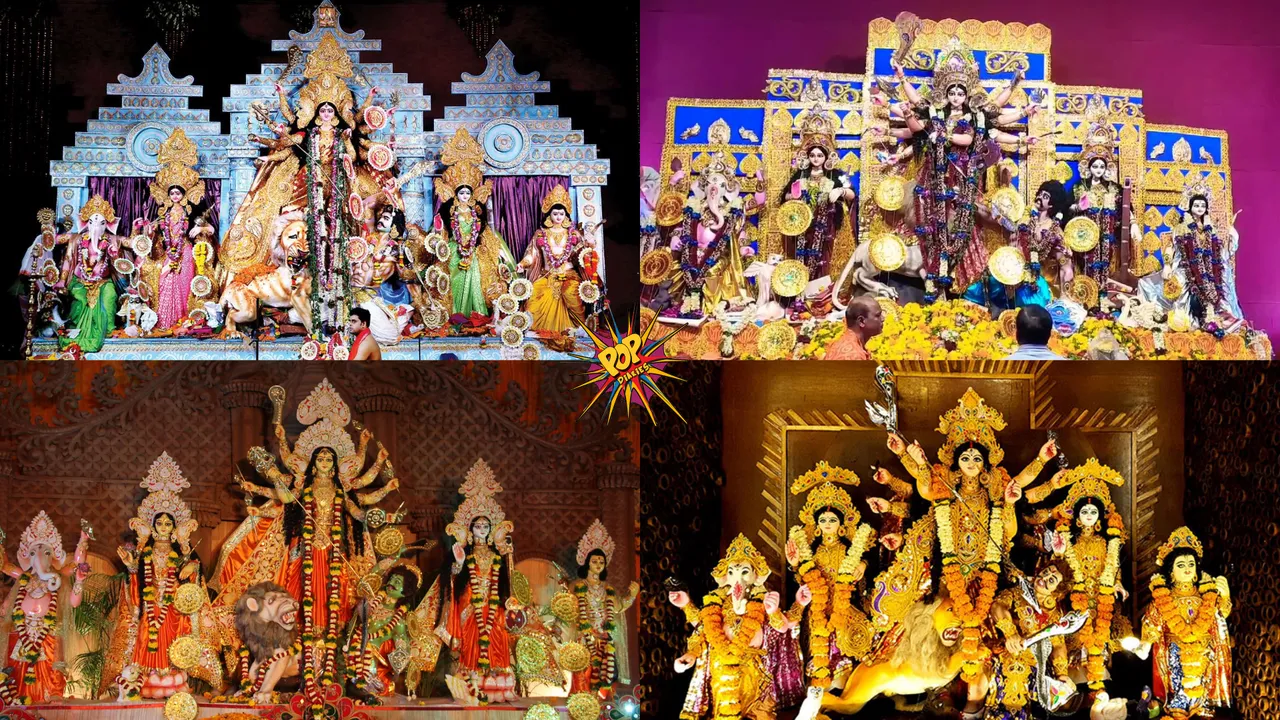 This year's Durga Puja this happening on a larger scale with not just vibrant pandals but with the very thoughtful and great initiative of themes being prepared across the city of Mumbai. And you cannot miss it!
From the love theme in Navi Mumbai, following the cricket world cup in Powai, girl-child education, and iconic BMC Building in Thane to initiating several charitable activities the various teams are doing most of it, which adds a deeper meaning to 2023's Durga Puja celebrations. Then what are you waiting for? 
Do not miss to visit these pandals on this Durga Puja Festive!
To note: Following the last four days of Navratri, this year, Durga Puja will be celebrated from Friday, October 20, 2023 to Tuesday, October 24, 2023. 
1. Cricket World Cup theme at Powai
Powai Durgotsav is one of the biggest in Mumbai, which had not 1 or 10 but 15 lakh footfall last year. As the Cricket World Cup is just around the corner, Powai Bengali Welfare Association Sarvajanin Durgotsav 2023 Chairman Sourav Mitra unveiled their theme for this year and it will be on cricket titled Divine Innings. 
Making it a massive and immersive experience for all devotees by dividing the venue into various creative parts of decoration by adding a pavilion, boundary zones, stands, the crease for the food stalls, the lounge, the umpires corner and also guess what? They will also have a 20x10 ft LED DRS screen where cricket WC cricket will be streamed LIVE. The temple or Natmancha will be a replica of the Lords Stadium where we our Indian won the first World Cup in 1983 and the various entrance gates will be named after famous Stadium names like Wankhade, Eden Gardens, Lords, etc. 
It doesn't end here, also there will be a net where people can play 10 bowls.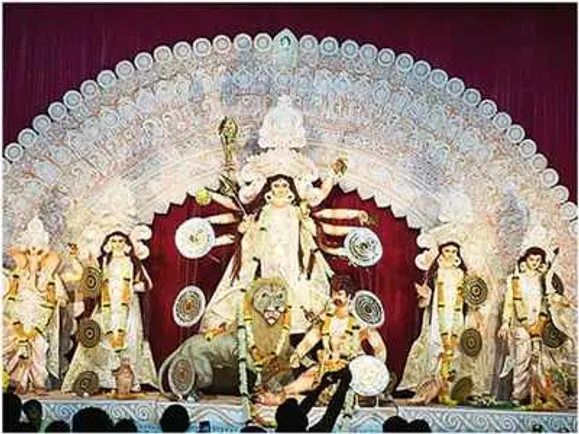 2. Bhalobasha (love) theme – Navi Mumbai
Bengali Association Vashi Durgotsav happens to be one of the biggest Durga Puja celebrations in the MMR region and this year is going to be unique with the theme of bhalobasha meaning love! Spread across a huge 50,000 sq ft air-conditioned hall with 60-70 stalls of food, books and handicrafts will be arranged. 
Ashim Dey says, "Our theme is Bhalobasha (love). We are working dedicatedly towards creating an old-age home here with all amenities, doctor availability, and medical facilities. During the pandemic, we saw how old people suffered and that's what led to this initiative. Even our pandal decoration is also on this theme of love."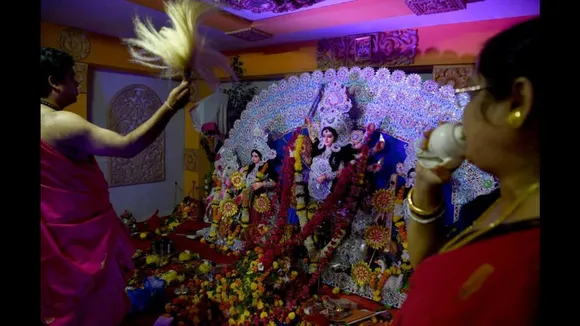 3. Rajbari Palace theme – Spandan Sharadotsav
As every year, now Spandan Sharodotsav is supporting the cause of girl-child education and creating a thoughtful theme of 'Possible together' where they highlight to let know the world that we can do everything if we work jointly to support a cause. And the organization will help a 48-year-old institute that supports girl-child education. And guess what? Their 'Rajbari' or palace theme pandal is being made by a set designer from Bollywood. 
Swapan Ghosh the general secretary says, "Ours is a paribarik (family) pujo not just sarbojanin (community)."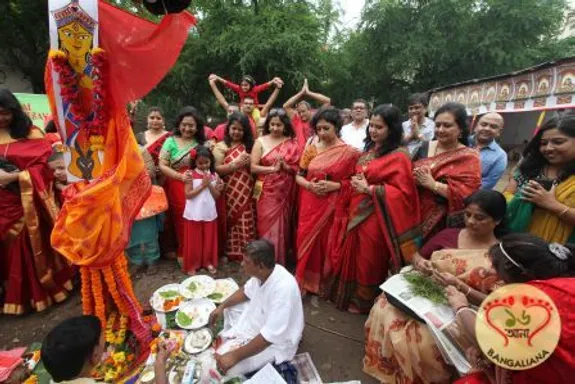 4. BMC Building replica theme – Thane
The true cultural presentation with Kolkata artisans by the New Bengal Club from Thane city will have a theme of nothing else but "Mumbai Meri Jaan" and their Devi pandal will have a replica of the iconic heritage structure, BMC Building which is being designed by Kazi Manirul Islam from Burdwan district of West Bengal. While, opting for a eco-friendly Durga Devi idol is crafted by a famous local artist Sri Shubhojit Das from Nabadwip, Nadia District of West Bengal.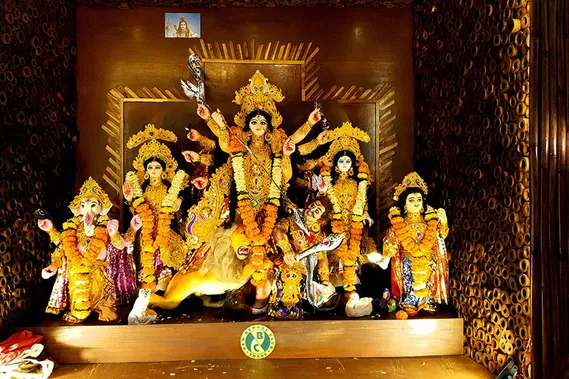 5. Sheesh Mahal theme – Shivaji Park
A massive celebration at Shivaji Park, Mumbai is considered one of the iconic Durga Puja that happens in the city and this year their Bengal Club will complete 100 years with its 88th year of festive celebration! Lifting the tallest Durga protima (idol) in Mumbai by sparkling the pandal with a magnificent theme of Sheesh Mahal made with mirrors in a surrounded area of 10,000 sq ft, including a lot of greenery inside the pandal. President Joy Chakraborty says, "This year we are supporting the social cause of organ donation awareness and we have organized multiple events."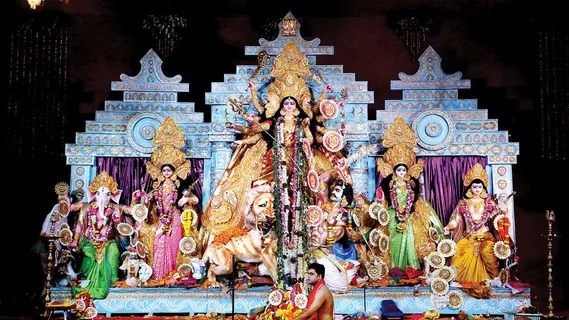 6. Charitable Activities with Unique Decorations Items – Chembur
Chembur Durga Puja Association includes the theme of unique decorations that involve items like kulo (winnow), hathpakha (palm leaf fans) and terracotta or earthenware.
And further talking about their honourable work, not once but throughout the year this organization lent their helping hands in different philanthropic activities but never showcased it much. President Surojit Lodh says, "We work with out-of-town cancer patients, give them free food and free accommodation, sometimes also treatment; we have a special annadaan on Ashtami where we give food to differently abled people. We run a charitable ambulance service all year 24x7 from near the station." And this year also they will continue to contribute to the world with their help.
7. Ode to Art theme – Bombay Durga Bari Samiti
Susmita Mitra, President, of Bombay Durga Bari Samiti says, "Our Pujo has been a part of Mumbai's rich heritage, starting before India's Independence. It's held at the iconic heritage building Tejpal Hall, the historic venue that witnessed the signing of our Constitution, adding even more significance to our cherished festivities. Our theme is 'Ode to Art' and as we mark our 94th year, we have craftsmen from Bengal, showcasing the brilliance of Patachitra art. Bangla Natok artists, rural artisans, and soulful Baul folk singers join our cultural events. We extend a helping hand to every part of society without discrimination through consistent charitable activities."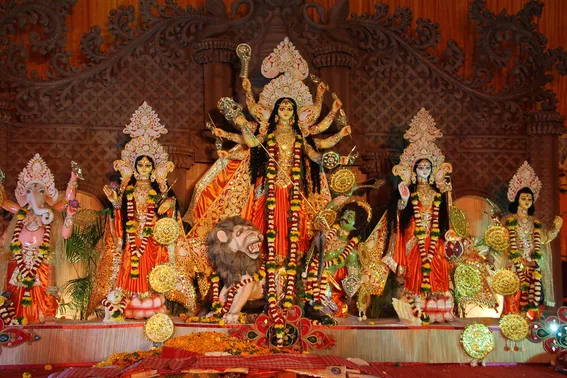 Making the festival so beautiful with not only just celebrations but also contributing to the world in greater and different ways. 
Hence, this was the list of pandals to not miss seek blessings of Durga Devi with a delightful experience in our dear Mumbai.