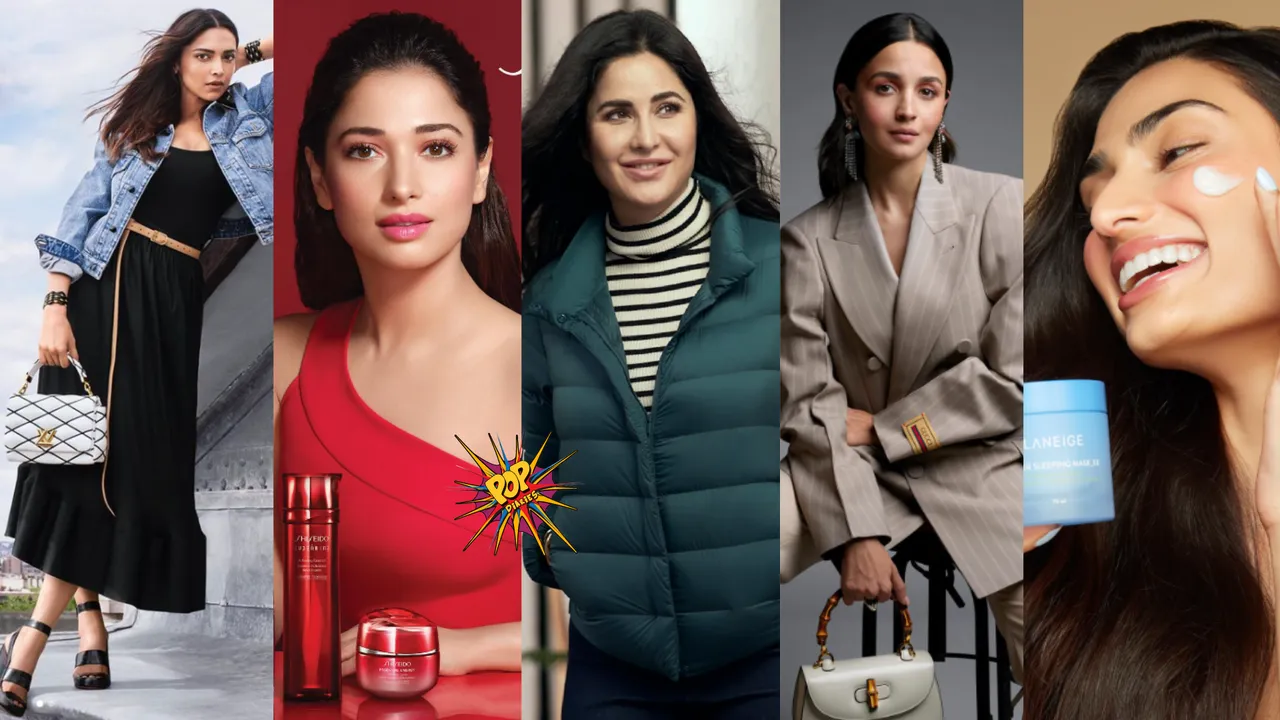 Bollywood actresses Deepika Padukone, Katrina Kaif, Tamannaah Bhatia, Alia Bhatt and Athiya Shetty, these five divas standing as the epitome of prestigious international brands have made history by becoming the first Indian global ambassadors. Transcending boundaries not just geographically, but also culturally, becoming the faces of these following renowned brands.
B-Town Beauties Shine Bright as First Indian Global Ambassadors For THESE Luxurious International Brands
1. Deepika Padukone – Louis Vuitton
Bollywood Queen Deepika Padukone needs no introduction, her acting prowess, timeless beauty and everlasting fashion strike embodies the ideal essence of Louis Vuitton. Her international appeal and grace make her the perfect muse of the iconic French fashion house as the first Indian global ambassador, reflecting the brand's heritage and modernity.
2. Tamannaah Bhatia – Shiseido
From South to West, Tamannaah Bhatia left no bounds by winning the hearts of millions through her versatile roles to now creating history by gracing the global stage as the ambassador for Shiseido. Her enchanting natural beauty perfectly makes her the ideal choice for this renowned Japanese beauty brand. 
3. Katrina Kaif – Uniqlo
The astounding Katrina Kaif, known for her impeccable style had recently joined hands with Uniqlo by standing as the first Indian global ambassador of this Japanese retail giant, renowned for its chic and comfortable fashion. And Katrina's effortless charm and fashion-forward choices align seamlessly with Uniqlo's commitment to quality and innovation.
4. Alia Bhatt – Gucci
The powerhouse of Bollywood, Alia Bhatt left everyone enchanted by being the first Indian global ambassador for one of the world's leading brands, Gucci and her trendsetting style, and magnetic presence accurately complement this iconic fashion house's legacy of elegance and sophistication.
5. Athiya Shetty – Laneige
Athiya Shetty turning the tables in association with a South Korean skincare brand! One of the actresses who is excellently vibrant through her fearless fashion style, youthful charm and natural beauty perfectly align with Laneige's philosophy, making her a fitting ambassador for the brand. 
This historic collaboration marks a significant moment for Indian cinema and the fashion industry alike and as these Bollywood icons embark on their new roles as ambassadors, they are not just representing brands; they are becoming cultural ambassadors, bridging the gap between diverse cultures and shaping a new narrative for Indian fashion on the global stage. And their journeys without any doubt inspire millions, reminding us all that talent knows no boundaries and that dreams can take us to places we've never imagined.
ALSO READ:
Beyond The Glamour: Rekha's Influence on Indian Fashion
Navratri Day 1 Fashion: Birthday Girl Pooja Hegde Being An Epitome Of Colour Orange!
Long Live The Shahenshah: A Legacy Of Amitabh Bachchan & His Cinematic Greatness Continues!
From Shah Rukh Khan, Deepika Padukone To Rohit Saraf: These Bollywood Smiles Have The Power To Light Up The World