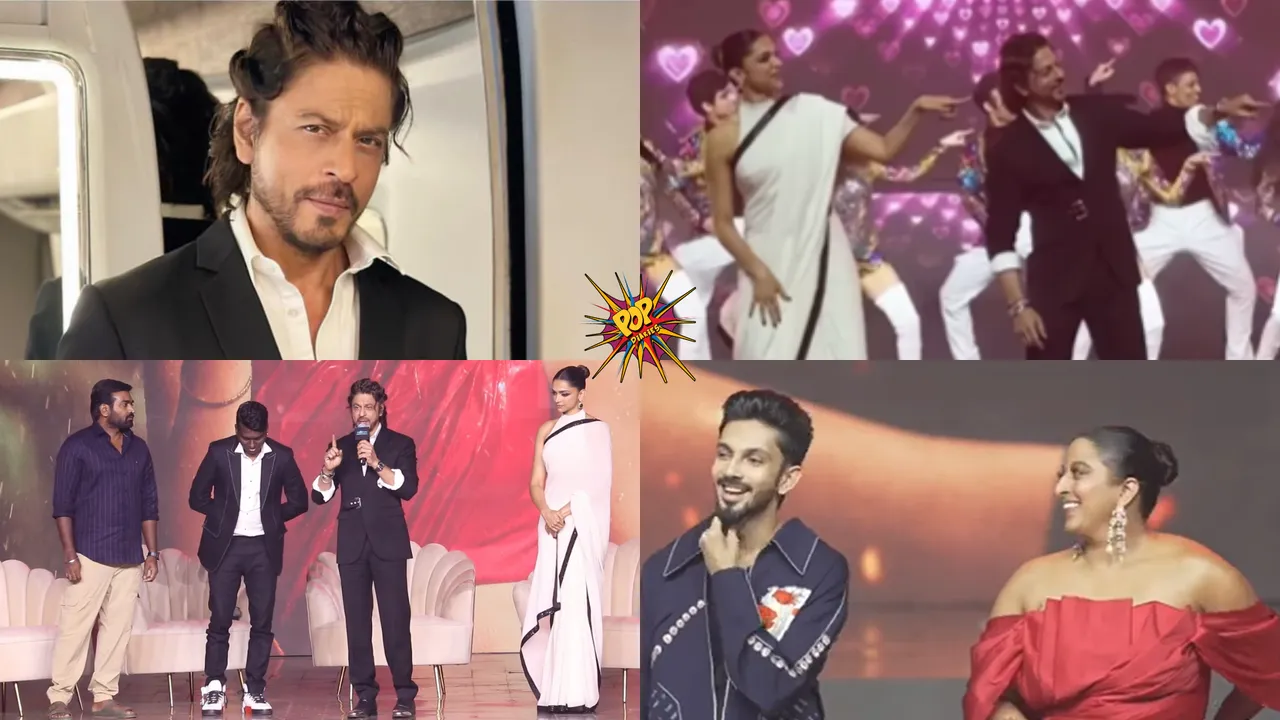 'Jawan' has crossed the mark higher than what we expected, roaring in theatres! It's not been 10 days and the team has celebrated its success in a week, that's how the film has hit the screens with pakka powerful mass entertainment with thought-provoking messages. Shah Rukh Khan, Deepika Padukone, Vijay Sethupathi, Atlee, Anirudh Ravichander, Rajakumari, Sunil Grover, lady gang - Ridhi Dogra, Sanya, Aaliyah, Leher and the various crew members have lighted up the meet which is unmissable to adore.
Here Enters the Team!
Starting with the entries we have the visioner Atlee, marvellous Vijay Sethupathi, Bollywood Queen Deepika Padukone and then comes the King Shah Rukh Khan entering with force music of Jawan theme! 
King & Queen's Monochrome Styling Game
Levelling up the most classy man, we couldn't take our eyes off from SRK. Donning an OS BY OS white shirt hugged with a Masculine black co-ord suit set accessorized with a bunch of silver bracelets, a luxurious watch, and ankle-length shoes and what stuck with us was his super cool hairstyle. The master of all sported a pulled-back half-tied hairdo with crown braids being stylish of all. 
ALSO READ: Pan-Indian Cinemas Do Not Only Include South Indian Cinema!
And of course, DP looked dreamy! The heart of Jawan has poised the show with her charm and elegance in Sabyasachi's white beautiful chiffon saree that has a black sequence sparkling border paired with a sleeveless halter-neck backless white blouse and accessorizing with a statement emerald earrings. In makeup, she opted for her much famous and loved bold eyes look with a touch of wing, subtle eye shadow, glossy nude lip colour with a sleek high bun!
Both complimented each other gracing the show in monochrome fashion ensembles, and fans are going gaga over this most lovely pair.
Starting the Success Meet!
The superstar SRK himself welcomed everyone on board from every crew member to an ensemble co-stars. As the Lady Superstar of the movie couldn't make it for the press conference as it was her mother's birthday and being a man of hearts, Mr Khan sent birthday wishes from Mumbai's stage to Chennai with a birthday song. Also, the leading lady sent a sweet message to Mumbai fans and the reason for not attending the meet.
From several technicians sharing their work and love that has all been put into the Jawan's girl gang Ridhi Dogra, Sanya Malhotra, Aaliyah Qureshi, and Leher Khan while others couldn't make it and we had of course the ever-humorous and cool Sunil Grover too. The one as an SRKian opted for the superstar's famous bald print on his t-shirt revealing it in a signature of SRK's pose! The gorgeous female cast shared their experiences working on this film and how King Khan treated them so well not as junior artists but as his co-stars and shared a fun friendly time on set.
ALSO READ: What If We See Ayushmann Khurrana As A Villain? A Birthday Surprise For Bollywood
Anirudh Being Anirudh! And SRK-DP joining him on 'Chaleya'
The young dynamite composer set fire on stage with his entry performance on the lovely 'Chaleya' song and further making ever on-screen adorable pair dancing on it. Till now we witnessed him tapping feet as a solo, and of course with his heroine Nayanthara but now what makes it more charming and loving is watching SRK and DP dancing on this beautiful track. It has left the internet in 'awe' of them! 
Rajakumari Enters with a Bang!
The effortless power in the voice that Rajakumari holds is just unmatchable! As delivered a terrifying performance on the much-loved Jawan's anthem track and also shared her love towards Badshah by singing lines without music was a blessing treat for the people present in the auditorium. Further added on writing this anthem as a fan's dedication for the man of stars, while how it is the biggest honour for Anirudh to make his Bollywood debut with an SRK film and he also revealed how he watched 'Kal Ho Na Ho' 7 times straight all times in the theatre and meeting him person at the time of 'Don' release, he's shared his gratefulness.
Atlee & Vijay Sethupathi's All Love for Shah Rukh
The massiest filmmaker Atlee shares what this movie means to him and says, "Jawan is my love letter to Mr Khan sir" and the actor is 'completely overboard with this love letter'. Sethupathi shared how Chennai has a craze of SRK and many couldn't get tickets because of the houseful, and love they have for him. ALSO READ: Shah Rukh Khan & Vijay Sethupathi, New Brotherhood In The Tinsel Town Is Winning Hearts!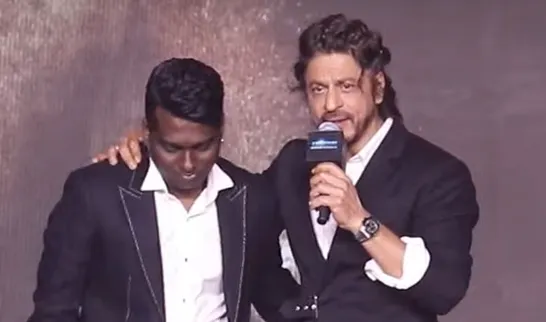 Deepika's Impact!
Sharing a cute banter that DP was fooled and roped in for a cameo but shot a full-length cinematic with her being one of the main characters of the film. The actress says there are two aspects of accepting the script, one for none other than Shah Rukh and the other revealing on importance of investing in such a great film and its impact which is going to have on the audience. 
Talking about the on-screen aura of SRK-DP, from making love scenes to action in Jawan how the filmmaker has imagined them in that scene. Atlee said we just need a great pairing that automatically shines out and SRK-DP are "lovely, God's blessing of love so that we can see on-screen and get the aura," the director said. ALSO READ: Jawan Cameo For Free? Deepika Padukone On Equation With Shah Rukh Khan
And Pathaan actor talked about how its Deepika's 'large heart' to quickly said yes to her part further sharing a fun incident when she was shooting Pathaan's 'Besharam Rang' song and the actor sitting in front of her said to Pooja Dadlani (his Manager) "she will be very good as mother no? (for Jawan)" and adding on to compliment her as a 'big size actor' that she has proved with this movie.
Not Azad but it's Vikram Rathore!
Atlee revealed while narrating the script SRK loved the character of Azad but the director told him not Azad but "Entire world will love Vikram Rathore" which is what exactly happened now from class to mass, the actor has given it all and no words for his performance.
Shah Rukh Khan is the Director's Actor!
Being the classiest of all-time time, SRK has crossed the bar of being the massiest in Jawan. He loves being classy but he believed in Atlee's vision and did what he had directed to him further he also advised other actors to always try to make the director happy because through their eyes everybody else is going to perceive and see you as an actor. The director revealed how King used to take care of every little thing whether the movie had been shot and come out or not.
Hitting back-to-back hits to Revealing future projects!
Shah Rukh went on to reveal how it was to shoot after three years after the COVID-19 pandemic and what elder children Ayaan and Suhana have said to him. The actor shared, "My elder son Ayaan told me "We know when we were growing up that what stardom in the air feels like" and daughter Suhana said "this little one (younger son AbRam) knows you're a star has never seen and felt it in the air, so next five films work very hard and make it feel him it in the air and he will respect and love you"." Additionally, he shared how God has been kind from earlier this year starting with the Republic Day release film 'Pathaan', Janmashtami release 'Jawan', this Christmas or New Year will bring 'Dunki' and he went on to indirectly reveal that there's another film set for next year's Eid release!!! Listening to this fans had all screams in the auditorium. 
This Special Speech by King is Unmissable!
Praising Atlee as a director and sharing what Jawan means to the whole team, in his lovely poetic dialogue delivering the way SRK said, 
"Jawan is a feeling that every Indian has
Jawan is an emotion
Jawan is an Indian Soldier
Jawan is an Indian Mother
Jawan is an Indian Girl
Jawan has an Indian visual-ante
Jawan many times is very weak because it's all of us and many times he's ready for a fight!
Jawan is many times wrong but many times he's also right!
Jawan sometimes will live in the darkness
Sometimes Jawan will be the one who'll be emanating the light
And finally, all of us, an every Indian is Jawan who is upright"
So please remember that honesty, goodness, and love that that's what the whole movie stands for and thank you so much, God bless you."
'Last of the stars' for a reason, signed off undeniably in a King way! The one where others cannot rule if it is owned by a powerful King!
The man of hearts went on winning at the end too, the fans are in love with his down-to-earth aura. At the team's photograph session time, a few actors and the director were posing on their knees so Mr Khan won the moment by laying down in front of them to pose with his whole team.
Also, the whole cast of the film grooves on 'Not Ramaiya Vastavaiya'.
And further, he sees off by clicking selfies with his fans present in the crowd.