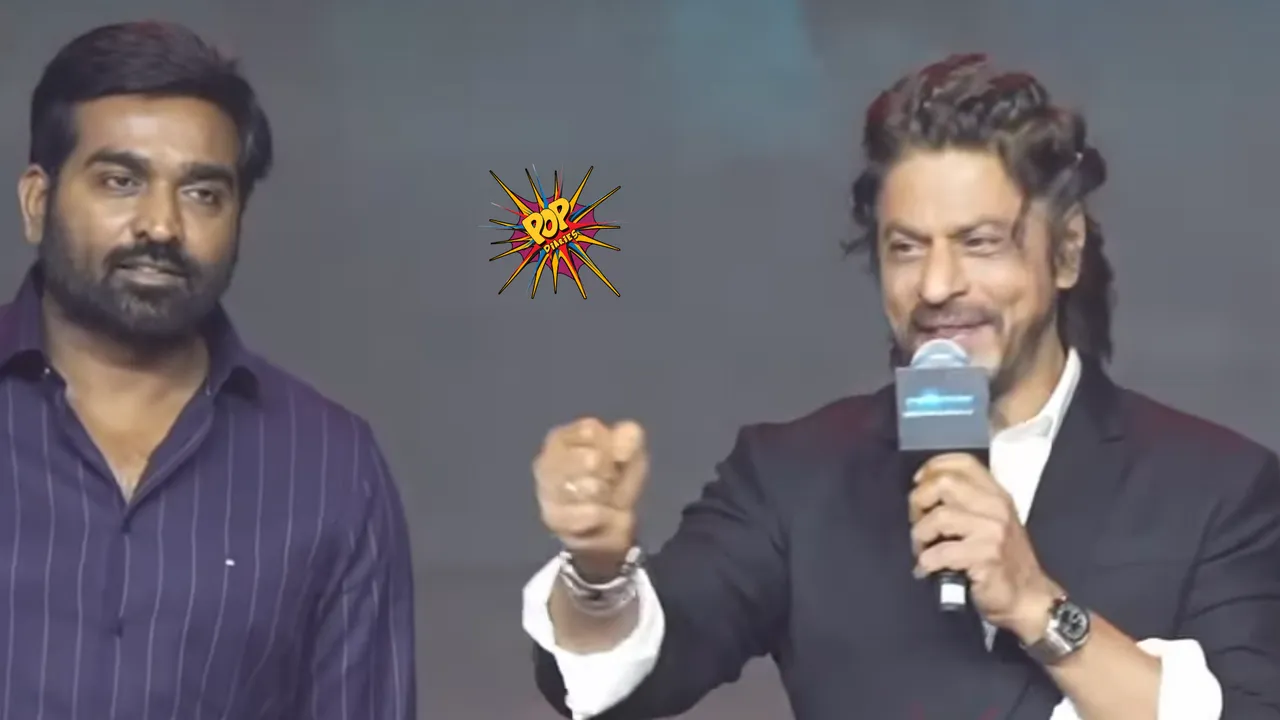 'Jawan' is roaring worldwide in theatres by breaking all the records and in just one week of the release the team celebrated the success in a grand way with the press. Everything was just perfect, yes, Shah Rukh Khan and Deepika Padukone were beautifully complimenting each other in monochrome fashion ensembles and making fans go gaga over them by grooving together on the lovely song 'Chaleya' and more. Yes, this was undeniably the most beautiful feeling of the night but what caught more was SRK and Vijay Sethupathi's bond.
SRK-Sethupathi's unmissable bromance will win your heart!
Both superstars were seen appreciating each other in the most-cutest way possible. Starting with Makkal Selvan, talking about Jawan's success he went on to share how Chennai people love him to the extent that the film's first-day shows were houseful. 
Vijay said, "Don't ask me. First of all, I didn't expect so much love from the first day of its release in Chennai. So many people called me and said that they couldn't get the tickets for Jawan for the first day and first show. People love him (Shah Rukh Khan) so much and it's not a surprise for me. Well, Shah Rukh Khan - the name itself is enough. Everybody love him so much. The way he behaves, the way he treats people - he just only gives love, nothing else." And ended by saying, "I love you, sir".
SRK replied saying "I can propose and we can be married"
In reply to Sethupathi's kind words, SRK couldn't stop himself from praising the actor and it's a blessing for him that he said yes to the movie. Sharing a cute banter, the King Khan said, "I love you more, sir. I think, after the press conference, I can propose to you and we can be married, sir." And Vijay replied back saying, "There's nothing wrong in it sir."
ALSO WATCH Highlights Everything That Happened At 'Jawan' Success Press Meet: Chemistry Between Shah Rukh Khan, Deepika Padukone, Vijay Sethupathi Is Unmissable!
SRK hails "Desh Ka Senapati, Vijay Sethupathi"
The moment it was Vijay's turn to talk, as fans in the crowd were hailing King Khan cutely went on cheering for his co-star saying,
"Saare Desh ka Senapati, Vijay Sethupathi. Desh ka Senapathi, Vijay Sethupathi" on that Makkal Selvan smiley shied off and is overwhelmed by the megastar's gesture.
Sethupathi says how SRK used to Boost his Confidence
The Master actor talks about his favourite scene of the film and how he does it, to which he shares that he never goes with preparations but directly lands on set and sometimes finds inspiration in his co-actors and director. Appreciating Atlee's vision, he went on to share how SRK gives so much energy. He says, "Shah Rukh sir, he gives so much energy. He's such a big man and has a big heart, one day when we were shooting as I get some ideas and wanted to go for more shots I was like "I'm sorry sir" and he said "Vijay sir just do anything, I'm enjoying" that gives confident." ALSO READ: Pan-Indian Cinemas Do Not Only Include South Indian Cinema!
And further added, "The person whom you love and respect he is saying that "you are doing good, do it, take your time" gives me confident".  

Additionally, talking about his favourite scenes of Vijay, SRK complimented the co-star saying how he himself failed to do so but Vijay continuously shot the movie simultaneously in Tamil and also learnt Hindi language then and there. He shared, "I've tried it, maine koshish ki hai aur main fail hua hu. He has done the whole film simultaneously same time there and then, pura ka pura scene Tamil mein and he would shoot it in Hindi, learning a new language. And I remember the first time the first scene was with Deepika and it was stunning to see someone to have to learn that language there and then in one-two hours and to be able to bring so much life to that scene. Two-three places in the film he is magical and I have learnt a lot working with Vijay sir."
And he further mentioned a scene where Kalee (Sethupathi) teases Aishwarya (DP) with a villainous look by getting his tongue out and how SRK was trying to do it but he couldn't do what Vijay does though he will keep learning from him and said, "I always tell him, working with you next film you see I will become way better actor than I am right now, so you making me dangerous now." 
ALSO READ: What If We See Ayushmann Khurrana As A Villain? A Birthday Surprise For Bollywood
Vijay shared that the scene was not giving him satisfaction so to bring more anger and to tease more arrogantly, he chose to take his tongue off and also Atlee agreed with him doing so. 
To which, SRK laughingly said by taking his tongue off,
"I wanted to put you on a poster like that but Atlee said don't put it like that."
SRK Fulfilling Sethupathi's Wish
Super Deluxe actor requested SRK to say his iconic dialogue "Itni Shiddhat" from the iconic film 'Om Shanti Om' and him fulfilling his wish just went on and made us witness more of their bromance and we loved it a lot!
ALSO READ: Jawan Cameo For Free? Deepika Padukone On Equation With Shah Rukh Khan