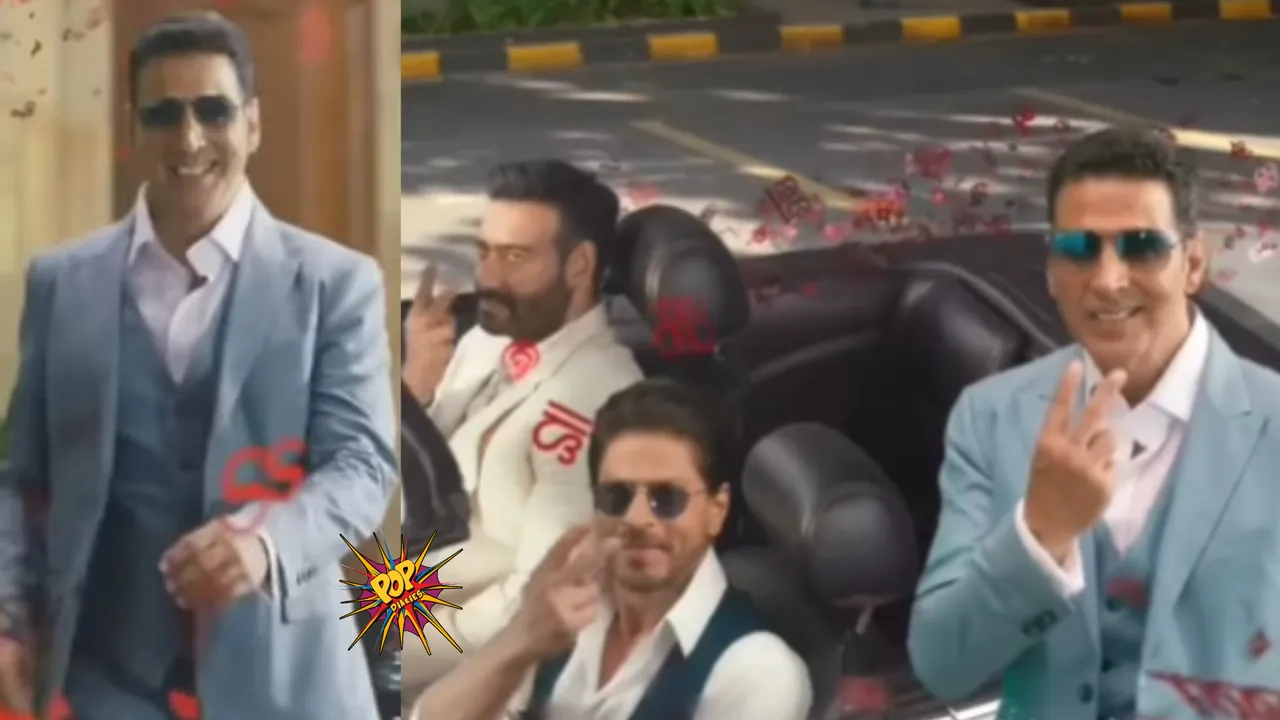 Akshay Kumar earlier this year featured in a Vimal Elaichi advertisement which also starred Ajay Devgn and Shah Rukh Khan, it led his fans upset to see their idol promoting a tobacco brand and also received backlash for the same. Due to this the actor apologized and promised to never do such brand promotions again in his life.
But in the latest, the brand released another promotional ad with the same Bollywood trio star appearance including actor-model Soundarya Sharma. An advertisement posted by SRK's fan page on social media begins with Ajay and Shah Rukh waiting down in a car for Akshay near his residence while Devgn honks and SRK shouts, Kumar indulges in listening to music with headphones on. Then Mr Khan throws a ball towards his window but unfortunately, it hits neighbour Soundarya's window, as she comes out in anger he points at Ajay saying he did it. ALSO READ: Security Boosted: Shah Rukh Khan Gets Y+ Cover Amid Death Threats
Later Mr Devgn opens a packet of Vimal, as he consumes Akshay comes out on his balcony through the aroma of the product and both the actors ask him to come out. In the end, three of them show the signature style of the brand to the girl standing on a balcony. 
Fans Mount Backlash Against Akshay Kumar's Broken Promise
Watching this new ad of Vimal Elaichi, netizens started reacting to Akshay's appearance even after his promise of never returning back. A user questioned, "Akshay Kumar was not going to do Vimal ad, then what happened? What is this decision?" another said, "Akshay will have to hear from the people. He had said he won't do tobacco ads." Third commented saying, "Akshay Kumar had said that now he will not do pan masala ad because his fans were not happy when he first did Vimal. Then why did he do this again?" However, a user said, "This is probably not tobacco, but some flavoured betelnut," and another said, "Ye tobacco nahi hai shayad some flavour supari hai". 
SEE VIDEO:
ALSO READ: From Shah Rukh Khan, Deepika Padukone To Rohit Saraf: These Bollywood Smiles Have The Power To Light Up The World, Happy World Smile Day!
On the other hand, a few others were so happy to see three Bollywood superstars together and started expressing their wish to watch all of them in one film together. A person said, "Teeno ek saath kisi film aao.life ban jayegi yaar," "We want them in a movie together," and "A movie with all 3 would be awesome.
In the month of April, Akshay Kumar penned down an apology note after receiving an outcry from the public after his first feature in the ad. Taking to the Instagram he wrote, "I am sorry. I would like to apologise to you, all my fans and well-wishers. Your reaction over the past few days has deeply affected me. While I have not and will not endorse tobacco, I respect the outpouring of your feelings in light of my association with Vimal Elaichi."
And also said, "With all humility, I step back. I have decided to contribute the entire endorsement fee towards a worthy cause. The brand might continue airing the ads till the legal duration of the contract that is binding upon me, but I promise to be extremely mindful in making my future choices. In return I shall forever continue to ask for your love and wishes."
ALSO READ:
Durga Puja 2023: Biggest & Creatively Theme Pandals To Visit In Mumbai
Durga Puja 2023: Tradition Meets Innovation, Look At Kolkata's Spectacular Theme Pandals!