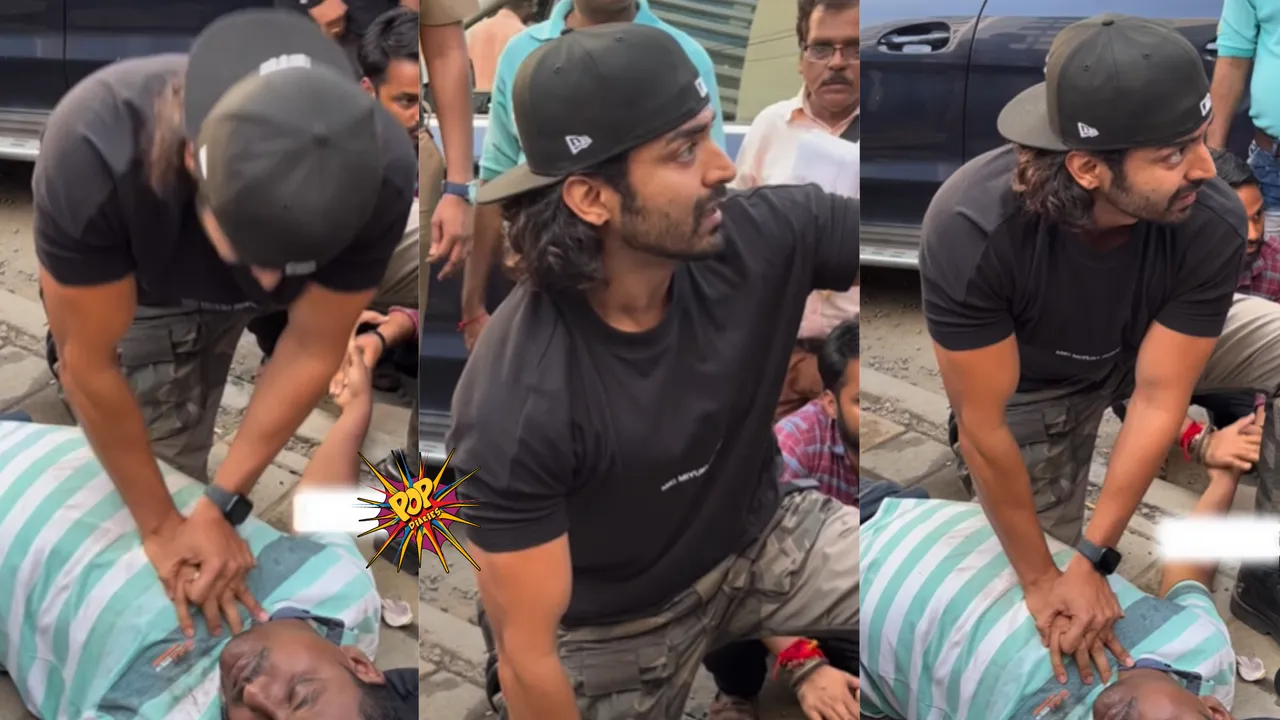 A television superstar Gurmeet Choudhary popularly known for his portrayal of Lord Ram in the 2008 TV series Ramayan, who often win the hearts of people through his various act and gestures has now left netizens surprised through his spontaneous and quick brave act.
Gurmeet performs CPR on a collapsed man!
On the busy streets of Mumbai, a man suddenly collapsed in that was observed by none other than Gurmeet and without thinking for a second he quickly responded to the man by giving him CPR (Cardiopulmonary resuscitation). ALSO READ: Review: Akshay Kumar Stuns & Gives A Magically Inspiring Act In 'Mission Raniganj'
SEE VIDEO:
ALSO CHECKOUT: Durga Puja 2023: Biggest & Creatively Theme Pandals To Visit In Mumbai
Fans laud him for his brave act!
The actor was seen pumping the collapsed man's chest and asking others who were standing beside him to rub his feet. Reportedly, he was sent to the hospital after an ambulance arrived at the location. And this act of Gurmeet was caught on camera which was widespread through various paparazzi and fan pages on social media which earned him a lot of praise for his quick thinking, knowledge, and spontaneity.
Amazed netizens commented saying him a "Real hero", another commented "Sahi time pe baghvan jaise aaye tum," "Real artiste... May God protect that man," "good human being," one more user commented saying, "good influence in real life too".
And in a long note, an Instagram user wrote, "Ideally CPR given should be uninterrupted and with 30 compression: 2 breaths. And to continue till the time AED (defibrillator arrives) or patient gains consciousness or stable pulse and heart rate. But Whatever he had done is commendable. Doing it all by himself. We need more people like him. And I think everyone should and must be well verse with Basic CPR steps with so many increasing number of cardiac arrest cases increasing day by day. Yet again a very well done job."
Recently, Gurmeet Choudhary with his wife, actress Debina Bonnerjee and daughter Lianna were seen at a Mumbai beach being involved in a clean-up drive. Their daughter was also seen taking part with her little helping hands and parents guiding her in the process won hearts. To which various started praising for their great parenting. Followers said, "Wow!!Good Teaching the little one how to keep your home /City Clean" and "Bahut acche Sanskar sikha rahe ho". 
SEE VIDEO:
ALSO READ:
Kendall Jenner Dazzles The Ramp In 1.5 Lakh Swarovski Crystal Gown!
Bollywood Brides' Expression Of Love With Customized Kaliras To Veil!