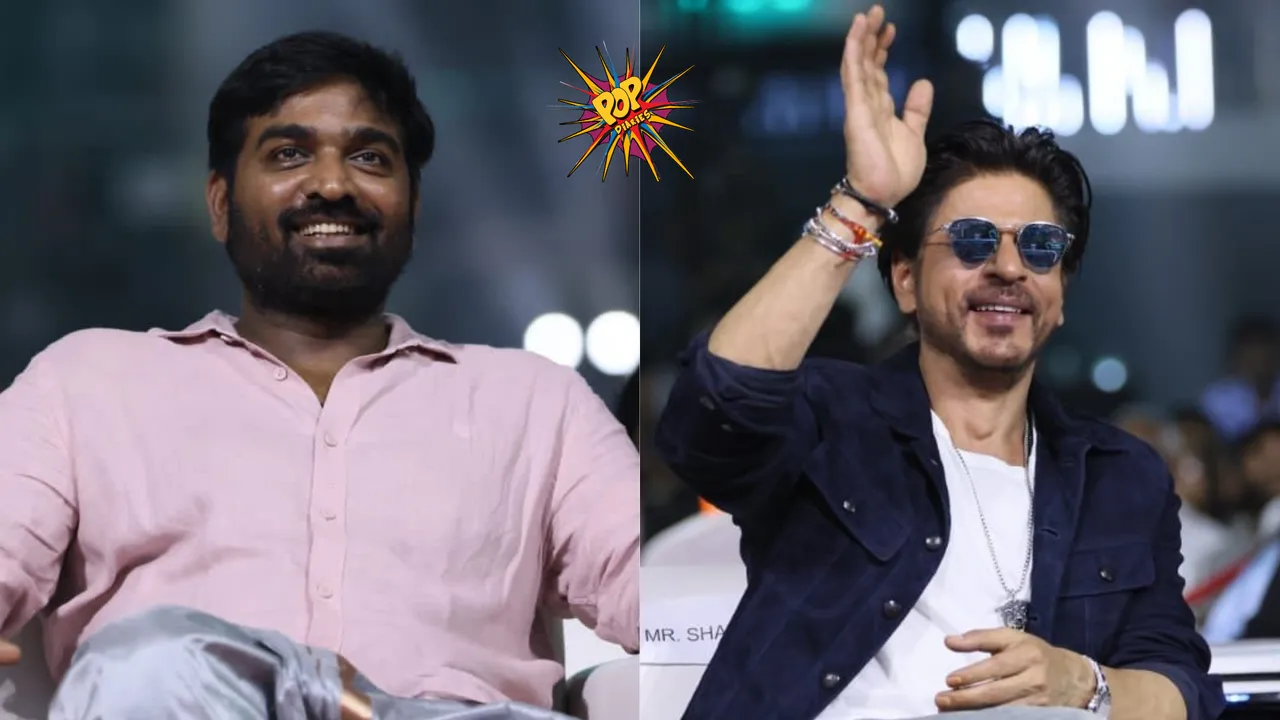 On 30 August 2023, Atlee's directorial 'Jawan' makers organized a spectacular event of pre-release at none other than in Chennai. Shah Rukh Khan made a grand entry amidst the crowd's crazy loud screams and cheers. He then hugs his co-star Vijay Sethupathi.
During the event's speech time, being an antagonist of the film Tamil superstar Sethupathi opened up to taking revenge on SRK. Yes, you heard that right. 
Sethupathi Revenge on SRK?
Makkal Selvan recalled one incident from his school days, he had fallen for a girl but she had no idea about it. But yes, the girl was a very big fan of none other than Shah Rukh Khan. 
Humorously, Vijay said, "When I was in school, I was in love with a girl. But she didn't know. Every Jaanu has a Ram after all (a reference to his 2018 film '96). But that girl was in love with SRK. It has taken these many years to have my revenge."
As he now plays a villain role in 'Jawan', in which we will get to see both the megastars' face off!
ALSO READ: All About JAWAN's Chennai Pre-Release Event: From Shah Rukh Khan Recreating Magic of 'One Two Three Four' With Priyamani, Striking Iconic Pose To His Gratitude Speech!
"You can't take away my girl…" says King Khan
There is never ever doubt that SRK does not look after his fans, being the greatest superstar in the whole world he never fails for even a minute to appreciate his fans and love them unconditionally. Also, he follows love from every age group. 
In reply to Sethupathi, Badshah says, "Everyone here spoke in Tamil and I am sure they all spoke good things about me. Except for…
Vijay Sethupathi, who was talking about a girl. Let me tell you one thing sir, You can have your revenge but not my girls. They are mine."
Isn't that so lovely of him? He's just incredible and hardcorely loves his fans so much, and there's nothing to prove ever. 
SRK Expresses, "How much I love Vijay sir…"
King Khan further went on expressing how much he admires Makkal Selvan, "And I'll take a moment and tell you how much I love Vijay sir, I met him in Melbourne he's talked about I heard him talk keep talking Tamil. I'm assuming he was talking about that instance. And then one day we were here for Nayanthara Ji's wedding, and I met him and we all decided to work together. I cannot tell you how much I've learned from you," he added.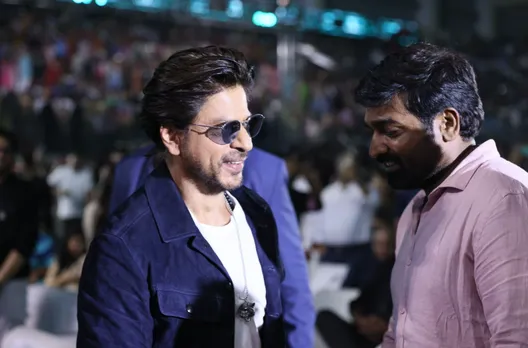 ALSO READ: 10 Moments From The Trailer That Writes Blockbuster On Jawan, Atlee's Directorial Starring Shah Rukh Khan, Nayanthara, Vijay Sethupati's 'JAWAN' TRAILER OUT NOW!
Yes, the trailer of Jawan was finally out yesterday and set the internet on ablaze. Fans going crazy! Every frame of it is terrifying and anticipates us more to just go now and sit in the theatres to witness the film experience as soon as possible.
Just a week away from witnessing the theatre roars, 'Jawan' is hitting silver screens on 7 September 2023 in Hindi, Tamil and Telugu. Red Chillies Entertainment presentation directed by Atlee, produced by Gauri Khan, and co-produced by Gaurav Verma. 
The movie stars a terrifying ensemble cast that includes Shah Rukh Khan, Nayanthara, Vijay Sethupathi, Priyamani, Sanya Malhotra, Sanya Malhotra, Priyamani, Girija Oak, Sanjeeta Bhattacharya, Lehar Khan, Aaliyah Qureshi, Ridhi Dogra, Sunil Grover, Yogi Babu and more. Also, Bollywood Queen Deepika Padukone and Tamil superstar Thalapathy Vijay are making their cameo appearance in the movie.
ALSO READ:
Agastya Nanda In Spotlight As He Appears In His First Ever Hoarding For Debut Project 'The Archies'
Ensemble List Of 16 Indian Cricketers Who Acted In Movies Too!