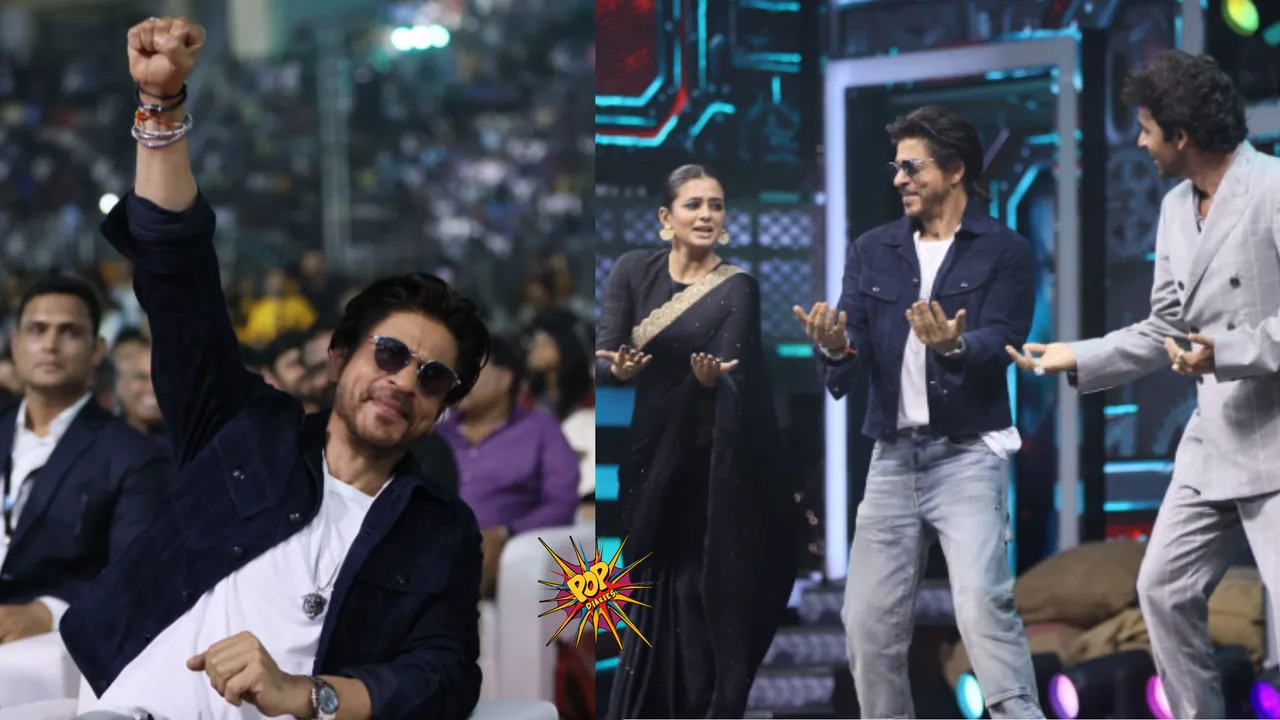 Shah Rukh Khan landed Chennai to grace Atlee's directorial film Jawan's pre-release event. He looked super handsome in a white T-shirt paired with a black jacket and jeans and completed the look by wearing goggles. And made a grand entry by his team, who followed close behind. He then hugs his co-star Tamil superstar Vijay Sethupathi while entering.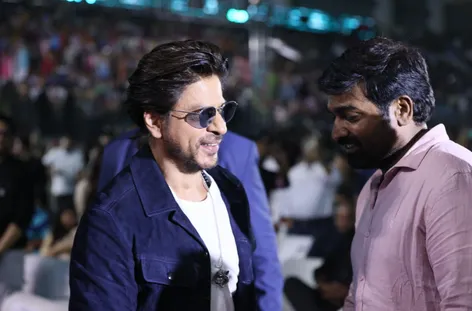 🌟 The moment we've all been waiting for! King Khan has graced us with his presence at the Jawan pre-release event. Get ready to cheer, Let's make some noise!🎉👑🌟@iamsrk @RedChilliesEnt @Atlee_dir #JawanPreReleaseEvent #Jawan #JawanTrailer #ShahRukhKhan

WELCOME TO… pic.twitter.com/3h13CxNIH6

— Shah Rukh Khan Universe Fan Club (@SRKUniverse) August 30, 2023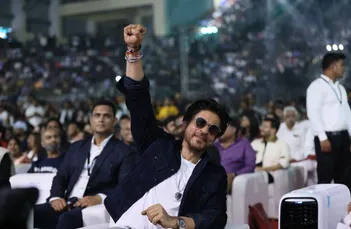 ALSO READ: 10 Moments From The Trailer That Writes Blockbuster On Jawan, Atlee's Directorial Starring Shah Rukh Khan, Nayanthara, Vijay Sethupati's 'JAWAN' TRAILER OUT NOW!
Here's Some Lovely Moments from Jawan's Pre-Release Event!
Recreating The Magic of 'One Two Three Four' 
Continuing the spectacular night with some energetic dance skills. The amazing moment was when SRK recreated the song 'One Two Three Four' from the film 'Chennai Express' along with his co-actor Priyamani, who made the movie cameo with this dancing number and now after ten years later it's an eye feast for us to witness both on them on stage of Jawan recreating the magic with the track's hook steps. Also, Sunil Grover joined them on the stage.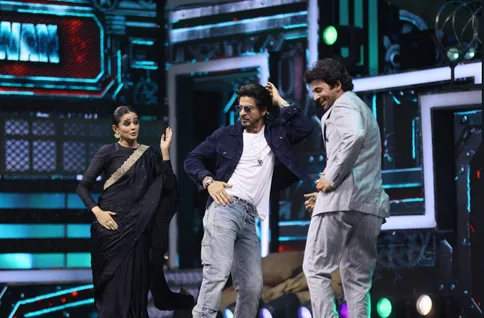 Watch the video below:
King Khan dances to 1..2..3..4 at the Jawan pre release event ❤️ #Jawan #JawanInChennai #JawanPreRelease #JawanPreReleaseEvent #ShahRukhKhan pic.twitter.com/CvOoqhUbYa

— Shah Rukh Khan Universe Fan Club (@SRKUniverse) August 30, 2023
Energetic Moves on 'Zinda Banda'
Badshah again entertained the audience with his lovely dance moves on the upcoming movie's song 'Zinda Banda' along with the dynamic music composer of the song himself, Anirudh Ravichander.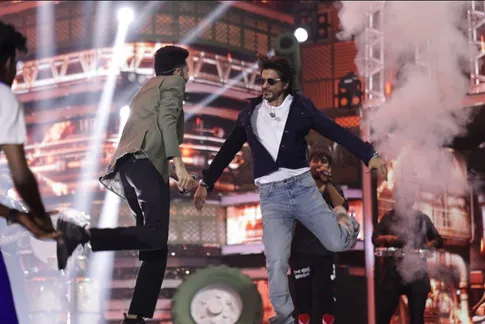 The super fiery energetic performance of King Khan on #ZindaBanda ❤️🔥 #Jawan #JawanInChennai #JawanPreRelease #JawanPreReleaseEvent #ShahRukhKhan pic.twitter.com/wsm2twgWQZ

— Shah Rukh Khan Universe Fan Club (@SRKUniverse) August 30, 2023
ALSO READ: Agastya Nanda In Spotlight As He Appears In His First Ever Hoarding For Debut Project 'The Archies'
King of Bollywood Strikes his ICONIC Pose!
On stage, Shah Rukh Khan striking his ICONIC POSE is all we desire at least to witness live once in a lifetime. While the megastar spread his arms, you can hear thousands of the crowd cheering and screaming as loud as possible!
One Man
One Signature pose
Thousand Cheers

Yet this amazing human can do hundreds of versions of these with unique music, and still continue to amaze us! 🫡🥰❤️@iamsrk @RedChilliesEnt @Atlee_dir #JawanPreReleaseEvent #Jawan #JawanTrailer #ShahRukhKhan #JawanInChennai… pic.twitter.com/fheKTLXVzY

— Shah Rukh Khan Universe Fan Club (@SRKUniverse) August 30, 2023
SRK Shoot in Chennai Benefited 3000+ Families
At the launch event, Art Director Muthuraj revealed how SRK chose to leave the comfort of Mumbai, to shoot the film in Chennai that helped thousands of families in the state of Tamil Nadu. He said in Tamil, "3000 families in Chennai, in Tamil Nadu, have prospered because of you and your willingness to come from Mumbai and shoot in Chennai. For that, we are eternally grateful."
Nearly 150 days long shooting schedule of Jawan in Chennai which has benefited 3000+ families, @iamsrk we love you three thousand for that KING 👑🫶🏻@RedChilliesEnt @Atlee_dir #JawanPreReleaseEvent #Jawan #JawanTrailer #ShahRukhKhan #JawanInChennai

WELCOME TO CHENNAI KING… pic.twitter.com/ak6XZRRgCK

— Shah Rukh Khan Universe Fan Club (@SRKUniverse) August 30, 2023
Vijay Sethupathi to take Revenge with SRK?
While the versatile star Vijay Sethupathi opened up on taking revenge with SRK. The antagonist recounted an incident where he was unable to approach a girl he had a crush on because she was infatuated with the King of Bollywood. He then humorously said, "When I was in school, I was in love with a girl. But she didn't know. Every Jaanu has a Ram after all (a reference to his 2018 film '96). But that girl was in love with SRK. It has taken these many years to have my revenge."
Responding to Vijay, SRK said, "Everyone here spoke in Tamil and I am sure they all spoke good things about me. Except for Vijay Sethupathi, who was talking about a girl. Let me tell you one thing sir, You can have your revenge but not my girls. They are mine."
ALSO READ: Ensemble List Of 16 Indian Cricketers Who Acted In Movies Too!
From Atlee Clicking Photo with SRK's Mannat to Working with Him!
Later, Atlee recalled how he had taken a photograph outside SRK's Mannat 13 years ago and years later, the gates of Mannat opened for him when he approached SRK for Jawan.
The filmmaker said, "I will tell you a story. When I was working with director Shankar for Enthiran in Mumbai. I was told by my friend that we were shooting outside SRK's house. He asked me to pose in front of the gate for a pic. After 13 years, the same gate opened and King Khan himself went, 'Welcome, Atlee sir'."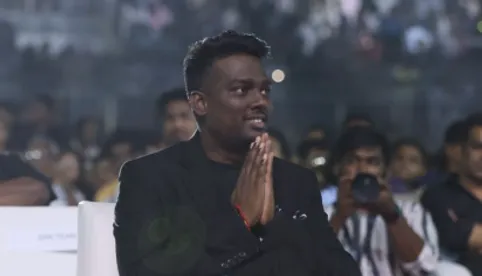 Shah Rukh Khan's Gratitude Speech
Starting with none other than Atlee, King Khan says, "It's great to see all of you here. I told Aalif if he could arrange for me to meet with the Atlee sir after making the wonderful film Raja Rani.. and we got together , Priya came over, they're such a beautiful couple. They also had their own production during the three and a half years we were working on Jawan. They welcomed a lovely baby named Neel. Congratulations to them. Inshallah, Jawan will do well on 7th September there's so much hardwork and love involved in here."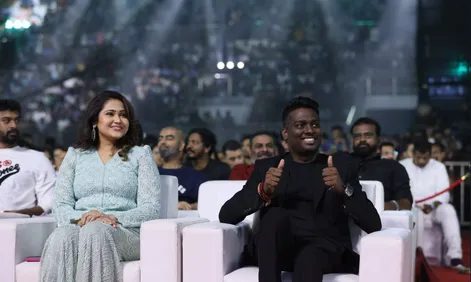 Addressing the music maestro Anirudh as his son, the Pathaan actor says, "Their is this little baby, who I think of like my own son now, thats Anirudh, so, he was telling me that, he will miss my calls and I hope that he do not graduate so much in the Hindi film industry and become so big, inshallah you should, that he doesn't take my calls, I will miss you my son."
And added, "I remember Atlee sir telling me that, there is this young kid, I have seen him like a baby 'Why this Kolaveri Kolaveri di', and from that time I have been wanting to meet him and Atlee sir told me there this young kid can we do one song with him in the Tamil version and the Hindi version and I said no we have to do all the songs with only Anirudh and the amount of hard work he has put in, Thank you, Anirudh, I love you so much. And a big gratitude and love to your parents to both father and mother. Thank you sir and ma'am."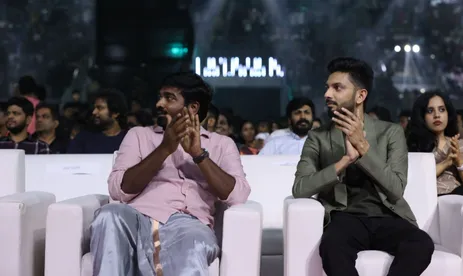 Talking about Sethupathi, SRK says how much he has learned from him, "And I'll take a moment and tell you how much I love Vijay sir, I met him in Melbourne he's talked about I heard him talk keep talking Tamil. I'm assuming he was talking about that instance. And then one day we were here for Nayanthara ji's wedding, and I met him and we all decided to work together. I cannot tell you how much I've learned from you"
Further, he talked about the choreographer Shobi master, and how he made him dance, "There is Shobi master, who made me dance like a mad man. I told him,I can't dance like Rajni sir. I cannot dance like Vijay Thalapathy, I can't even dance like Atlee. So please don't make me do this. But he forced me to you know, I have to tell you Bhavna, I was doing this that I had red marks for three days. Thank you Shobi naru, for making the song it made me look so cool in the red shirt. God bless you. For you the word is attam podal," he said.
And concluded his speech by mentioning the whole women power of Jawan, firstly mentioning his heroine Nayanthara, "Nayanthara Ji she's not here, she wanted to come but due to onam festivities she couldn't but she gave all her love, she's sent her love to all," he said. And concluded by mentioning all the other ladies of the film, "And i thank all my girls, Priyamani, Girija, Aaliyah, Sanjida, Ridhi. Love you all thank you for making this happen."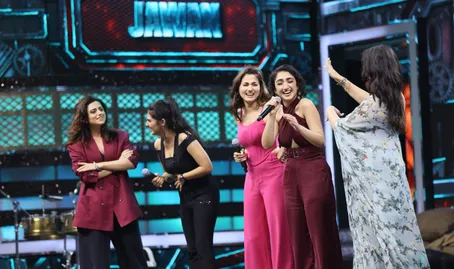 ALSO READ: Finally! JAWAN TRAILER IS OUT & We Can't Wait For Shah Rukh Khan To Light Up On Burj Khalifa!
Just a week away from witnessing the theatre roars, 'Jawan' is hitting silver screens on 7 September 2023 in Hindi, Tamil and Telugu. Red Chillies Entertainment presentation directed by Atlee, produced by Gauri Khan, and co-produced by Gaurav Verma. The movie stars a terrifying ensemble cast that includes Shah Rukh Khan, Nayanthara, Vijay Sethupathi, Priyamani, Sanya Malhotra, Sanya Malhotra, Priyamani, Girija Oak, Sanjeeta Bhattacharya, Lehar Khan, Aaliyah Qureshi, Ridhi Dogra, Sunil Grover, Yogi Babu and more. Also, Bollywood Queen Deepika Padukone and Tamil superstar Thalapathy Vijay are making their cameo appearance in the movie.