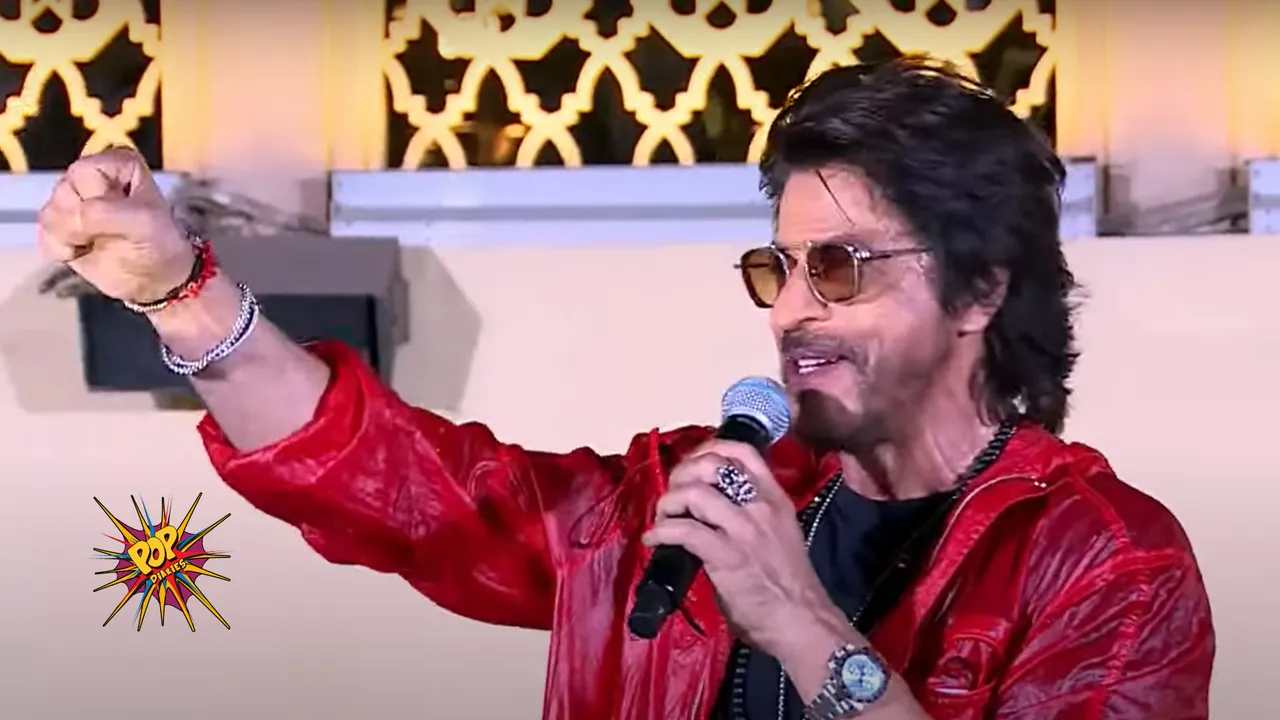 Yes! The trailer is FINALLY here! Shah Rukh Khan's extravaganza film 'Jawan' helmed by South movie hit-maker Atlee, definitely promises to be more massive than ever! Every frame of the trailer is terrifying to witness an unforgettable cinematic thrill experience in theatres.
It is King Khan's day and how can he miss Dubai to celebrate this enormous moment with the city? The world's largest building was lit up with the terrifying trailer of 'Jawan', while inviting fans to the event SRK asked fans to come up with in the clothes of Red mentioning it as a 'love' theme. While he himself shined in a black t-shirt and bottoms paired with a red jacket and goggles. 
The show started with the filmmaker Atlee, music composer Anirudh and music producer Bhushan Kumar entering. Then in King Khan's style, dancers grooved on 'Zinda Banda' then the superstar joined them on stage energetically dancing on it. He then, also tap his feet on Chaleya's new Arabic version by striking his iconic pose of spreading arms. 
ALSO READ: 10 Moments From The Trailer That Writes Blockbuster On Jawan, Atlee's Directorial Starring Shah Rukh Khan, Nayanthara, Vijay Sethupati's 'JAWAN' TRAILER OUT NOW!
'Jawan' lights up on the World's Largest Building!
SRK then made a countdown for a trailer to screen on Burj Khalifa, Dubai. It has everything the actor promised – drama, adventure, emotions, romance, power-packed action, gripping background score and a lot more. Also yes, our eyes will be blessed to see SRK in different tentative avatars but the main character that highlights is of Shah Rukh Khan's aged look. He is said to be playing both father and son roles, The 2-minute 46-second video gave us a glimpse of the actor with an acing moustache and grey hair look. And of course, also young handsome son looks too. A perfect eye feast is awaiting for us, witnessing the King Khan in so many avatars is nothing more special than this. 
In a video posted on X formerly known as Twitter a massive crowd cheering, and screaming on Jawan's Trailer, a fan says, "The cheer of the crowd is the testament of the storm that #Jawan is going to be! Right from the Burj Khalifa 🔥," which is indeed true!
The cheer of the crowd is the testament of the storm that #Jawan is going to be! Right from the Burj Khalifa 🔥#ShahRukhKhan #Jawan #JawanInDubai #JawanCelebrationAtBurjKhalifapic.twitter.com/V8eRNUULLo

— Shah Rukh Khan Fan Club - INDIA (@SRK_FC_INDIA) August 31, 2023
ALSO READ: Vijay Sethupathi Wants To Take Revenge, Shah Rukh Khan Says, "You Can Take Revenge But Not My…"
'Bete ko haath lagane se pehle…' dialogue becomes a Sensation!
While signing off, in a goodbye speech Shah Rukh recites a dialogue that is becoming popular after the trailer release. Dedicating to all the parents out there, he says, "To all the parents here, bete ko haath lagane se pahle baap se baat kar (Before touching the son, talk to the father)."
See video:
MASS : King Khan's JAWAN Dialogue straight from Burj Khalifa - Bete ko haath lagane se pehle baap se baat kar 🔥❤️ #ShahRukhKhan #Jawan #JawanInDubai #JawanCelebrationAtBurjKhalifa pic.twitter.com/Y9icKG63UU

— Shah Rukh Khan Universe Fan Club (@SRKUniverse) August 31, 2023
ALSO READ: All About JAWAN's Chennai Pre-Release Event: From Shah Rukh Khan Recreating Magic of 'One Two Three Four' With Priyamani, Striking Iconic Pose To His Gratitude Speech!
Just six days away from the release, this dialogue already become a sensation out there and fans are going gaga over it. They say it is 'inspired from real event' and linked it up with the actor's son Aryan Khan. The time when he was stuck in a drug case and his father stood like a rock with him. 
A user commented, "Bete ko haath lagane se pahle, baap se baat kar' SRK has given a clear message to Sameer Wankhede & his handlers in Delhi through #JawanTrailer". Another said, "BETE KO HAATH LAGANE SE PHLE, BAAP SE BAAT KAR, Yes your ears are working fine, This dialogue is inspired From real event. Masssssssiest Moment SRK SE PANGA NHI LENE KA #JawanTrailer"
See reactions: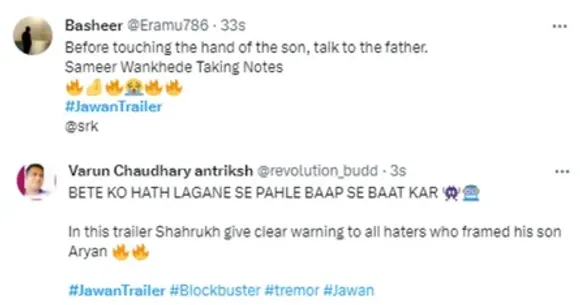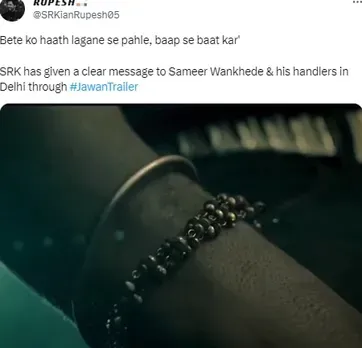 ALSO WATCH Viral Video: Host Pushes Vijay Deverakonda's Fan, Netizens Questions The Actor!
Pathaan actor also said his lines, "Main kaun hoon. Kaun nahi. Pata nahi. Maa ko kiya wada hoon. Ya adhoora ik iraada hoon. Main achha hoon. Bura hoon. Punya hoon yaa paap hoon. Ye khud se puchna. Kyunki main bhi aap hoon (who am I, who I am not. I don't know. I am a promise made to a mother or I am an incomplete intention. Ask yourself if I am good or bad, virtue or evil because I am what you are)."
Full event video link:
In the trailer, we got highly-anticipated actors' glimpses too like Sunil Grover, and Ridhi Dogra – who is playing the role of SRK's mother in the film, which was revealed by Shah Rukh Khan himself in the pre-release event, also more exposure in the roles of Jawan women – Priyamani, Sanya Malhotra, Girija Oak, Sanjeeta Bhattacharya, Lever Khan and others. 
What a man! The rip-roaring villain Vijay Sethupathi as always looks intriguing in the bad man avatar. Nayanthara is also captivating in the officer role indeed delightful too in SRK's love interest. While, the surprising element was Deepika Padukone knocking down King Khan, the face-off action between the much-loved on-screen pair will be a treat for sure. 
So many exciting elements that we cannot keep calm to watch out for the full-fledged movie on big screens as soon as possible and to see Shah Rukh Khan breaking all his own records by setting another dynamic example with Atlee's directorial. 
Just a week away from witnessing the theatre roars, 'Jawan' is hitting silver screens on 7 September 2023 in Hindi, Tamil and Telugu.  Red Chillies Entertainment presentation directed by Atlee, produced by Gauri Khan, and co-produced by Gaurav Verma.
Watch Trilingual Trailer Below: