The wait is finally over and we got to witness Shah Rukh Khan's much-awaited trailer of his highly-anticipated 'Jawan' and it is just one week away to hit the silver screens. While the trailer without any doubt promises to be a sure-shot blockbuster! Ever since the prevue was released fans have been waiting on their toes for this moment and definitely, it has all been worth it. 
Every frame of the trailer is terrifying and massive. Drama, adventurous, emotional, romance, power-packed action, thrills and a lot more. Also, it features glimpses of every star cast of the film and promises to be an unforgettable entertaining cinematic journey that will give us a thrilling theatrical experience for sure. 
Here taking you in some astounding moments from this intriguing trailer that writes blockbusters for Atlee's directorial starring Shah Rukh Khan, Nayanthara and Vijay Sethupati in the lead.
Moments That Won Our Hearts!
SRK's Wit! "Chahiye toh Alia Bhatt.."
A thrilling start of the trailer and here comes our witty SRK, not just in real being the King of wit, he shines his wit game in Jawan too it seems. The officer asks him, "Yeh batao tumhe chahiye kya? (What do you want?)" and the witty King starts in a fun way, saying, "Chahiye toh Alia Bhatt ". He's going to scare you and make you laugh at the same time. What a performer!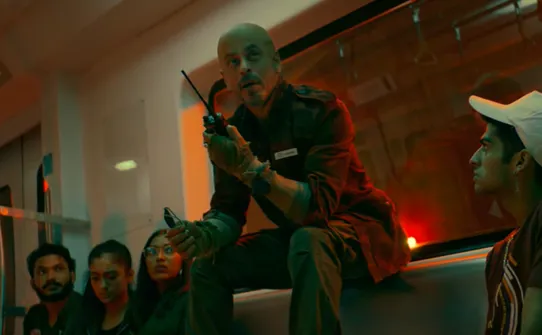 ALSO READ: 'Jawan' Updates: What's The Role Of South Stars Prithviraj & Yash? Shah Rukh Khan's Date With Burj Khalifa In Dress Code Of Love!
SRK & Ridhi Dogra
The one where fans were disappointed in not spotting actress Ridhi Dogra in 'Jawan Prevue' we got her glimpse in the trailer and no doubt, she looks promising in the aged woman look. In the recent Chennai pre-release event Badshah revealed that she's playing the role of his mother. He said, "Ridhi is unfortunately playing my mother, but in the next film, we will work something out age-wise."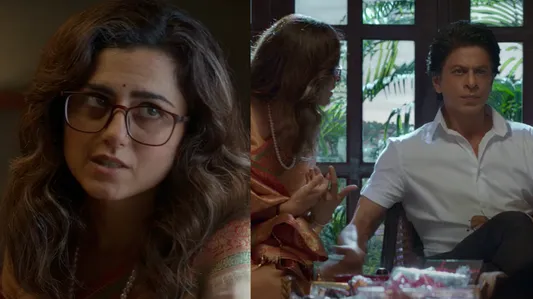 Nayanthara – SRK Romantic Moment
Apart from adventurous action, Officer Nayanthara also plays a love angle of Shah Rukh Khan. The actress teases him with the dialogue "Kuch romantic karoge mujhe impress karne ke liye (Thought you'd be romantic to impress me)" and 2 minutes 46 seconds video also gives glimpses of her beauty that we are so excited to witness the chemistry between the lead pair.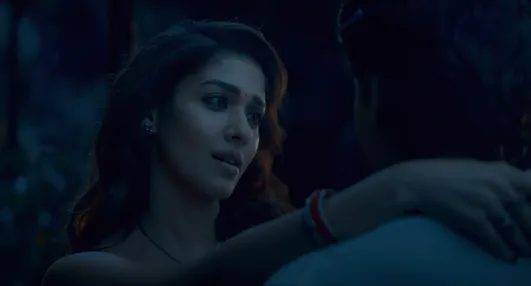 ALSO READ: Already Creating History! Shah Rukh Khan's Jawan To Release On World's Largest Screen!
SRK – Deepika Fight Scene
Deepika Padukone is making her cameo appearance in Jawan and without any doubt, her presence will create a huge impact just with a small role in this full-fledged film. The trailer gives us a glimpse of the Bollywood queen showing her excellent on-screen action skills by knocking down King Khan with the dialogue "Haar jaoge (You'll lose)" And before hitting the ground the superstar says, "Haar toh main pehle gaya Tha (I lost to you age ago)". We can make out that she's playing a huge part in the movie.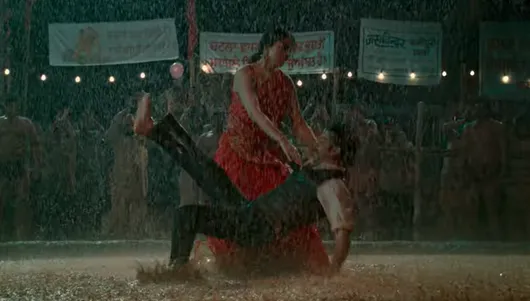 SRK & Small Girl's Cute Conversation 
Not just drama or adventurous action, we can see that Jawan will also tickle us and this cute moment where the little girl asks him, "Yeh baal asli hai ki? hair dye kiya hai? (Is your hair colour natural? Or dyed?) and in the very next scene, he can't handle the cup of tea and salutes a woman standing in front of him.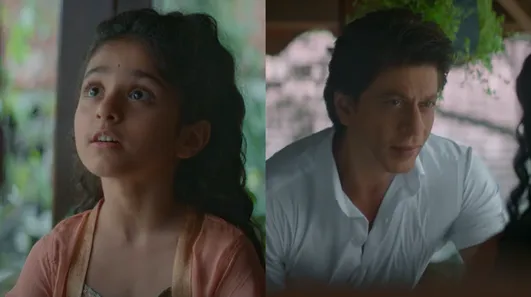 ALSO READ: DEETS INSIDE: Jawan Is A Most Expensive Film Of Shah Rukh Khan Till Date
SRK's Fearing Cough In Metro
The bald look of SRK has become a sensation ever since the prevue was released and is also giving chills among the audience which will be very interesting to witness in theatres. And in the trailer, his unique way of coughing in the hijacked metro is definitely scary.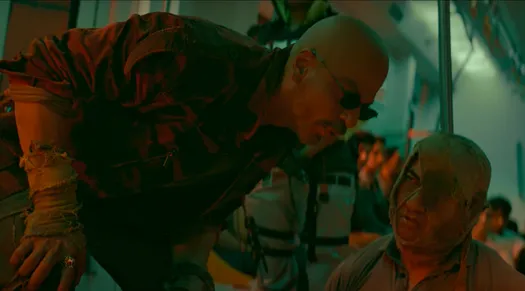 Vijay Sethupathi Intro Dialogue 
Another intriguing bit, Sethupathi's intro part is exciting. Acing his salt pepper look he says, "My name is Kalee, I am the fourth largest weapon dealer in the world. Agar koi mere koi itne bade Empire ko haath lagayga toh (If anyone threatens my empire then…)" and immediately after the dialogue the roar of cheetah has enthrallingly added.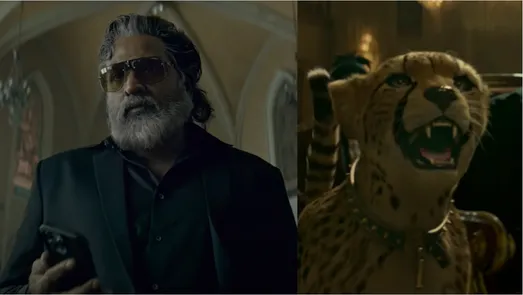 The Limelight Winning Dialogue, "Bete ko haath lagane se pehle…"
Just simple lines but it will be iconic for sure including the visuals, captivating background score and of course SRK's stunning presence. "Bete ko haath lagane se pehle, baap se baat kar (Before you touch my son, deal with his father)," that says he's playing both young and old roles. And yeah! His glimpse has studded us already!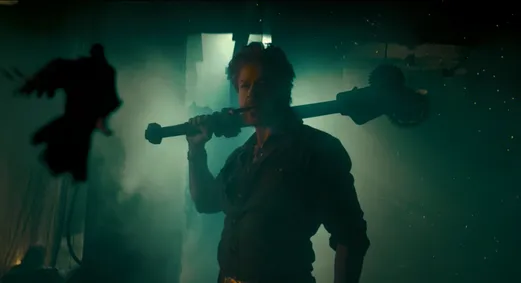 Salt Pepper Glimpse of SRK
Not just two or three, it seems King Khan is going to radiate in more than ten looks for sure. The trailer also makes us guess that he's playing a double role of young and old too. And he looks fairly amazing in both looks. It was a blurry glimpse but we can make out that SRK looks stunning in the grey hair look which is surely captivating and we cannot keep calm to watch him on-screen by rocking in every avatar.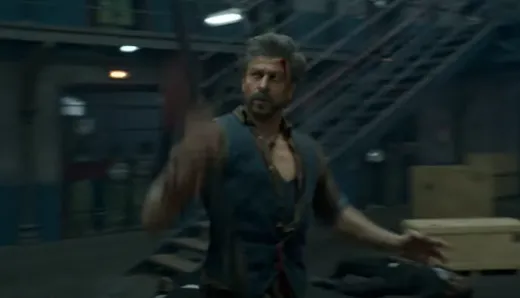 ALSO READ: #AskSRK: Shah Rukh Khan On Wife Gauri Khan, 'Mujhse meri nahi sambhalti…', Reacting On Salman Khan's Bald Look To Watching Sunny Deol's Gadar 2
SRK – Nayanthara End Conversation 
SRK being a hijacker, places his demands with Officer Nayanthara and she asks, "Aur kya chahiye? (What more do you want?)" and he says, "Ek gaana sunayiye na? (Sing me a song)" His unstoppable wit game is what we love of him, unconditionally.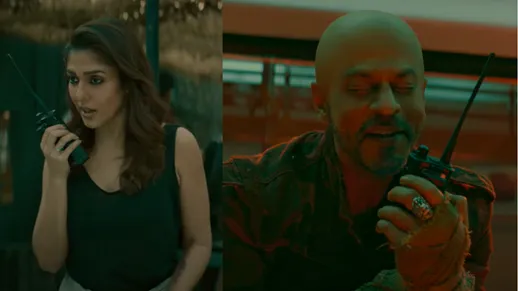 Yes, the time has finally come. Now we are just seven days away from witnessing the spectacular cinematic experience with Shah Rukh Khan's 'Jawan' that promises to break all the records. Just like his 'Pathaan' did at the start of the year, breaking his own is just King Khan's thing! 
These were just a few moments from the trailer but for a moment, could not keep calm at all to witness the full-fledged cinematic thrilling experience on the big screen as soon as possible!
Hold on to your hearts, it's going to be tremendously massive!
WATCH TRAILER HERE:
'Jawan' is a Red Chillies Entertainment presentation directed by Atlee, produced by Gauri Khan, and co-produced by Gaurav Verma. The movie stars a terrifying ensemble cast that includes Shah Rukh Khan, Nayanthara, Vijay Sethupathi, Priyamani, Sanya Malhotra and more. While Bollywood Queen Deepika Padukone and Tamil superstar Thalapathy Vijay are making a cameo appearance. The film will be released in Tamil, Telugu and Hindi on 7 September 2023.