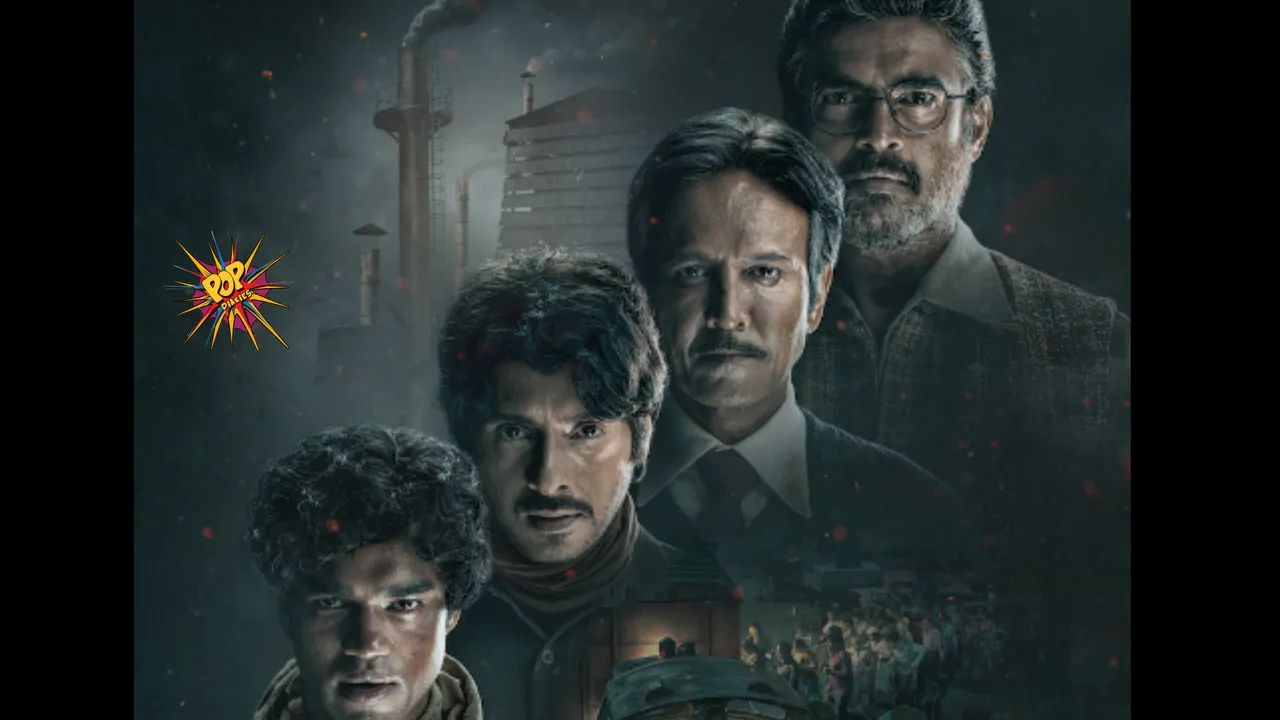 Netflix in association with YRF Entertainment released the trailer for their upcoming series, The Railway Men, a story of extraordinary heroism demonstrated by the employees of the Indian Railways in Bhopal. These individuals rose against all odds to save their fellow citizens on the night of December 2nd, 1984, battling an invisible enemy in the air. Inspired by true stories, this gripping series is a celebration of the indomitable spirit of humanity. With a stellar ensemble cast, including R Madhavan, Kay Kay Menon, Divyenndu, and Babil Khan, The Railway Men premieres on November 18, only on Netflix.
The trailer highlights how courage can be found in the darkest of times and how ordinary men can rise up to extraordinary challenges. It brings forth the heroic attempt of individuals who worked tirelessly and in a race against time ensured the safety of hundreds of people on the fateful night of the world's worst industrial disaster. The Railway Men promises to be a must-watch thrilling drama. (ALSO READ: Birthday Special: Exploring Tabu's Effortless Transition From Innocent To Groundbreaking Roles!)
WATCH TRAILER HERE:
Shiv Rawail shared his thoughts on his first project as a director, "Directing this series has been a deeply emotional and rewarding journey. It's a story of the human spirit that needed to be told, to remind people of the power of resilience in the face of adversity. I am truly humbled and honoured to helm this series. To be able to execute my passion project under the able guidance of YRF Entertainment; to be able to work with talents like R Madhavan, Kay Kay Menon, Juhi Chawla, Raghubir Yadav, Divyendu, Babil and so many others in my very first outing as a director and for this series to reach the global audience through Netflix is truly a dream come true." (ALSO READ: Happy Birthday, Shah Rukh Khan: A Journey From Ignorance, Criticism To Now Being An Only Actor With Two 1000 Crore Films, An Unstoppable King!)
Monika Shergill, VP, of Content, Netflix India said, "This year has been a fantastic year for Netflix's dramas. Audiences have loved the variety of series across all genres that we have released and I am excited to end this year on a high note with the launch of the truly exceptional mini-series 'The Railway Men'. It is the first show from our partnership with YRF and it shines with the powerful storytelling and creative finesse that YRF is widely known for. The series captures an inspiring story with bravery and compassion at its heart. I'm confident that this moving story will appeal to our audiences and stay with them just like it stayed with me."
Akshaye Widhani, CEO, of Yash Raj Films shared his perspective, "At YRF, our mission is to create engaging, inspiring and extraordinary stories from India for the world. The Railway Men is one such powerful story that stands testament to our pursuit of this trifecta. Partnering with Netflix will enable us to share these stories with diverse audiences worldwide." (ALSO CHECKOUT: EXCLUSIVE: Not A Single Person Owns Bugatti Chiron Worth 24 Crores In India, But These 5 Foreign-based Indians Are Proud Owners Of This Expensive Car!)
The Railway Men premieres worldwide on November 18 only on Netflix.
Produced By: YRF Entertainment
Director: Shiv Rawail
Writer: Aayush Gupta
Cast: R Madhavan, KK Menon, Divyenndu Sharma, Babil Khan
 
About Netflix:
Netflix is one of the world's leading entertainment services with over 247 million paid memberships in over 190 countries enjoying TV series, films and games across a wide variety of genres and languages. Members can play, pause and resume watching as much as they want, anytime, anywhere, and can change their plans at any time.
About Yash Raj Films: 
Yash Raj Films (YRF) is one of India's oldest and most respected storytellers. YRF is now a 50-year-strong  production house and a vertically integrated studio controlling almost every part of the value chain from production to post-production, domestic & international distribution, music & home entertainment, marketing, design, digital, licensing, merchandising, talent management, brand partnerships, music studios and film studios - all in-house facilities, which makes it one of the most coveted entertainment conglomerates in the country.
YRF has been one of the key makers of modern cinema and has heralded cinematic trends since its inception - the way films are made, the way films are marketed and the way films are consumed.