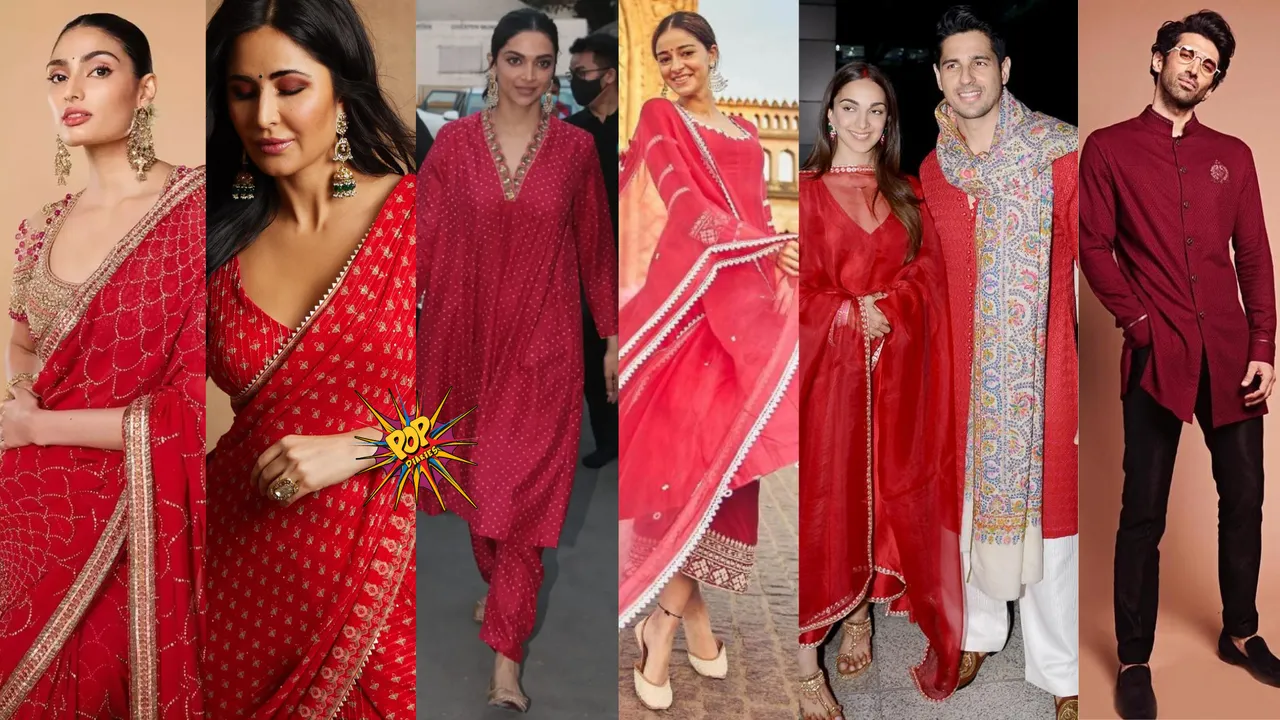 Navratri, the nine nights of pure bliss, energy and divine worshipping of the supreme Goddess Durga Devi in nine different forms devotees celebrate all forms by adorning in nine specific colours with each one of them holding a profound significance, representing various aspects of life, power, and spirituality.
As we saw on days 1 & 2, here we go for RED on day 3 (October 17), the colour symbolizes strength and action, signifying Goddess Chandraghanta, who bestows courage and fearlessness upon her devotees. ALSO READ: The Divine Palette: Unveiling The List Of Nine Colours For Navratri 2023 & Maa Durga's Significance! 
And as you love to dive into the rituals of the festive adorning specific hue each day, let us have a look at fashion inspiration from Bollywood celebrities embracing the power of red in these different ethnic attires as per your comfort. 
Navratri Day 3: Embrace Power in Red with Star-Studded Fashion!
Athiya Shetty's lovely red saree features a fish scale design with a zari border paired with a heavy captivating work blouse complementing with huge traditional earrings and adding a touch of festive celebration with gajra wrapped around a sleek bun.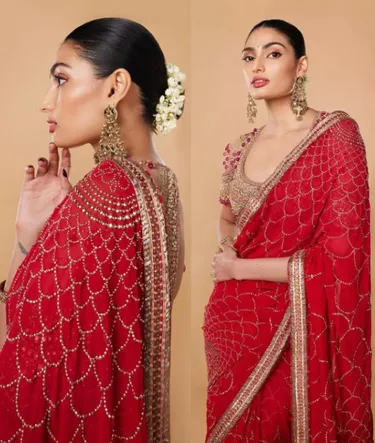 Going fully festive with Shraddha Kapoor's inspired Maharashtrian red saree look and a cultural nath (a nose ring) marks right.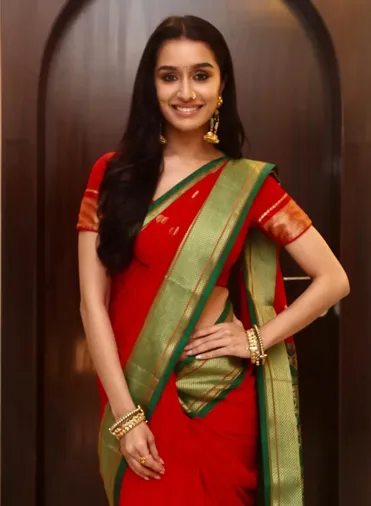 If you're someone who wanna go lightweight then Katrina Kaif-inspired red sequence chiffon saree with matching sleeveless blouse accessorizing with traditional jhumkas and leaving hair open wins your game of comfort.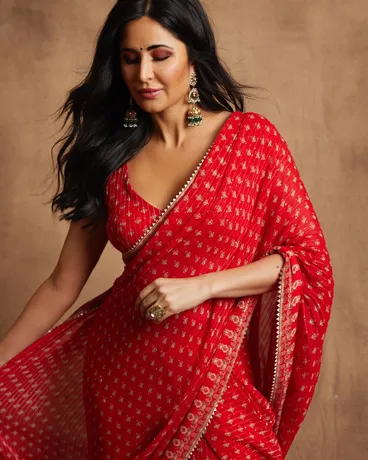 ALSO CHECKOUT: Navratri Day 1 Fashion: Birthday Girl Pooja Hegde Being An Epitome Of Colour Orange!
If not chiffon then cotton pieces never go out of trend, Vidya Balan is your perfect inspiration for a checks patterned red saree paired with a plain dark red blouse and just jhumkis with gajra over a hair bun, isn't that simply beautiful?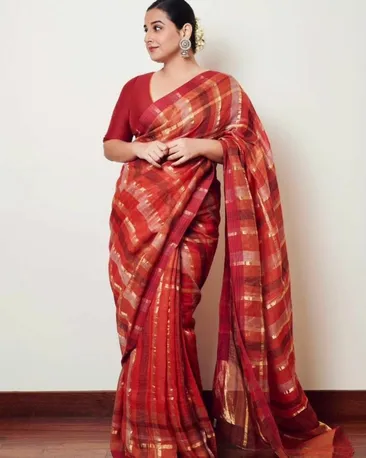 If not saree, then here you go with dress suits and Kareena Kapoor's straight-cut red kurta and dupatta done with golden embroidery paired with a plain salwar at the bottom. And a golden potli bag and jhutis make an ideal choice for the festive shine.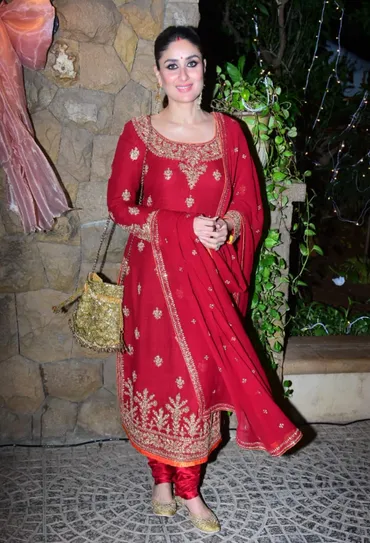 For you, Ananya Panday embraces simplicity in festive with an all-red umbrella dress set featuring a white border and accessorizing with huge golden earrings and a bindi.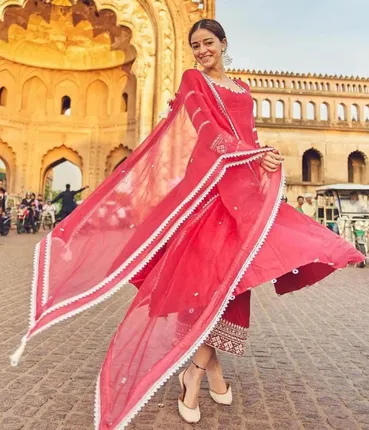 If you want to go without a dupatta and yet stick to the festiveness then a 3-piece set works the best. And if it features floral prints just like Madhuri Dixit and Sara Ali Khan then you are good to go with Navratri vibes.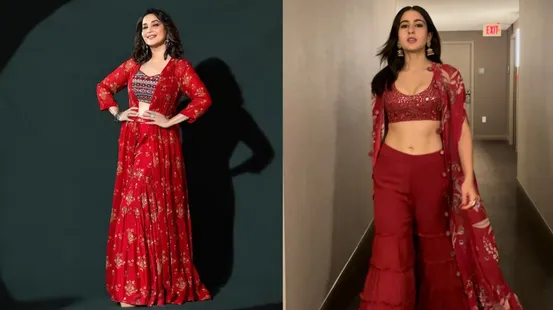 Or else to comfort you at the best without a dupatta or a saree pallu then what's greater than a 2-piece set. Sonam Kapoor's heavy work dress and straight pants are here to inspire you to opt.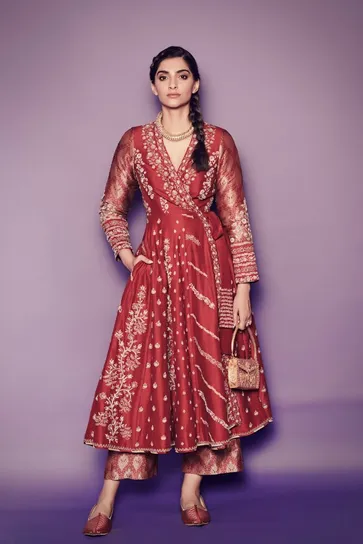 Otherwise, to comfort your soul here's a lightweight flowy kurta with similar bottoms inspired by queen Deepika Padukone.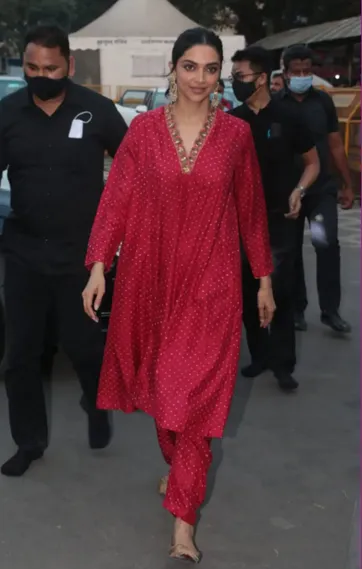 ALSO CHECKOUT: Navratri Day 2, WHITE: Perfect Festive Inspiration By Celebs To Delve In Purity & Peace Of Hue!
Actress Kiara Advani and actor Sidharth Malhotra's this couple twinning traditional look inspires every pair out there for fashion and delve into the divine together. Kiara's all-red plain salwar suit and Sid is giving an ideal inspiration for Navratri vibes with red embroidered kurta, and white bottoms worn along a  colourful beige cotton stole wins the game like no other.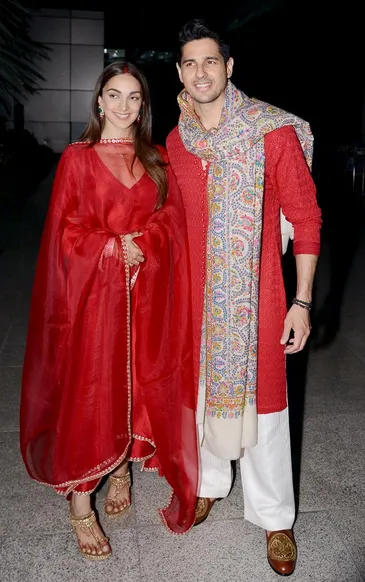 Hey, Bois!
For a fully festive look, Pulkit Samrat's wear pulls you on the right track. A green-red zig-zag lining kurta paired with a sparkling red Nehru jacket and plain bottoms with loafers.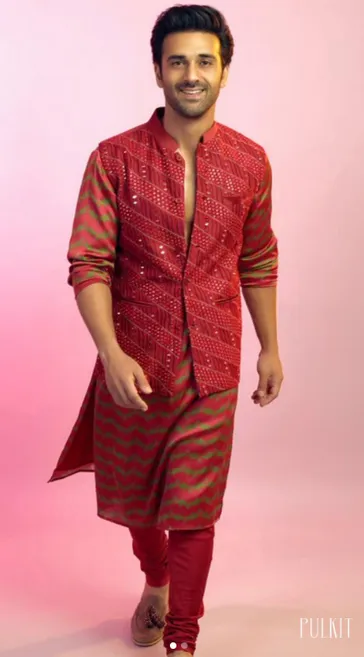 A floral kurta never goes wrong and indeed it works well in Navratri just like superstar Salman Khan's has worn.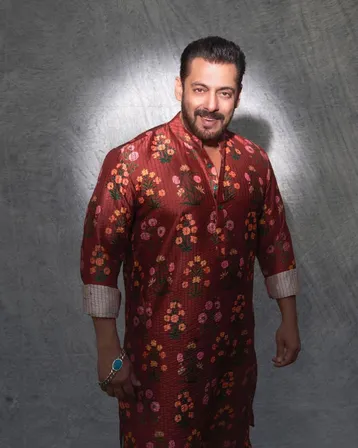 If you do not want to wear a long kurta and wanna go with a touch of modern then short kurtas are the best. Paired with jeans, and formal shoes along specs or glares, have a look at Aditya Roy Kapur and Aamir Khan's inspired attire below.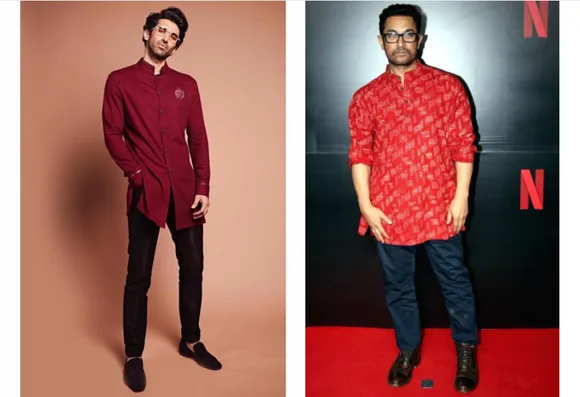 ALSO READ: Beyond The Glamour: Rekha's Influence on Indian Fashion
The nine forms of Maa Durga include Maa Shailputri, Maa Brahmacharini, Maa Chandraghanta, Maa Kushmanda, Maa Skandamata, Maa Katyayani, Maa Kaalratri, Maa Mahagauri, and Maa Siddhidatri. Each Goddess holds a profound significance, representing various aspects of life, power, and spirituality that devotees celebrate by adorning in nine specific colours.