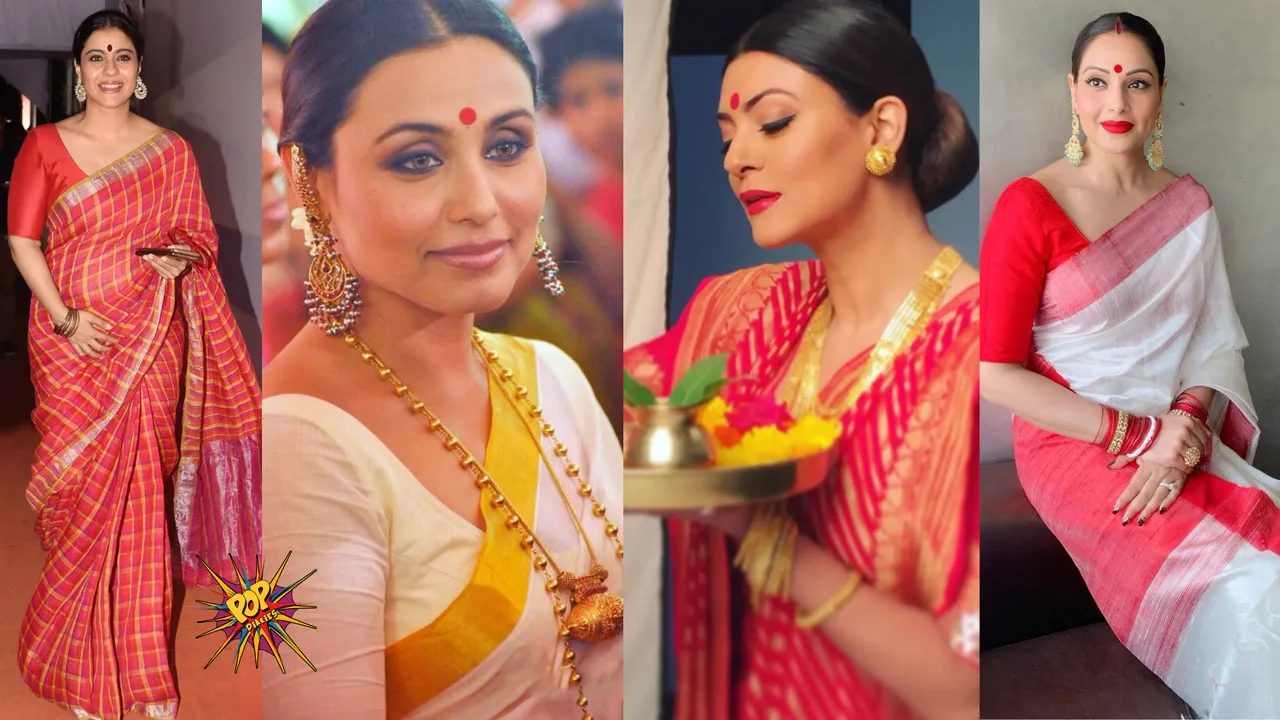 Durga Puja, also known as Durgotsav or Sharodotsav is an annual Hindu festival in worship of the supreme Goddess Durga, which is also celebrated because of Maa Durga's victory over Mahishasura. The festive is celebrated particularly and traditionally on a large scale in the state of West Bengal and then it is popularly observed in other Indian cities like Mumbai, Pune, Bangalore, Orissa, Bihar, Assam, Tripura, Jharkhand, etc and also in greater foreign countries like London, New York, Japan, New Jersey, Australia, Switzerland, and Bangladesh.

As this year's Durga Puja is here, starting from Shoshti to Dashami, from 20th October to 24th October let us have a look at the cultural couture of the festive with the style guide by none other than our very own Bollywood Bengali beauties. From Kajol, Rani Mukerji, Bipasha Basu, and Sushmita Sen, to Konkana Sen Sharma. ALSO CHECKOUT: Durga Puja 2023: Kolkata's Mesmerizing Pandals Unveiled, Take A Look At Astounding Unprecedented Creativity & Grandeur!
Durga Puja 2023 Fashion Chronicles from Bengal's Finest!
Kajol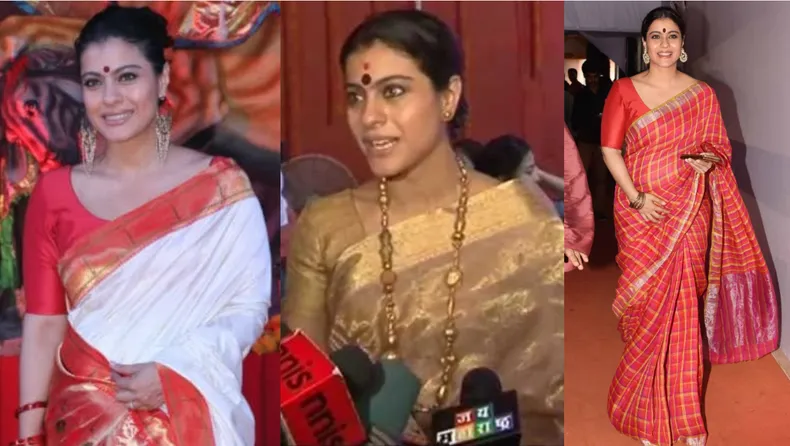 Kajol Mukherjee aka Kajol Devgn has got you the perfect festive finery. A typical cultural white saree with a red border paired with a red blouse and accessorized in ruby bangles, hanging earrings, a hair bun and a huge bindi shouldn't be missed. 
In the second attire, the actress ditched a typical cultural hue saree and instead opted for an all-golden silk six-yard drape accessorized with a golden long neckpiece and a huge bindi. 
The third look presents an all-red & yellow checks patterned saree paired with a plain red blouse. And rounded up the entire look with a huge oval maroon bindi, pearl earrings and oxidized bangles set. ALSO CHECKOUT: Navratri 2023, Day 6: Embrace GREEN Elegance with Celeb-Inspired Traditional Attire!
Bipasha Basu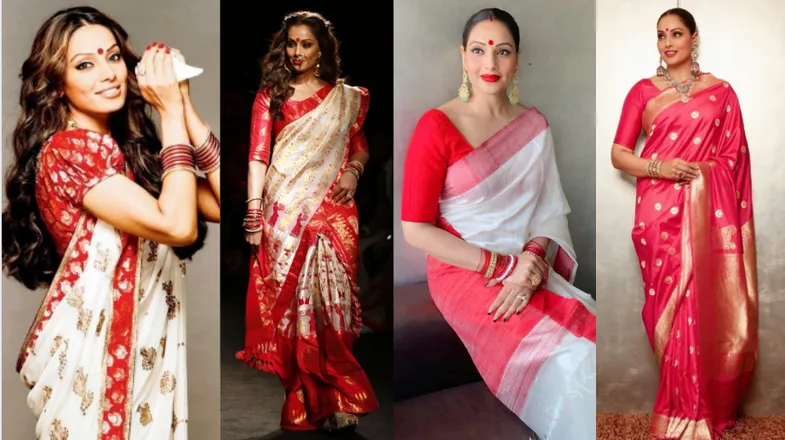 The next Bengal gorgeous is none other than Bipasha Basu who is an ultimate inspiration by donning a saree worn exactly how Bengali women wear it and she has picked up a bunch of red-golden bangles, a huge bindi, and volumed her wavy hair. 
The second look of Bipasha is very striking from her famous ramp-walk, she delved into a red-white saree and drop dead-gorgeously picked up for half-tied open hair, ruby-golden bangles, ethnic earrings, a bindi and the nose ring made the look just perfect. 
The third look of the actress is simple yet to make you stand out, a red-white saree paired with red-golden bangles, ruby lips, a huge bindi, a sindoor, and a sleek bun surrounded with a gajra.
The fourth look features Bipasha in a red-golden saree accessorized with an emerald jewellery set, a huge bindi, winged eyeliner, hair-bun adorned with flowers is an ideal pick for the occasion. ALSO READ: Durga Puja 2023: Biggest & Creatively Theme Pandals To Visit In Mumbai
Rani Mukerji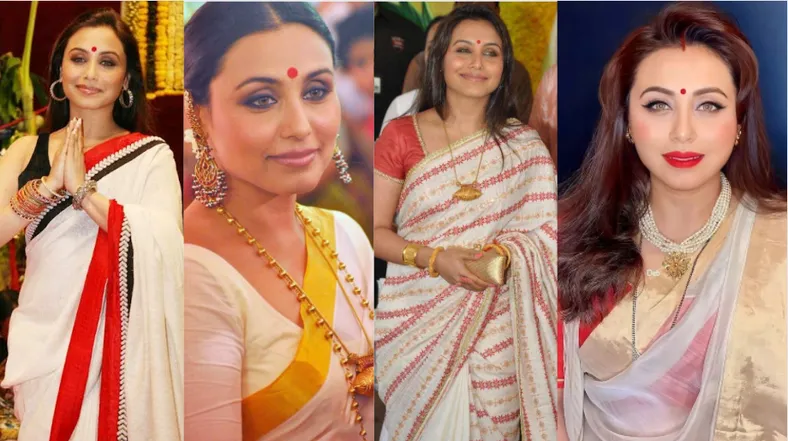 Rani Mukerji is one of the charismatic Bollywood actresses hailing from Bengal and in her first look, she has opted for a white saree with a red-black border paired with a sleeveless kohl blouse. And completed the look with a set of bangles, a huge red bindi, and long hoops with open hair. 
The second glance features the actress in a golden-white saree accessorized with golden typical ethnic neckpieces, pearl earrings, a bindi, eyes done with smerged eyeshadow, and a hair bun is another Durga puja look inspiration.
In the third look, Rani elegantly opted for a white six-yard drape featuring minimal golden-red floral work and accessorized with a statement golden pendant necklace and bracelet, and a bindi by leaving her hair open. 
And the fourth presents her with a typical Bengali look. 
Sushmita Sen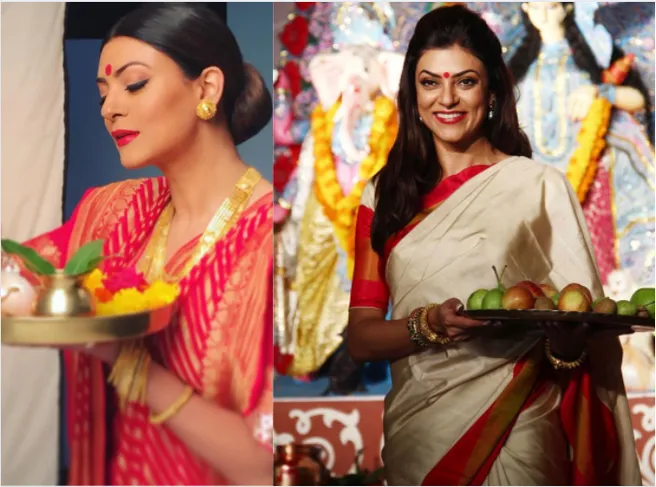 A Bengal beauty Sushmita Sen's all-cherry coloured saree worn in a typical cultural style, a bindi, golden – hoops, necklace, bangles with winged eyeliner and a sleek hair-bun, is a perfect guide for you. 
In the second look, the actress-model opted for a simple white-red saree accessorized with small diamond earrings, a bindi, and two huge bangles and for hair she has gone with an open hair puff. ALSO CHECKOUT: The Divine Palette: Unveiling The List Of Nine Colours For Navratri 2023 & Maa Durga's Significance! 
Konkana Sen Sharma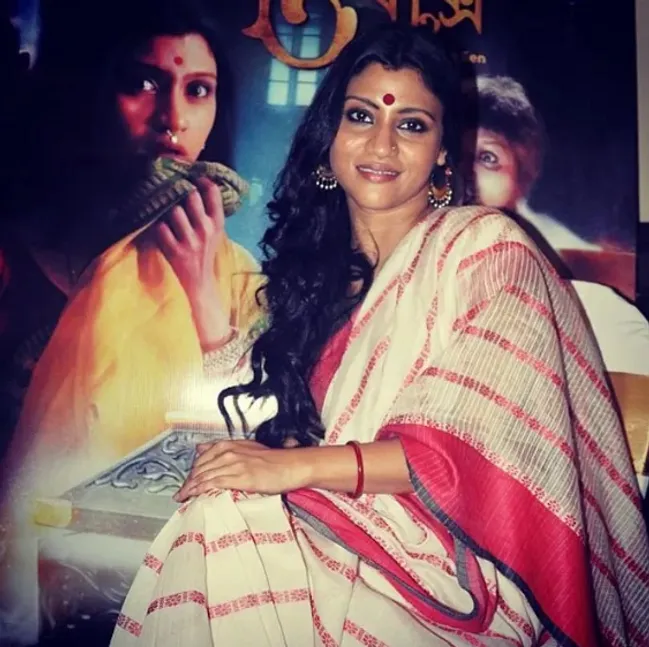 Last but not least, Konkana Sen Sharma! The filmmaker-actress has worn a red-white six-yard drape accessorized with golden white pearl earrings, a single red bangle, a huge bindi and kohl eyes to complete the look. 
The festival not only symbolizes devotion but also marks a vibrant celebration of tradition and style. Through the lens of our Bollywood Bengali beauties, we have glimpsed into the essence of this auspicious occasion, finding inspiration in their grace and elegance. May their fashionable choices inspire you as you prepare to celebrate this significant festival. Embrace the spirit of Durga Puja with reverence, love, and a touch of glamour, weaving together the threads of tradition and trend. Happy festivities and divine blessings to you all!