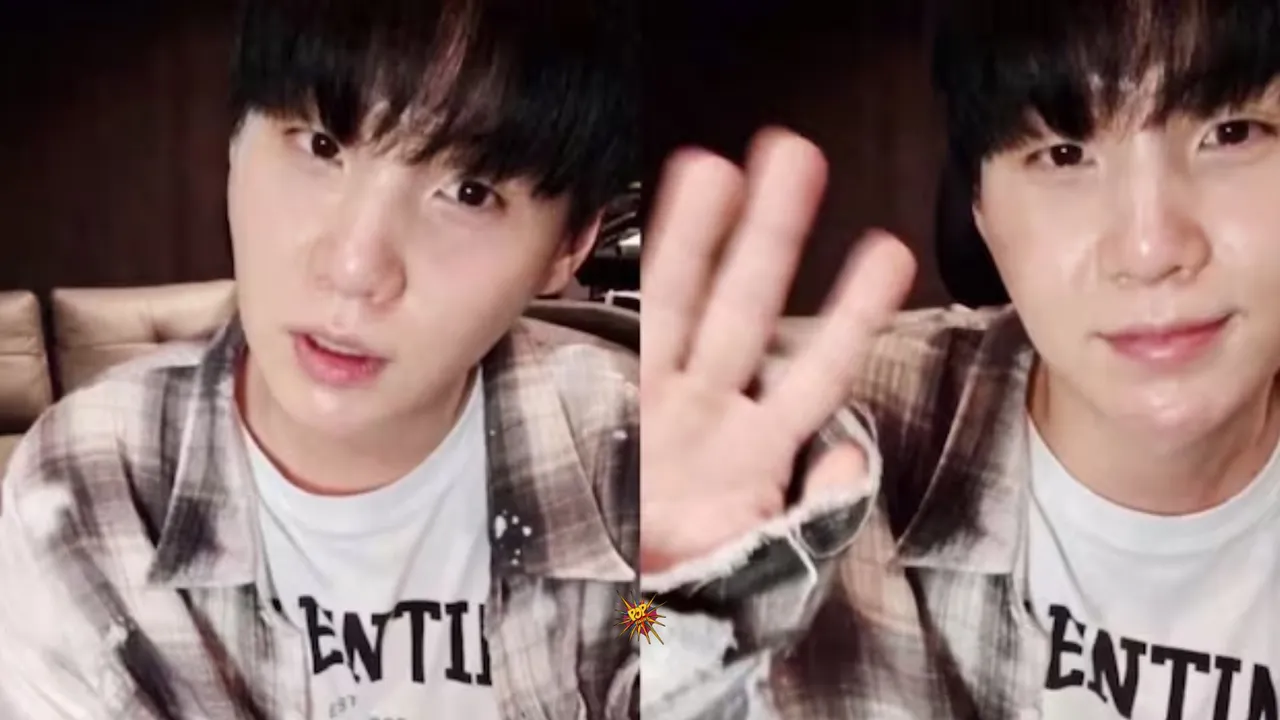 In a recent statement released on September 17 by BIGHIT MUSIC, fans of SUGA were informed about his upcoming mandatory military service enlistment, scheduled for September 22. This announcement came as a bittersweet moment for fans, knowing that their cherished artist would be temporarily stepping away from the spotlight.
However, just hours after this announcement, SUGA pleasantly surprised fans by hosting a live broadcast on Weverse. This broadcast marked his first appearance in nearly a month, with his last after-concert live video taking place in August.
During the live session, SUGA expressed his desire to greet and remind fans of the promise they had made to him. Addressing the concerns and emotions of his devoted supporters, he reassured them with a comforting tone, saying, "Everyone, there is no need to cry, you know we have promised to see each other in 2025, right? It's unfortunate that I will be unable to share moments with you all for the next two years. But we still have a promise… 2025."
SUGA's words provided solace and optimism to fans, and he bid them farewell with a heartfelt promise. He also mentioned that he wouldn't be able to continue "Suchwita" for the time being, but fans could look forward to it as he had recorded many episodes for the future.
Notably, fellow BTS members J-Hope and Jin were actively engaged during SUGA's live video session. J-Hope, while watching the live show, praised SUGA's new haircut and expressed that it looked really good on him. Jin's comment followed suit, as he playfully noted J-Hope's presence, saying, "I was texting J-Hope and wondering where he went, here he is." Jin continued to shower SUGA with support, saying, "Yoongi (SUGA), you are so cool, cheer up, I am supporting you." He revealed that he and J-Hope had been discussing SUGA in their messages and extended their well wishes for a safe journey, adding, "We are always rooting for you, cheer up, you can do this!"
As the news of SUGA's enlistment date spread, fans took to Twitter to share their heartfelt reactions, showcasing the deep bond between the artist and his dedicated fanbase. Here are some reactions below:
The notice that I dreaded the most 😭 pic.twitter.com/XU3Sn0Rsgl

— Jeoni⁷ (@ChimmyxKookies) September 17, 2023
I'm not crying! You are! 😭😭😭😭😭😭😭

— butchikikekekek (@butchikik22) September 17, 2023
I'm not okay 😭😭😭

— Jeoni⁷ (@ChimmyxKookies) September 17, 2023
Unpopular Opinion: Smoking Is NOT Cool! No Matter Who Does It!