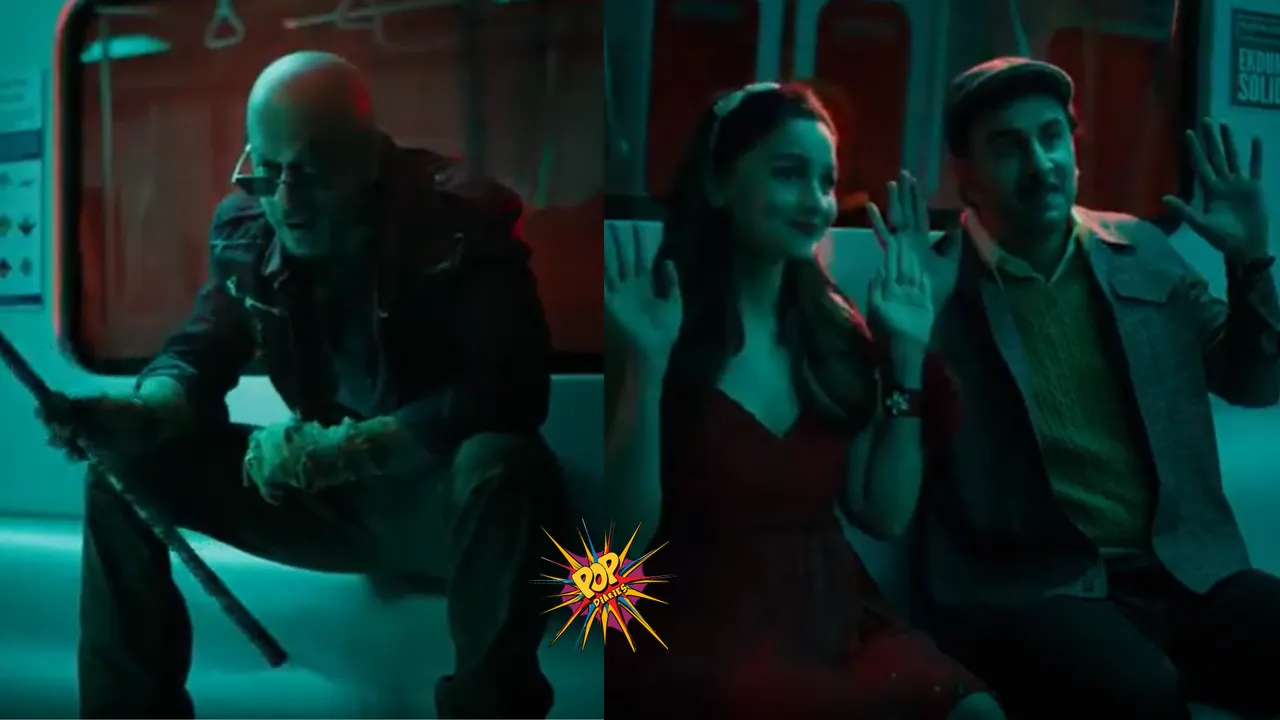 Over the years, Hindi cinema has got its iconic characters which have completely etched with the audience and one of the latest is 'Jawan' a titular role played by none other than Shah Rukh Khan, the ultimate King of Bollywood. Picking up one of the famous hostage scenes from the movie, the viewers have now got an advertisement out of it. It features Alia Bhatt, Ranbir Kapoor, and Shah Rukh Khan donning their respective roles of Shanaya from 'Student of The Year', 'Barfi' and 'Jawan'. ALSO CHECKOUT: Durga Puja 2023 Style Inspirations From Bollywood Bengali Actresses!
In the advertisement, SRK holds the two hostages in a metro and the further conversation between them is hilarious that one cannot miss. It begins with Shanaya (Alia) asking, "Yeh sab kya hai? Kaun, ho tum?" and the superstar's character replies in a Jawan style saying, "Main kaun hu, kaun nahi, pata nahi," repeating his one of the dialogue's lines from the film. Later Alia shouts, "Shiva!" (Ranbir's Brahmastra Part One: Shiva movie's character name) and the latter sitting next to her reminds her that he is 'Barfi' and not Shiva.
In the entire Ad, Jawan and Shanaya continuously call out Ranbir by his other film characters' names like Sanju, Jagga, and Rocket Singh and he is seen reminding them that he is 'Barfi'. ALSO CHECKOUT: Navratri 2023, Day 6: Embrace GREEN Elegance with Celeb-Inspired Traditional Attire!
WATCH VIDEO BELOW:
Srk, RK and Alia's Ad for Rungta steel (Jawan, Barfi and Shanaya)
byu/RanaKp inBollyBlindsNGossip
As soon as it was out, watching them together in an advertisement by opting their famous roles has left the netizens in awe and finding it very cute. In a video shared on Reddit, fans commented saying, "This ad is so good whoever came up with this is brilliant is them referring to all Ranbir's characters when he's dressed as barfi haha too cute," "Omg such a fun ad been a long time since I've enjoyed an ad. Kaun hai writer? Isko bolo brahmastra 2 & 3 likhe" and "The writer deserves a raise. The ad is too good".
Also, reminiscing an actual hostage scene from 'Jawan', when Nayanthara's character asks him "Tumhe Chahiye Kya?" and he replies in a fun way saying, "Chahiye toh Alia Bhatt" which also left fans going crazy over King Khan's witty talent.
ALSO READ:
The Divine Palette: Unveiling The List Of Nine Colours For Navratri 2023 & Maa Durga's Significance!