BTS ARMY has created a new game app called BTS Heardle for ARMY's to test their lyrical knowledge.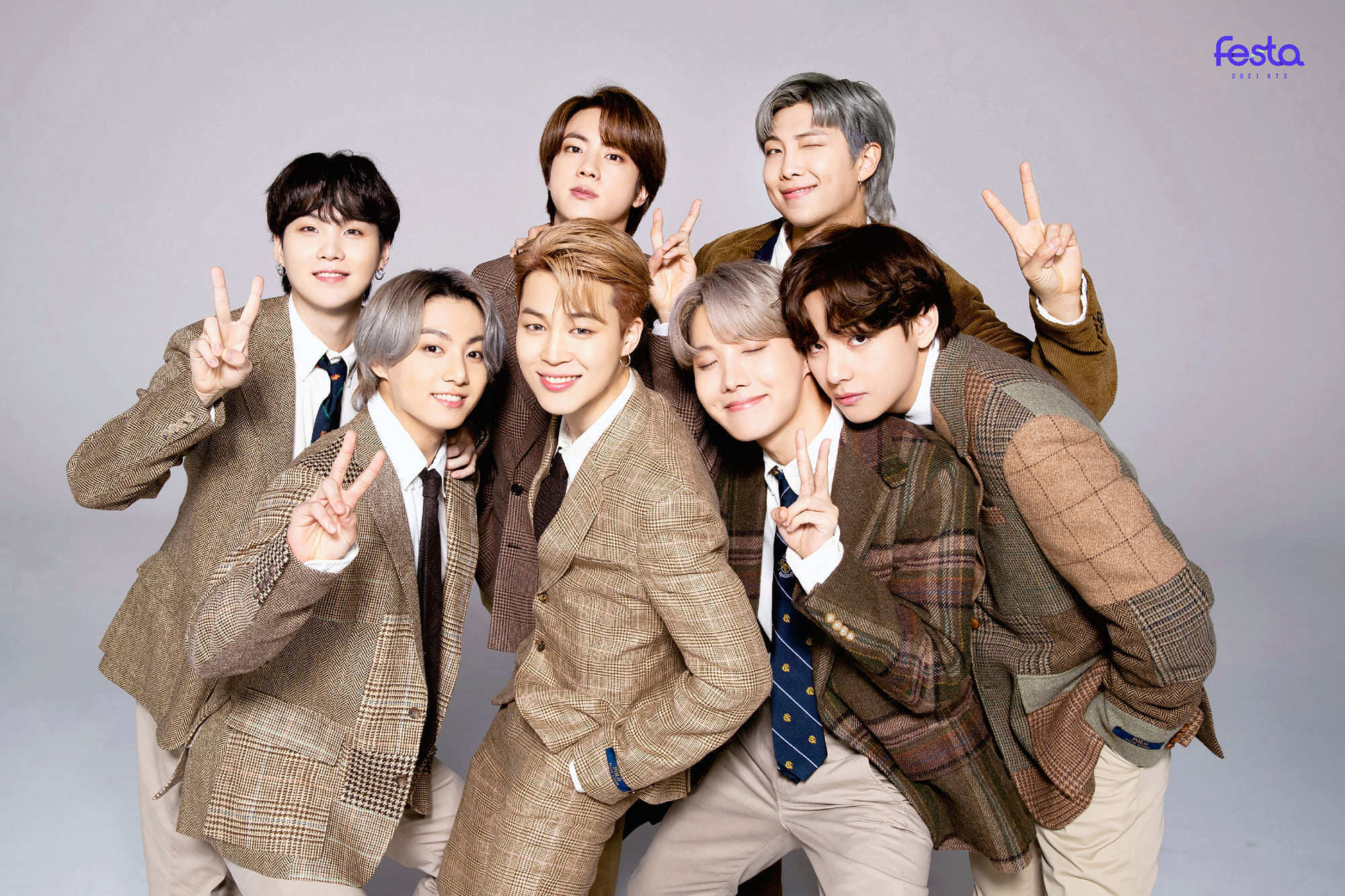 BTS Heardle a fan account @BTSChartData and this account that usually compiles data of the South Korean bans, tests fans' love for the group's songs. BTS Heardle is all about guessing a song by the septet in seven attempts.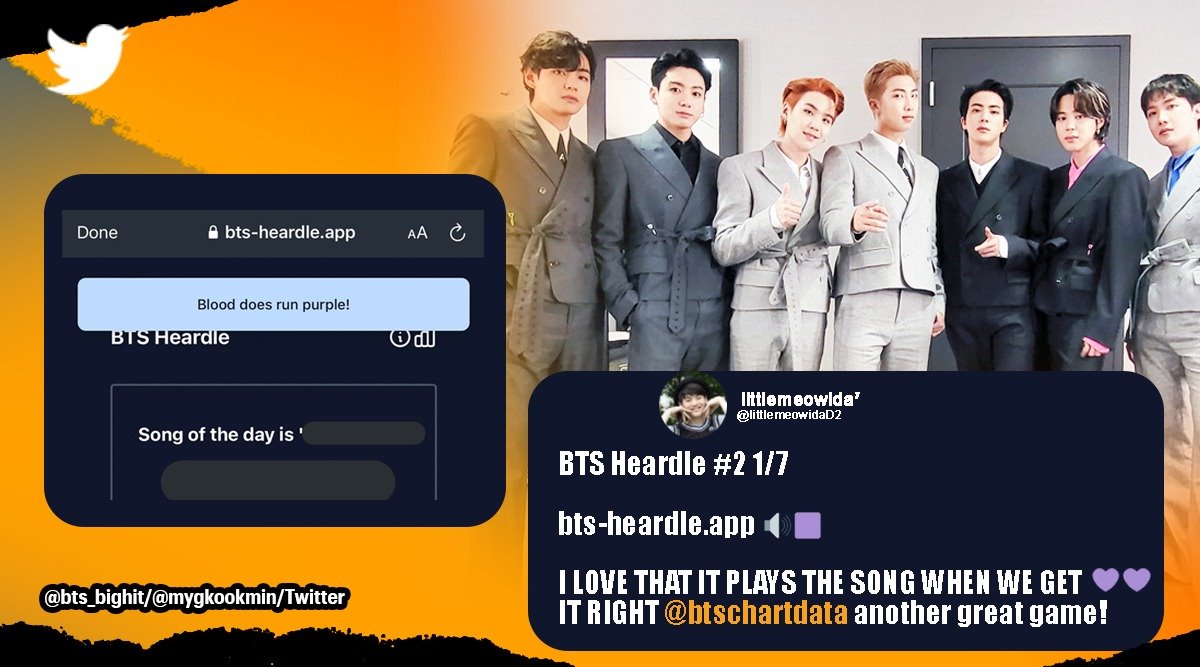 The new game offers hints for each guess. The band, which is known for its poignant and inspirational lyrics, the game tests fans' knowledge about the same. The website displays both original Korean lyrics and translations in English. Even though most of BTS' songs are in Korean, the language won't hinder the bond among fans and artists, thanks to the bilingual fan volunteers who have been translating lyrics of the group since its early days.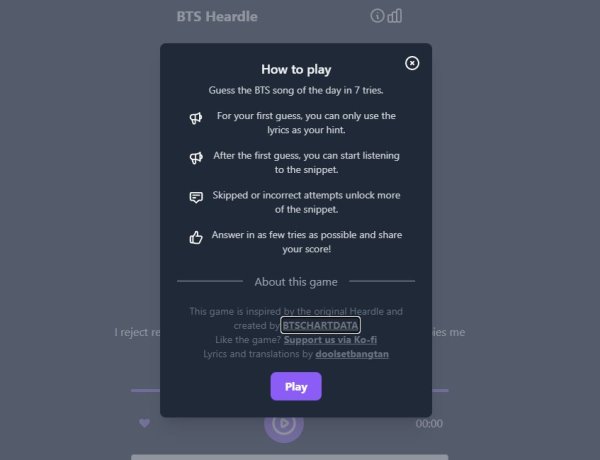 For the lyric hints used in the new game, @BTSChartData collaborated with a trusted translation fan account, @DoolSetBangtan. The rule reads:
"After the first guess, you can start listening to the snippet, skipped or incorrect attempts unlock more of the snippets. Once players succeed, the correct song plays along with displaying the Spotify link of the said song along with a spoiler-free sharing option, allowing fans to brag about it online.
ARMY's have gone crazy over the new game.
It's not the 1st game that @BTSChartData created, previously they also created BTS Wordle which is the once-in-a-day word game that asks players to guess word of the day in six attempts.
BTS recently also successfully wrapped up 'BTS PERMISSION TO DANCE ON STAGE- SEOUL' which was their first concert with a live audience in Korea in approximately 2 ½ years since BTS WORLD TOUR 'LOVE YOURSELF: SPEAK YOURSELF' [THE FINAL.] They gave their powerful performances on their greatest hit songs throughout their incredible career.
This popular group got debuted in 2013 and till now taken numerous awards. They became the best-selling musical artist in South Korean history and hold five multi-Million albums and five Platinum streaming singles. In the United States, BTS is the first Korean group to receive RIAA certification, and currently holds one Triple Platinum single, one Double Platinum single, three Platinum albums, three Platinum singles, three Gold singles, and one Gold album.
They were honoured with Mnet Asian Music Awards, 29 Melon Music Awards, 24 Golden Disc Awards, 20 Seoul Music Awards, six Korean Music Awards, 19 Gaon Chart Music Awards, nine Billboard Music Awards, six American Music Awards, and six MTV Video Music Awards. BTS is also the first group in history to win Top Song Sales Artist at the Billboard Music Awards and earn five consecutive wins for Top Social Artist.
In Japan, BTS is the first male foreign artist to receive a Million certification for a single, and is the only foreign artist to receive Diamond certification for a single; the group additionally has three multi-Platinum singles, two multi-platinum albums, two Platinum albums, and six Gold albums in the country. In the United Kingdom, BTS is the first Korean group to receive BPI certification, and currently holds one Platinum single, three Silver singles, five Silver album certifications, and three Gold album certifications.
They also recently broke their own record for the most followers on Instagram for a music group. They set the record back in April 2021 with 40,220,226 followers on their official Instagram account. In February 2022, they broke the record with 60,151,959 followers.
The group has also broken the record for the most followers on TikTok for a music group. They are officially the most followed music group on the platform, and they had 45.7 million followers in February 2022. They are also the 16th most-followed account out of all of TikTok's users, excluding TikTok's own account.
According to recent reports, BTS are planning to visit India soon for the 2022 world tour and it will be their first concert in India.