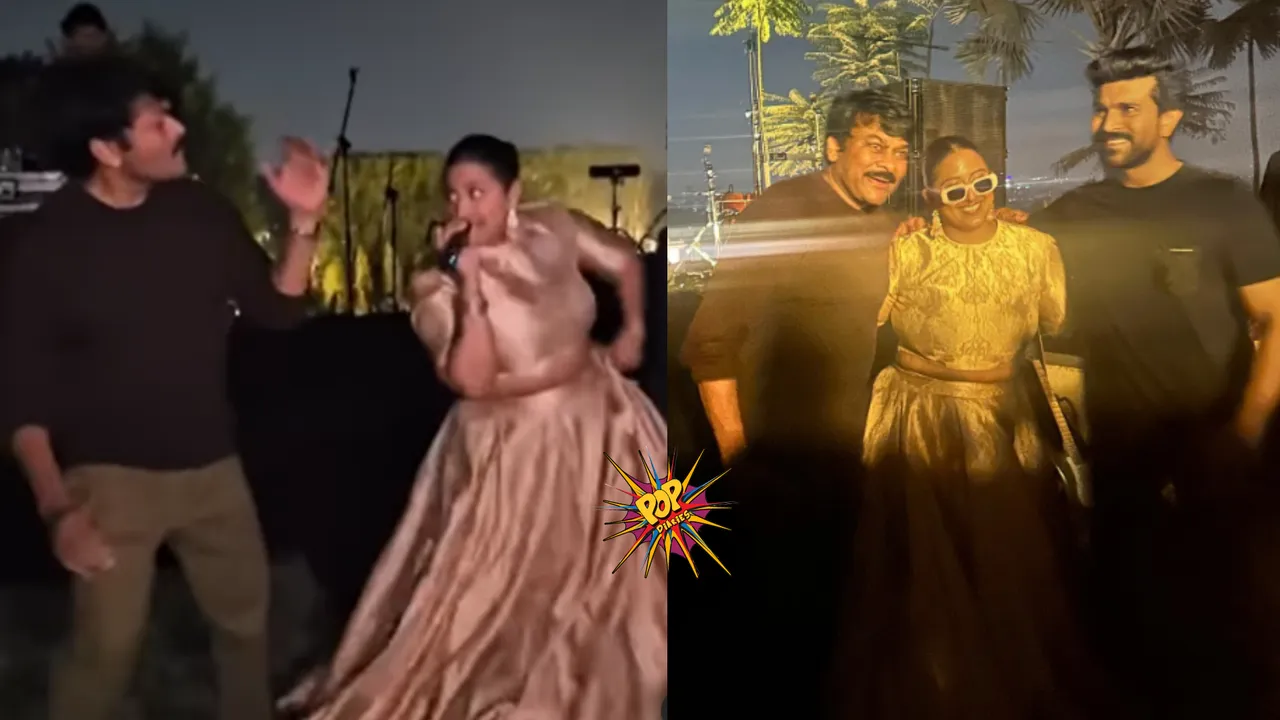 Hyderabad witnessed a star-studded Diwali celebration as American rapper and singer Raja Kumari joined Tollywood megastar Chiranjeevi Konidela and others for the Festival of Lights. The celebration took a viral turn when a video surfaced of Raja Kumari and Chiranjeevi dancing to the title track of the blockbuster hit film Jawan.
The video captured the energetic dance moves of the 68-year-old megastar, proving that age is just a number for the ever-entertaining Chiranjeevi. However, the video has sparked controversy, with some netizens raising concerns about the actor's gestures towards Raja Kumari, deeming them inappropriate. ALSO READ: Court In Kerala Delivers Death Sentence In Aluva Rape & Murder Case
While many fans praised Chiranjeevi's youthful dance and his ability to keep audiences captivated, a section of netizens focused on specific moments in the video, suggesting that the megastar's actions were objectionable. The controversy has led to discussions on social media, with some defending Chiranjeevi's actions, stating that they seem unintentional, while others perceive them as inappropriate.
SEE VIDEO:
#Chiranjeevi and #RamCharan on Jawan title track #SRK𓃵 🔥 pic.twitter.com/BcOMRkGw7P

— vikram era (@Siddd122) November 14, 2023
ALSO READ: Opinion - Bursting Firecrackers Amid Environmental Concerns: Focus Should Be On Educating Netizens Or Cracking Down On Sources?
Raja Kumari shared the dance video on her social media platforms, along with glimpses of her Diwali celebrations with Tollywood personalities like Lakshmi Manchu. Despite the controversy surrounding the dance, the overall mood of the celebration appears joyous and festive.
She captioned the post which read, "Home is where the heart is ❤️ Thank You Hyderabad for the most beautiful Deepavali. Felt so good to hear Telugu spoken all around me with friends that truly love me but honestly…NOTHING will beat this vision board moment of dancing with Megastar @chiranjeevikonidela
Thank you @lakshmimanchu for always being my biggest champion and making sure everyone knows who I really am. Love to my girlies @deejasti @vasukipunj for always being the light and making sure I have the best people around me 🪔"
SEE POST:
ALSO READ: Celebrating Young Heroes: Children's Day 2023 Shines a Spotlight on Inspirational Children Making a Difference
The Jawan title track, featuring Raja Kumari's dynamic vocals and music by Anirudh Ravichander, has contributed significantly to the film's success. The electrifying combination of music and vocals has left an indelible mark on the industry, garnering widespread acclaim. 
ALSO READ: Opinion - Preserving Cultural Heritage: Navigating The Intersection Of Artistic Expression & Legacy, Amid 'Pippa' Controversy Surrounding AR Rahman's Rendition