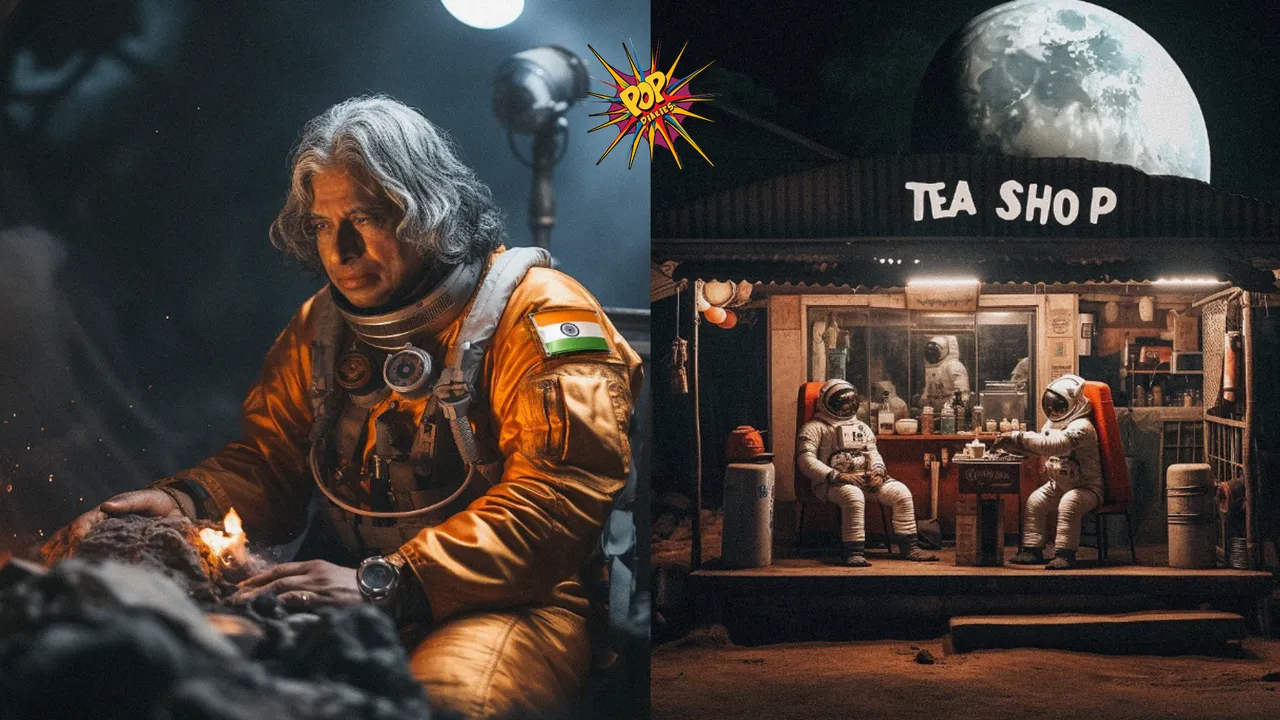 Yeah! After being disheartened two times, India successfully made it to the moon on its third attempt. Proudly hoisting our Indian flag and becoming the first country to land on the South Pole with our Chandrayaan-3. Nothing ever is enough to praise and laud our Indian scientists hailing from the Indian Scientists Research Organisation (ISRO), creating a historic success!
Also, the fourth country to touch the surface successfully after the US, China and Russia on 23 August's evening at 6:05 pm. While every Indian celebrates and cheers the achievement, let us have a look at these Artificial Intelligence artist's enthralling imagination. 
ALSO READ: Pride Hearts! Chandrayaan-3: Big B, Shah Rukh Khan, Allu Arjun & More Indian Celebrities Pour In Congratulatory Messages For ISRO & India!
Gokul, an AI artist has posted a few pictures imagining our Indian heroes on the Moon, These are unmissable and waiting to grab your attention!
Have a look:
The first image features the 'Missile Man of India', our very own and the greatest hero ever lived, the late Indian President and an Indian aerospace scientist Mr. A. P. J. Abdul Kalam donning a spacecraft costume.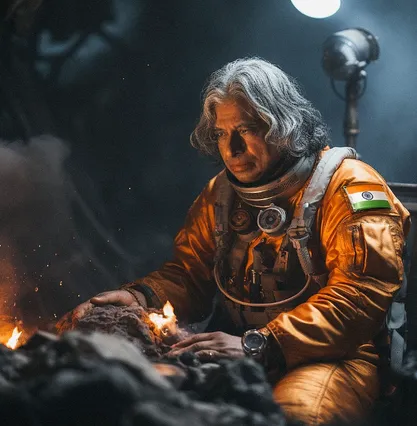 There's another beautiful AI image (unmentioned artist) of his eyes filled with all pride, that hardworking smile, and featuring happy tears of getting succeed in what we ever dreamt of. The caption of the post reads which is indeed true and makes us imagine the same to watch him live now. "Most Happiest Man Now APJ Abdul Kalam Sir .. We Miss you Sir"
ALSO WATCH: Throwback Video Of Room Filled With KK's Enchanting Voice & Gulzar's Mesmerized Reaction!
He has dedicated almost four decades of life as a scientist and science administrator, mainly at the Defence Research and Development Organisation (DRDO) and Indian Space Research Organisation (ISRO) and was intimately involved in India's civilian space programme and military missile development efforts. And widely went on to be known as the 'Missile Man of India' for his work on the development of ballistic missiles and launch vehicle technology.
The next picture visualizes a school in which a professor is seen teaching the students.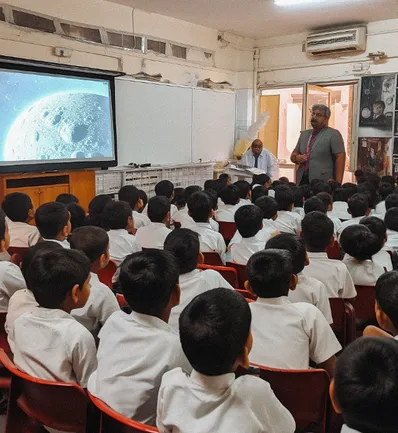 Our aircraft landed on the Moon!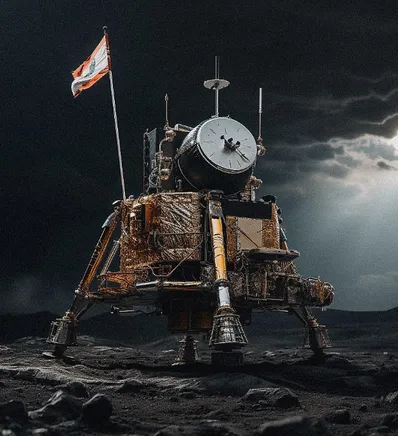 A complete visual, the third picture features a man standing on the surface of the moon and looking at our earth which is surely giving us chills. 
ALSO READ: 'A Well Made Gangster Flick', King Of Kotha Starring Dulquer Salmaan Twitteratis Review
The fourth image features India's one and only music maestro AR Rahman, doing his thing which we are all fans of on the moon!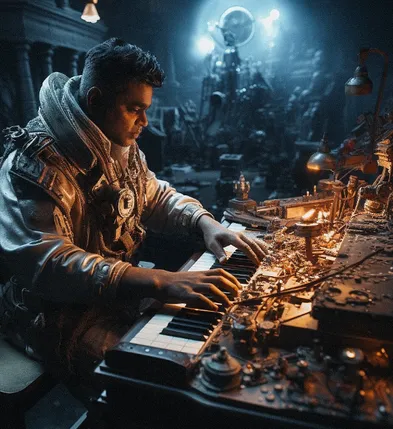 That's what we were waiting for! Proudly and successfully hoisting our flag on the moon and proving nothing is impossible in this world.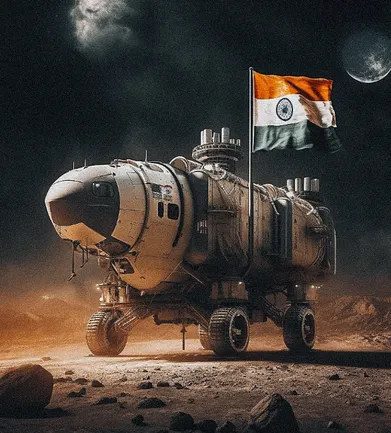 Gokul has imagined India's most popular and most loved drink 'Tea' In the second last picture.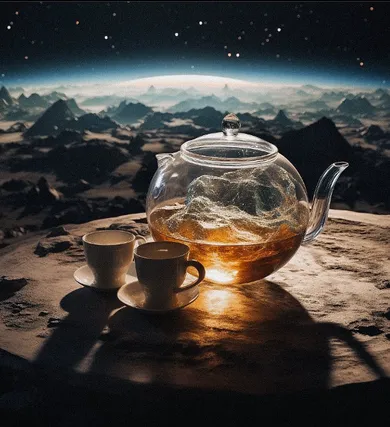 ALSO READ: All About Hera Pheri 3: Paresh Rawal Opens On Kartik Aaryan Replacing Akshay Kumar, Shooting Schedule & More!
Last but not least, it is astounding! The Artist has imagined the entire Tea shop on the surface of the moon and wrote in the caption, "And you all know who's running that tea shop. Right?" As our prominent Prime Minister of the country Mr Narendra Modi was once a tea seller before making it big. Also, we are thankful and proud of our PM for always being there for everyone with all his belief and 100% of support!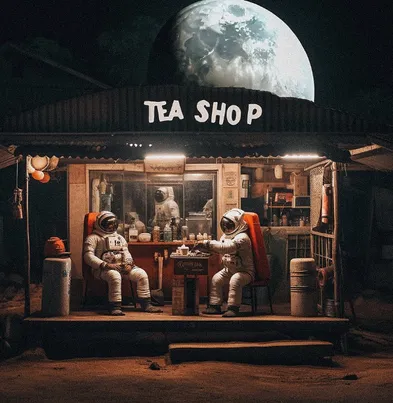 Surely these are outstanding! Also, the comment section has been flooded with compliments in which one user wrote, "wait for some years, ISRO will create the last slide into reality. the intergalactic tea shop!"
And of course, our scientists' talent is remarkable and they can do anything!

Another user commented, "The first slide will have a piece of my heart forever. ❤️ I will never forget this picture." 
Definitely, an overwhelming and emotional moment for every Indian to witness APJ Abdul Kalam live today. Sure, he must be so happy and proud in whichever corner of the universe he is shining on! 

SEE POST:
Tons of congratulations, appreciation, blessings, and wishes to each one of them who is behind this mission and works day & night to make India at the level it is reaching today!