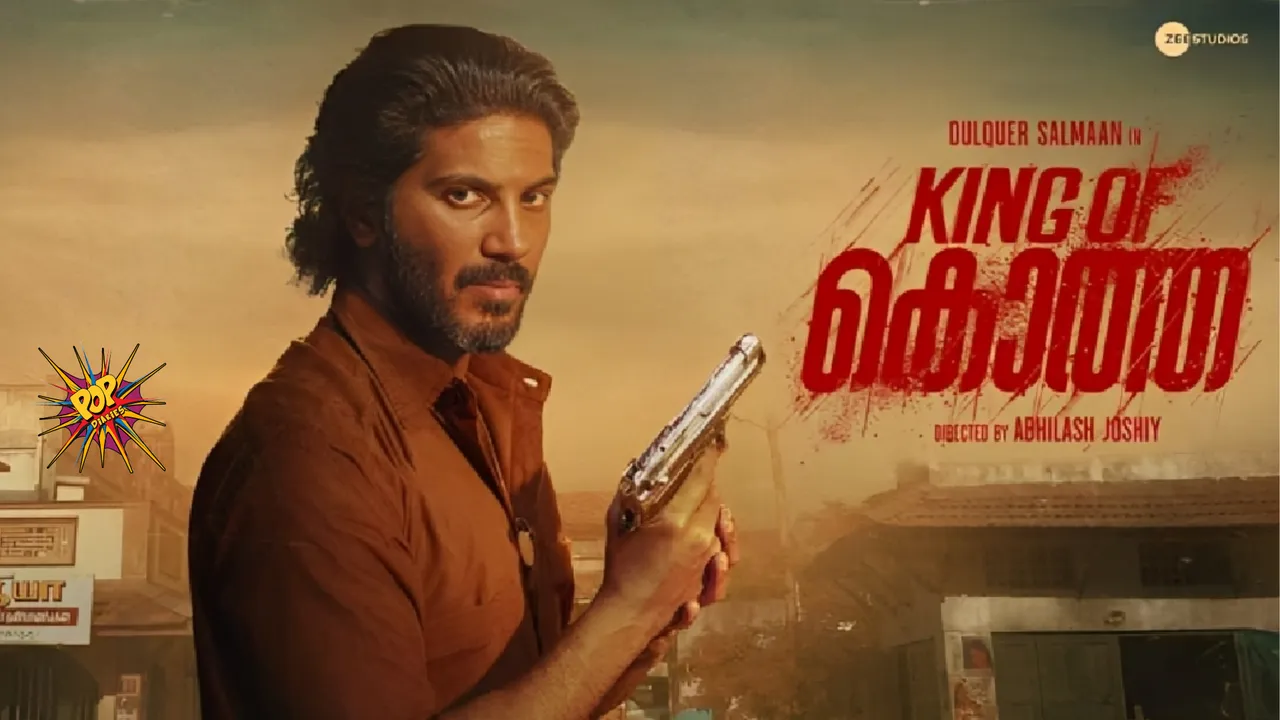 The highly-anticipated Malayalam movie 'King Of Kotha' starring Dulquer Salmaan also simultaneously released in Telugu, Tamil, Kannada, and Hindi has finally hit the theatres today. The story runs in a crime-infested town, Kannan bhai and his gang are the reigning powers. To combat this reign and seek revenge, Inspector Shahul tactfully plots the return of the 'King', leading to a transformative turn of events.
The gangster film seems to have great reviews from the audience and they are definitely impressed with a lot of things. Calling it a complete mass entertainment, especially Dulquer yet other cast members terrifying performances, Nimish Ravi's extraordinary cinematography, Jakes Bejoy and Shaan Rahman's captivating composition, top-notch background score and more! 
Also mentions it as 'A Paisa Vasool Entertainer' Though there is nothing to talk about regarding the predictable plot and no doubt, the presentation has worked well for the viewers' entertainment.  
While we cannot deny the fact of Dulquer Salmaan's exceptional performance. Whenever he is on-screen makes sure to drive us along with him and deliver a pakka seetimaar roles as always!
Have a look at Twitteratis reviews:
• #KingOfKotha - A Well Made Gangster Flick

+ves

- @Dulquer & @ActorShabeer's Performance
- @Jxbe's Background Score
- @NimishRavi's Cinematography

- ദുൽഖറിന് മാസ്സ് റോൾസ് ചേരില്ല എന്ന് ഇനി ആരും പറയില്ല, അത്രക്ക് നന്നായിട്ട് ചെയ്ത് വെച്ചിട്ടുണ്ട് 👌🏻#KingOfKothaReview pic.twitter.com/tGvvvBkwjE

— Aα∂hу (@Aadhy_offl) August 24, 2023
ALSO READ: Dulquer Salmaan Finally Opens On Rana Daggubati's Comment On Sonam Kapoor
#KingOfKotha : A Paisa vasool entertainer with good amount of mass entertainment and a charming @dulQuer at the centre👏Nothing new in the storyline but the treatment and the making works. Superb performances from Shabeer and Nyla.
A sure winner at the box office🔥#KingOfKotha pic.twitter.com/w5SJyhpm7l

— Bhanu Karthik (@Bhanu_1207) August 24, 2023
#Kingofkotha (Malayalam|2023) - THEATRE.

DQ's Mass Avatar, as a ruthless gangster he nailed it. Shabeer, Shammi Thilakan, Nyla Usla gud. Visuals & BGM r big strength. Regular outdated story, Gud Making. Predictable, Slow Paced Narration, Drags. Action scenes ok. ABOVE AVERAGE! pic.twitter.com/3RpIBFYsZt

— CK Review (@CKReview1) August 24, 2023
ALSO READ: Pride Hearts! Chandrayaan-3: Big B, Shah Rukh Khan, Allu Arjun & More Indian Celebrities Pour In Congratulatory Messages For ISRO & India!
Manchi mass entertainment assalu good songs and bgm aythe thopu
DQ acting and screen presence super #kingofkothatelugu #kingofkotha

— narasimha rao (@JkSuryabhai) August 24, 2023
First half item song, interval,
2nd half bar scene
Hero attitude
Everything next level
Best movie
Don't miss it in theatres#kingofkothatelugu #kingofkotha

— Krishna (@miryalaprabhas) August 24, 2023
ALSO WATCH: Throwback Video Of Room Filled With KK's Enchanting Voice & Gulzar's Mesmerized Reaction!
#KingOfKotha Review https://t.co/5vZ4x9wRq4

— HF_7 (@HF____7) August 24, 2023
This is an amazing movie with good concept and dialogues are amazing and mass loved DQ acting#kingofkothatelugu #kingofkotha

— Shankar Maha (@Saidhar75050671) August 24, 2023
#KingOfKotha : Rich visuals and terrific bgm's. Jakes Bejoy is the biggest pillar for the movie. Action blocks 👌🏻 Set works are impressive. Has all the ingredients for a commercial portboiler🙌

— ForumKeralam (@Forumkeralam2) August 23, 2023
#KingOfKotha: Massive Hit Loaded. Buckle up for non-stop #DulquerSalmaan show. Good mass moments, loud but energetic background music, #Kalapakkaara is claps worthy on big screen, good performances by #NylaUsha and Shabeer. Worth a theatre visit. pic.twitter.com/xm3lvcG4Kz

— Plumeria Movies (@plumeriamovies) August 24, 2023
ALSO READ: Rajkumar Hirani's 'Dunki' Starring Shah Rukh Khan Teaser To Release On THIS Festive
#KingOfKotha - A Well Made Entertainer With An Excellent Dulquer Carrying the Movie Wholely well supported by Shabeer and Nyla Usha. Nothing New about the story line which we have already seen in many movies of its kind. Fight Sequences where well choreographed. BGM was good 🔥 pic.twitter.com/9wigrxmqS3

— Kollywood Cinema ™️ (@Kollywoodsnaps) August 24, 2023
While the 'King Of Kotha' has hit the theatres today, it has already successfully secured its place in an OTT platform for digital distribution. The renowned streaming service Disney Plus Hotstar has acquired the digital streaming rights.
This period gangster drama features a prominent cast, including Aishwarya Lekshmi, Chemban Vinod, Shabeer (Dancing Rose), Nyla Usha, Shammi Thilakan, Shanthi Krishna, Prasanna, Gokul Suresh, Anikha Surendran, Saran Shakthi, and others in pivotal roles. Produced by Wayfarer Films in collaboration with Zee Studios.