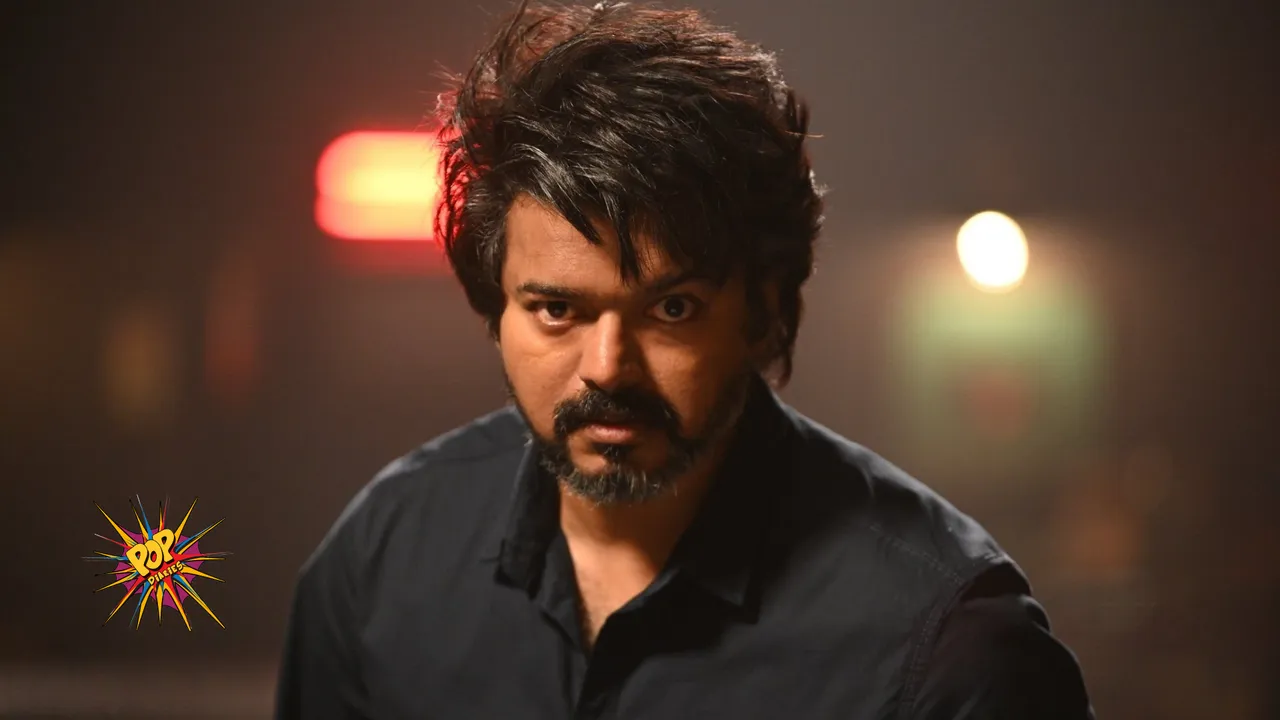 'Leo' starring Thalapathy Vijay, directed by Lokesh Kanagaraj is one of the highly-awaited films of the year which is all set to release on October 19. But way before its release the makers are going through extreme controversies that have stirred debate across the Tamil Nadu state. 
Ban on trailer release in Theatres
The trailer of 'Leo' was released in a massive mode of celebration, fans gathered in several theatres of Tamil Nadu to witness the launch of the film's trailer. But one of the theatres in Chennai witnessed an extreme eruption by fans that caused theatre owners with huge loss of chairs being damaged beyond repair! Due to fans' chaotic behaviour, the owners came to the decision not to screen trailers in the theatres anymore. 
Just IN: Tamil Nadu theatres to STOP teaser/trailer celebrations.

This decision has come after Joseph Vijay fans have completely thrashed Rohini Cinemas in Chennai during #Leo trailer launch celebration.pic.twitter.com/vQ9sd6uvJg

President of Theater Owners Association has said…

— Manobala Vijayabalan (@ManobalaV) October 17, 2023
Cancellation of Audio Launch four days before the scheduled date
The grand audio launch of 'Leo' was scheduled on September 30, which was supposed to be held in Nehru Indoor Stadium in Chennai but was later cancelled on September 26 due to overflowing requests for passes. The matter was confirmed by production house Seven Screen Studio on social media.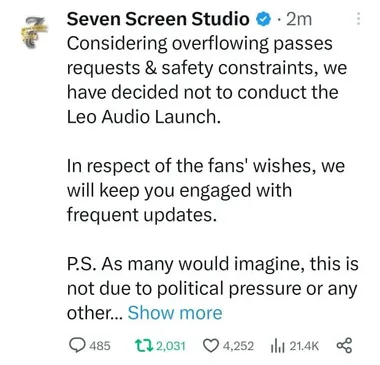 No early morning 4 am & 7 am shows for 'Leo' in TN
The moment it was heard that there would be no morning for Thalapathy's upcoming film, his production house Seven Screen Studio went ahead to approach the Tamil Nadu government to grant permission for 4 a.m. and 7 a.m. shows for October 19 and from October 20 to October 24. The government released a statement order stating that theatres could screen five shows per day as opposed to four shows per day. 
Later, the production house filed a petition before the Madras High Court seeking to allow the film to have early morning shows on the first day of its release but Justice Anita Sumanth on October 17, Tuesday stopped from passing orders and left the decision with the TN government. However, they still refused to agree. The movie will now have its first show beginning only at 9 a.m. in the state. It will continue to have early morning screens in the neighbouring states of Andhra Pradesh, Telangana, Kerala and Karnataka. 
Conflicts between Cinema Operators & Distributors
The few theatres from the city of Chennai will not be able to witness the celebration of Leo's release, informing fans that they couldn't reach to an agreement with the distributors. As per the reports, the distributors' quoted terms were left unaccepted by theatre proprietors, leading to whopping ticket prices due to the steep rates set by distributors.
Complaint filed for allegedly glorifying drugs
A song titled 'Naa Ready' released four months back on the occasion of Vijay's birthday made headlines when an activist named RTI Selvam lodged a complaint against the movie for allegedly glorifying rowdyism, drugs and smoking as shown in the song. Later, the makers made sure to add a disclaimer to the YouTube version of the video.
Usage of a cuss word
A trailer launched on October 5 faced a backlash on using a cuss word upon heroine Trisha Krishnan that came out loud in extreme emotion. A particular section of the people started criticizing by sharing concerns that Superstar has young fans too and should be careful with the usage of profanity. The filmmakers later muted the cuss words in the trailer. 
'Leo' is a high-octane action thriller also starring Trisha Krishnan, Sanjay Dutt, Arjun Sarja, Gautham Menon, Mysskin, Mansoor Ali Khan and Priya Anand in pivotal roles. Releasing in Tamil, Telugu, Malayalam, Kannada and Hindi.
ALSO READ: 
Opinion: SC's Same-Sex Marriage Denial Highlights Need for Love Beyond Boundaries; Society Deserves Acceptance and Equality!
Navratri 2023, Day 5, YELLOW: B-Town Ethnic Inspiration To Bright Up Your Festive!
Durga Puja 2023: Kolkata's Mesmerizing Pandals Unveiled, Take A Look At Astounding Unprecedented Creativity & Grandeur!
Hema Malini 75th B'day Bash: Look At Timeless Beauties' Ethnic Finery!