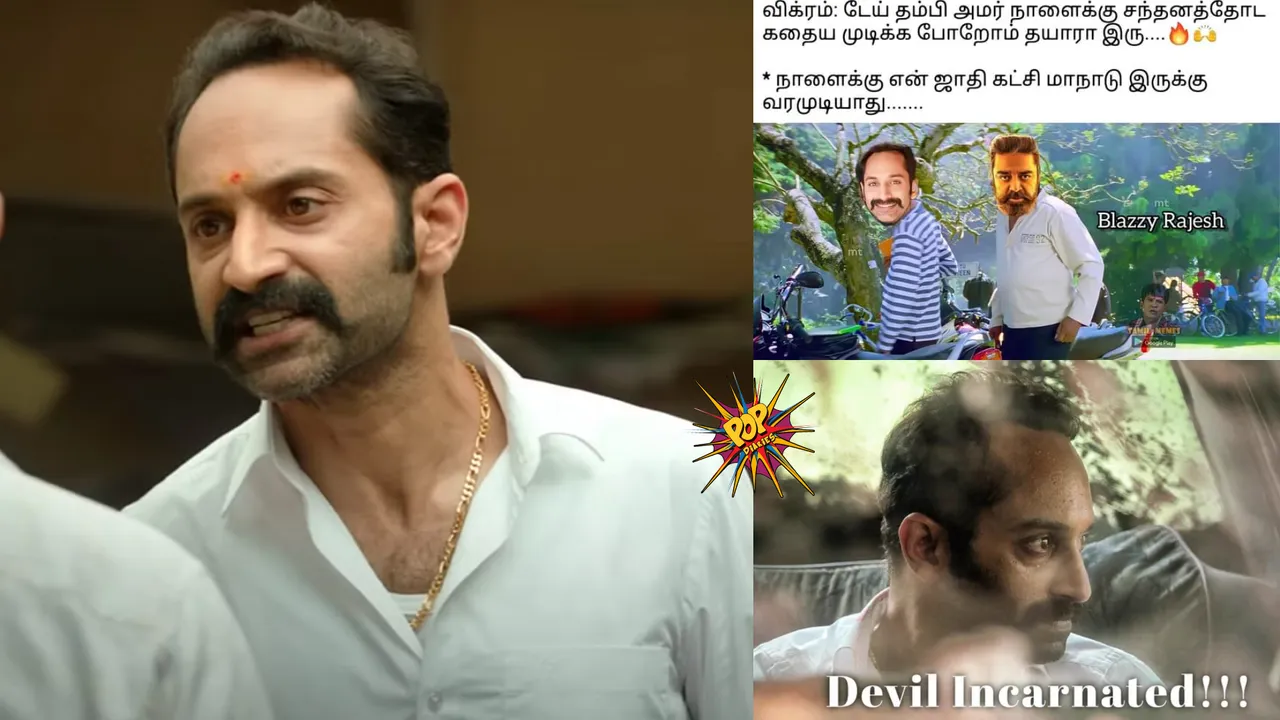 A Malayalam industry's versatile megastar Fahadh Faasil is recently trying his hands on other language films and it's not easy to create the same mark which has gained in his own mother tongue but Fahadh is the one who can stand tall with any role that he opts for. Looking at his movies' graph, his selection of roles is greatly impressive which he showcases through his outstanding performance.
In the latest, the actor was seen in Mari Selvaraj's Tamil directorial film 'Maamannan' in his niche antagonist avatar, in which he played a politician. The movie which was released on 29 June 2023 in theatres and received mixed-to-positive reviews from critics has now hit the television screens on Netflix.
Since Fahadh Faasil's character is grabbing all the attention and received immense love from the viewers who went on to appreciate his performance and posted several memes on the internet.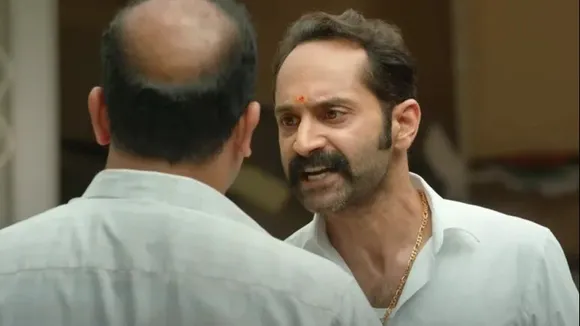 Check out the meme fest below:
அதென்ன சிலவார்த்தைகள் சொல்லுவமே ஸ்கிரீன் பிரசன்ஸ்,ஆளுமை,மேன்லி அதுக்கெல்லாம் மொத்த உருவமா வந்து நிக்கிறான்..
கண்ணு நடிக்கிது,புருவம் நடிக்கிதுன்னு சொல்லுவமே உவமைக்கு அதெல்லாம் நடிச்சா எப்பிடி இருக்கும்னு பார்த்த மாதிரி இருக்கு.#FahadhFaasil ❤️‍🔥❤️‍🔥❤️‍🔥 pic.twitter.com/Aod1UKnX6p

— INDIA 𝕯𝖗𝖊𝖆𝖒 𝖍𝖆𝖈𝖐𝖊𝖗 (@Durai_talks) July 28, 2023
ALSO READ: DEETS INSIDE: Meena Kumari Shot Pakeezah In Her Worst Health Condition 
Dei 😂😂😂#மாமன்னன்#FahadhFaasil pic.twitter.com/vRr1PKZEHC

— KKமள்ளர் (@kkmallar) July 30, 2023
The man who changed a movie with his charisma and mannerism!
Pride of Mollywood!#FahadhFaasil pic.twitter.com/5l3L2OvBrf

— ചിറയ്ക്കൽ ശ്രീഹരി 𓃵𝕏 ⚓ (@chirkl_sreehari) July 30, 2023
I said it's the #FahadhFaasil show🔥🔥
No one speaks about #Vadivelu or #Mariselvaraj just all the guys says FAFA
It's good♥️♥️ don't dumb him his in one caste 🙏🏽 or community
This Salem Rathnavelu is the asset for all the ruler caste 🥰💥💥
Let's rock #Maamannan RATHNAVELU pic.twitter.com/QXl7UI07KJ

— Mugesh Sakthivel (@mukzsv) July 30, 2023
ALSO READ: Rich To Poverty, All About Greatest Actor-Filmmaker Bhagwan Dada!
It is #FahadhFaasil show 🔥
In #Maamannan where @mari_selvaraj speaks social justice,speaks only the community problem,he kills himself as a writer,Loved Pariyan,some spaces Karnan but Athiveeran is not fit for this world,
In this particular scene I saw Thalaivar @mkstalin & Anna pic.twitter.com/urkdsKmXDn

— Mugesh Sakthivel (@mukzsv) July 27, 2023
🤣🤣🤣🤣#FahadhFaasil pic.twitter.com/XIY7BNuNHT

— ◦•●◉✿ ராஸ்கல் ᴵᴺᴰᴵᴬᴺ² ✿◉●•◦ (@Ganu_twits) July 30, 2023
When watching #Maamannan seeing slow motion scenes for #FahadhFaasil ...
Fahad thaan nala glorify pana mathri iruku...did maari na overdo the villain part🤔#MaamannanOnNetflix pic.twitter.com/fF9rXUHR0y

— My conscience/என் மனசாட்சி (@machanae1) July 28, 2023
Even in #Vikram the #FahadhFaasil AMAR character not this much viral or reaches.

But this Rathinavelu character reached all B and C centers 💯 getting positive response for villian role.

Fans were asking STAND ALONE film for Rathinavelu character 🔥#MaamannanBlockbuster pic.twitter.com/Mr5k5Y8eJE

— Selvakumar (@Victorselva3) July 30, 2023

'Maamannan' stars an ensemble cast that includes Vadivelu, Udhayanidhi Stalin, Fahadh Faasil, and Keerthy Suresh. It talks about the community that was exploited by the town's influential man, who completely rules due to the powerful backing of the authorities. A man collects evidence to flip him upside down when he was helpless to stop his endless torture.
ALSO READ:
Iconic Films To Watch Of Glorious Veteran Actress Mumtaz Askari!
From Bollywood To South Indian Cinema, 22 Indian Actresses Who Gracefully Romanced On-screen With Both Father And Son!