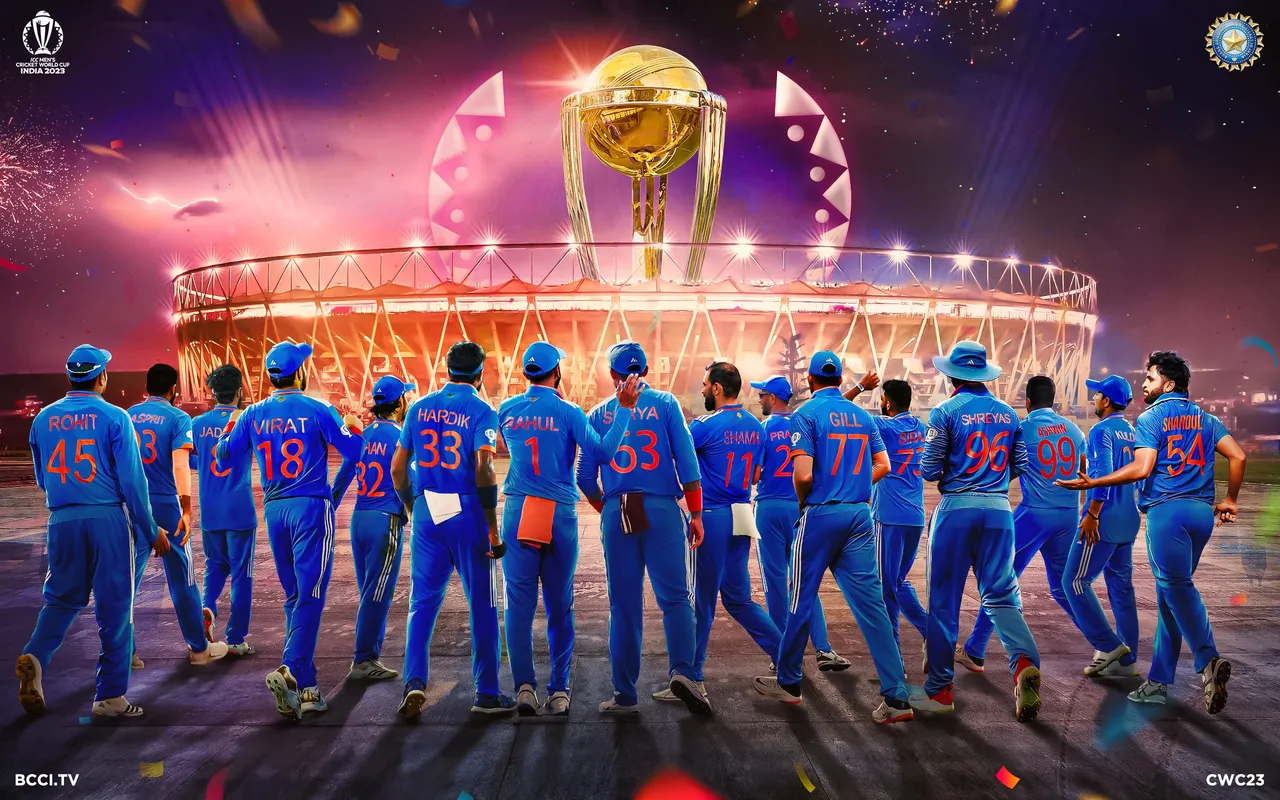 Indian cricket team reaches to the Final of ICC Cricket World Cup 2023 after defeating New Zealand in the first semi-final at Wankhede Stadium, Mumbai on Wednesday. India defeated Kiwis by 70 runs with the likes of Shami's 7-wicket-haul and all-round performance by Team Blues. Now, Rohit & Co. will be egar to know their opponent in the final match.
In the first innings Indian batters showed power packed batting display, with two centurions in the account. Kohli & Iyer anchored scorecard till 397 in 50 overs with Rohit Sharma, Shubhman Gill & KL Rahul playing pivotal supporting innings. Virat Kohli created history with his 50th ODI Hundred (Most by anyone), breaking the record of Master Blaster Sachin Tendulkar, that too in his presence today at Wankhede. Kohli scored his 3rd hundred in this edition of World Cup and placed himself at the top of the run getters list.
Iyer on the other hand followed Rohit Sharma's attacking batting template, he scored 105 runs in just 70 balls scoring 4 fours & 8 sixes with the strike rate of 150. While Virat Kohli scored 117 in 113 with 9 fours and 2 sixes and strike rate of 103.4. Rohit Sharma & Shubhman Gill gave a blockbuster start where Sharma scored 47 in just 29 balls while Gill lost opportunity to create a milestone and memorable moment for him as he got heat cramps in between his glorious innings and had to go as retired hurt. Though he come back later after recovery but it was too late for him to reach a hundred milestone. He scored 80 runs in 66 balls with the strike rate of 121. KL Rahul in the end showed some leftover Diwali firecrackers, scored 39 in just 20 balls with the strike rate of 195.
In the second innings New Zealand tried every bit and fought hard to chase the mountain but failed against destructive bowling attack. After early wickets Kane Williamson & Daryk Mitchell balanced the inning and even tried to turn the tables for India, Williamson scored 69 runs in 73 balls while Mitchell scored 134 in 119 balls and helped Kiwis be in the game for little longer.  Shami thrashes their batting line up and collected another fifer his third in the WC and second against NZ.
Overall, it was all-round performance by team India and Kiwis fought hard to consecutively play the WC final after defeating India, but this time Team Blue showed their A Game and proved why they are the table toppers. Now Team India will wait in Ahmedabad while Australia & South Africa will look forward to book their berth in the opponent's chair agianst India in the final match.
SCORECARD: 
India: 397- 4 (V Kohli 117, Iyer 105, Southee- 3-100)
New Zealand- 327- 10 (D Mitchell 134, K Williamson 69, Shami 7-57)