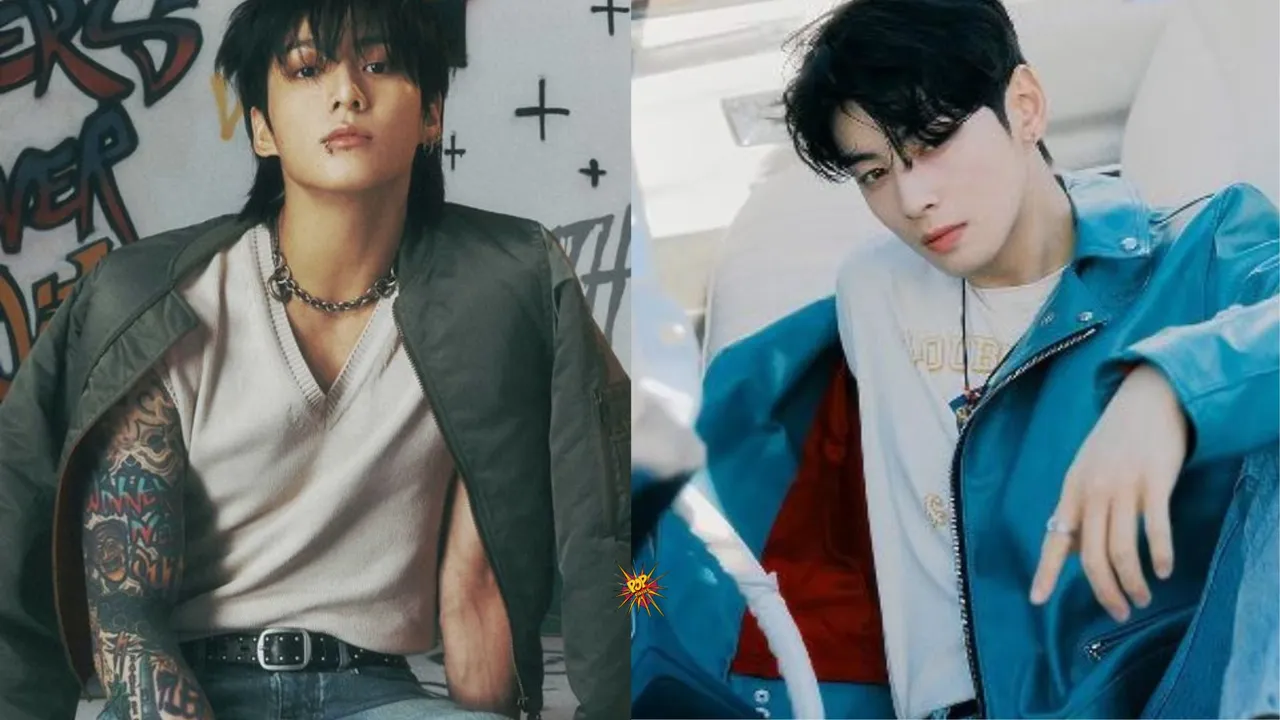 Since inadvertently revealing his TikTok account in August, BTS's Jungkook has become a beacon of excitement for ARMYs worldwide. Initially, he kept a low profile, engaging with fans by liking their dance covers and edits of his solo releases. However, recently, he's stepped into the spotlight, treating fans to a series of mesmerising dance videos.
Jungkook's TikTok journey reached a pinnacle with his 12th upload, featuring none other than Cha Eunwoo, a fellow '97-liner and member of the popular idol group ASTRO. The duo showcased their remarkable camaraderie by flawlessly dancing to Jungkook's debut solo track, "SEVEN." The video not only displayed their extraordinary dance skills but also highlighted the depth of their friendship, leaving fans utterly captivated.
This collaboration marks the third instance of Jungkook engaging in a dance challenge with a fellow '97-liner, the previous ones being with SEVENTEEN's Mingyu. However, what makes this collaboration truly special is that it's Cha Eunwoo's first dance challenge with a member of another idol group. Fans and netizens alike quickly noted the significance of this moment, celebrating the strong bond between the two idols.
On social media platforms, netizens showered the duo with praise, emphasising the genuine nature of their friendship. Many fans expressed their admiration for Cha Eunwoo, commending his willingness to support Jungkook and participate in the challenge. The video showcased their exceptional talent and served as a heartwarming reminder of the camaraderie within the entertainment industry.
The fact that this is Eunwoo's first challenge ever ( outside Astro) and it's with his bestie Jungkook makes me so happy😭🫶🏻 pic.twitter.com/YM5ZpLK5er

— 𝒶𝑀𝑀𝒶☁︎ (@amma1e) October 21, 2023
eunwoo doing a tiktok challenge for someone for the first time ever jungkook is THEE best friend fr https://t.co/X3EQjYW6w2

— ✴️ (@eunwoo1stfan) October 21, 2023
Eunwoo's fans said that eunwoo must love jk very much because he had never joined any tiktok challenge before😭😭😭💖 https://t.co/pl4LRTVzQG

— 𝓪𝔂𝓪⁷ 🪙 era♡ (@forkoostarcandy) October 21, 2023
As the video continues to trend, fans eagerly anticipate more such delightful surprises from their favourite idols. Jungkook and Cha Eunwoo's dance challenge not only brought joy to fans but also showcased the power of friendship, resonating across the K-pop community and beyond.