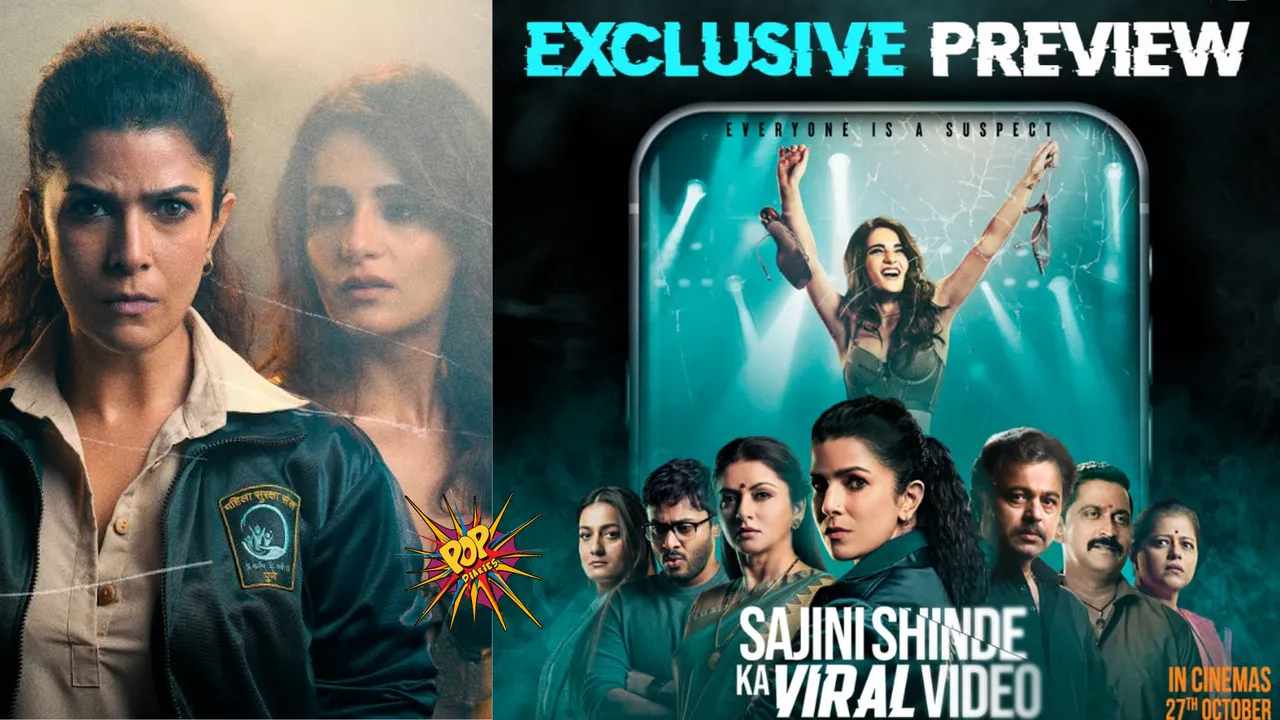 Don't Miss Exclusive 'Sajini Shinde Ka Viral Video'': Out Friday!
In an unprecedented move that's set to redefine the way audiences engage with upcoming releases, Maddock Films has partnered with BookMyShow to release exclusive unreleased footage from Sajini Shinde Ka Viral Video, the year's most anticipated thriller. This 2-minute scene from the suspense thriller adds to the excitement of the film releasing this Friday. 
For the first time, audiences are granted an exclusive sneak peek into a film that's generating immense buzz even before its release. Maddock Films' decision to offer this glimpse is not just a tantalizing strategy but also indicates confidence in its creation.
Starring Nimrat Kaur, Radhika Madan, Bhagyashree, Subodh Bhave, Chinmaye Mandlekar, Shashank Shinde, and Sumeet Vyas, this exhilarating thriller unites some of the most talented actors from both the Hindi and Marathi film industries. This powerhouse ensemble will surely ensure an unforgettable experience for cine-goers. 
Director Mikhil Musale shares, "Sajini Shinde Ka Viral Video is a project close to my heart. We believe in its unique appeal and its power to keep audiences on the edge of their seats. Sharing this unreleased footage is our way of building more excitement amongst audiences. We hope they enjoy this exclusive look into our labor of love."
This move by Dinesh Vijan and Maddock Films demonstrates its dedication to pushing the boundaries of film marketing and engaging with viewers in a new, exciting way with every film. Its trailer and intriguing promotional videos have already captured eyeballs. This decision to share unreleased footage is proof of the film's potential to captivate and enthral viewers.
Slated to release this Friday, the story and screenplay is by Mikhil Musale and Parinda Joshi with additional screenplay & dialogue by Anu Singh Choudhary & Kshitij.
Get ready to embark on a suspenseful journey that will challenge your perceptions and keep you guessing until the very end!
ALSO READ:
Navratri 2023, Day 9, PEACOCK GREEN: Spiritual Enlightenment With B-Town Elegant Festive Wears!
Ranking Most Controversial Statements Made By Bollywood Celebrities On 'Koffee With Karan'
Bollywood Divas Create History By Being First Indian Ambassadors Of THESE Prestigious International Brands!
Durga Puja 2023 Style Inspirations From Bollywood Bengali Actresses!