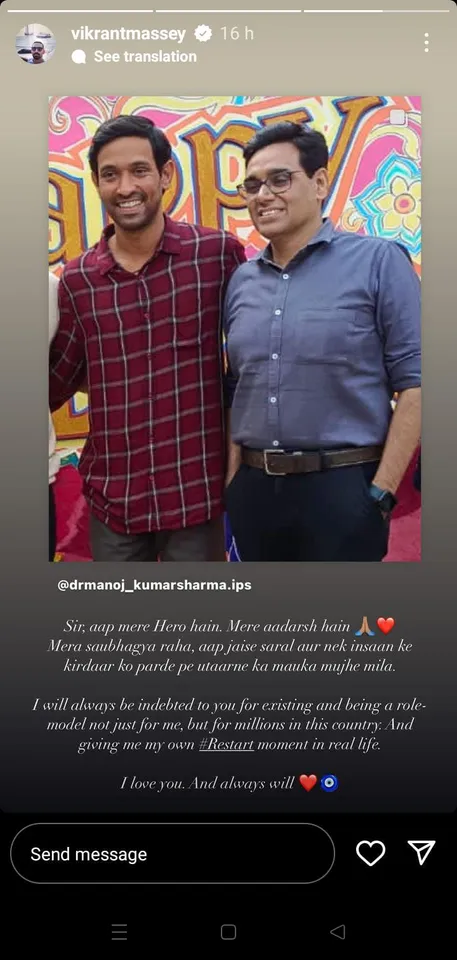 Vidhu Vinod Chopra's latest blockbuster release, 12th Fail, has not only resonated with audiences, leaving an indelible mark of inspiration but has also stirred the emotions of its leading star, Vikrant Massey. The film, crafted to uplift and motivate, has successfully conveyed its powerful message to viewers.
A notable aspect of the film is Vikrant Massey's portrayal of real-life hero Manoj Kumar Sharma. Massey, who essayed Sharma's character with commendable finesse, took to social media to express his gratitude. In a heartfelt post, Massey referred to Manoj Kumar Sharma as his role model, showcasing the profound impact the real-life inspiration had on the actor during the filmmaking process. He wrote "Sir, aap mere Hero hain. Mere aadarsh hain 🙏❤ 
Mera saubhagya raha, aap jaise saral aur nek insaan ke kirdaar ko parde pe utaarne ka mauka mujhe mila.
I will always be indebted to you for existing and being a role-model not just for me, but for millions in this country: And giving me my own #Restart moment in real life.
I love you. And always will ❤🧿"
Checkout: 
As 12th Fail continues to garner praise for its motivational storyline and stellar performances, Vikrant Massey's acknowledgment of Manoj Kumar Sharma adds a personal touch, emphasizing the transformative power of cinema. 
12th Fail, based on a true story, draws from the struggles of the millions of students who attempt the UPSC entrance exam. But at the same time, it goes beyond that one exam and encourages people to not lose heart in the face of failure and to restart. The film, directed by Vidhu Vinod Chopra, is now released in cinemas in Hindi, Tamil, and Telugu.