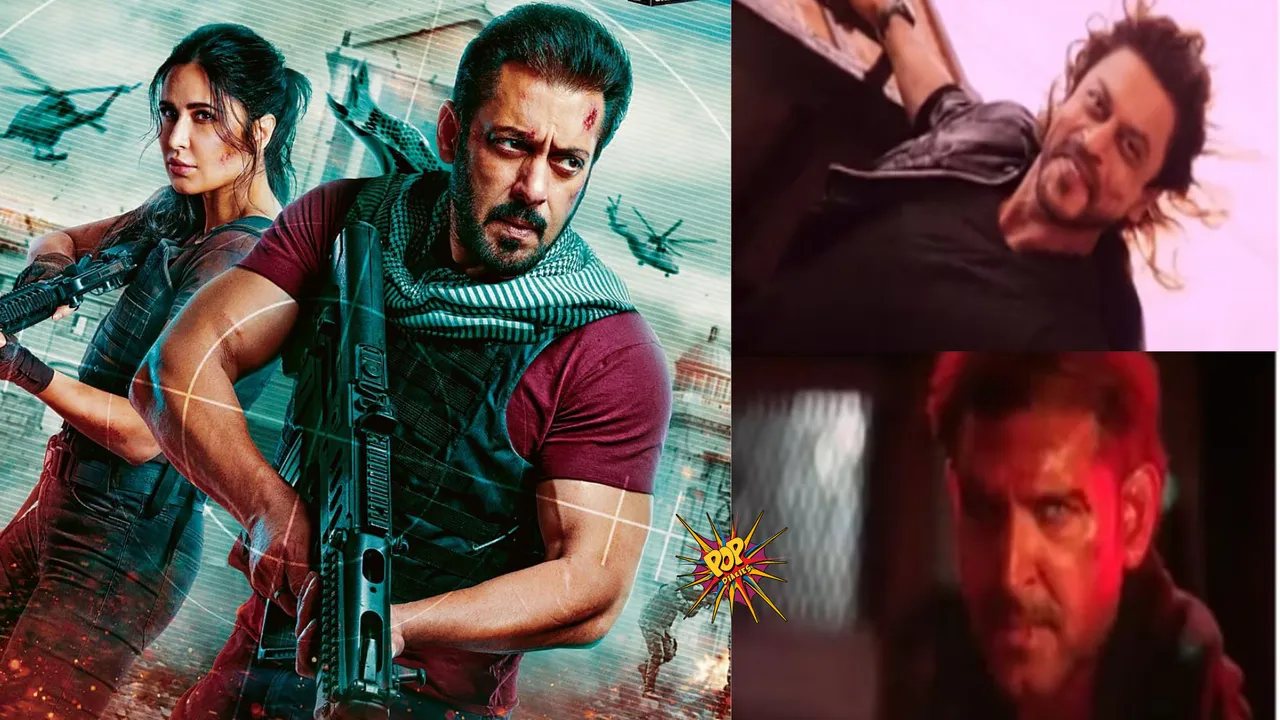 The highly-awaited fifth instalment of Yash Raj Films' spy universe, 'Tiger 3,' featuring the dynamic duo Salman Khan and Katrina Kaif, lights up the screens this Diwali. Theatres resound with cheers, screams, and dance, turning the festival into a cinematic spectacle. Amidst the jubilation, fans can't contain their excitement over the stellar cameos by YRF's spy universe heroes, Shah Rukh Khan as Pathaan from the eponymous movie and Hrithik Roshan as Kabir from 'War.'
Ever since behind-the-scenes glimpses, trailer, songs and rumours over superstars' cameos were doing rounds on the internet it created a lot of buzz among the netizens and it now feels, like it has lived up to the expectations of fans. 
ALSO CHECKOUT: Diwali 2023: From DeepVeer, Ralia To VicKat, Look At B-Town Stars' Love Filled Festival Of Lights!
From behind-the-scenes sneak peeks to trailers, songs, and swirling rumours about the superstar cameos, the anticipation has been nothing short of electrifying. Now, as the film unfolds, it appears to have not only met but surpassed the towering expectations of fans, leaving them captivated and in awe of this cinematic spectacle.
Checkout the Twitteratis reactions:
Watched #Tiger3 🎬

A grand captivating Theatre Experience.❤️‍🔥

Spy Universe onto the next level 💥

Great impressions from @BeingSalmanKhan , #KatrinaKaif and @emraanhashmi !

The Whole Theatre erupted for @iamsrk , @iHrithik cameo sequences 🔥

Watch it in Cinemas near you..! pic.twitter.com/4VpOQOJWqh

— 𝙰𝚍𝚊𝚛𝚜𝚑__𝚅𝙹 🧊🔥 (@Adarsh__VJ) November 12, 2023
WHAT A FILM. BEST MOVIE OF 2023 #Tiger3

— 🥀💫 (@saiyaaraaaa) November 12, 2023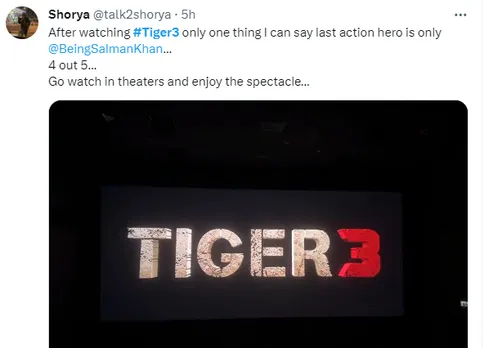 "A Gigantic Blockbuster, lot of Action, lot of Twist and Turn, Surprises , Patriotic , Emotion, All of actors entry and phenomenal Interval Block #SalmanKhan Soul of the movie, his actions and expression is Top level," wrote another user. 
A user tweeted, "After watching #Tiger3 only one thing I can say last action hero is only @BeingSalmanKhan… 4 out 5… Go watch in theaters and enjoy the spectacle…" 
"Maneesh Sharma's BOND meets BOURNE is Action packed cracker heavy on emotions & higher stakes. Daddy of all Spy - SALMAN KHAN's Grand comeback 💪Peak villainism of @emraanhashmi 💯 & sizzling Katrina 🔥 Best film of Spy Universe. (4.5☆/5)," wrote another user. 
Another user wrote, "Tiger is a WINNER and more than lives up to the humongous hype… #ManeeshSharma immerses us into the world of Mass Spy film,delivers a KING-SIZED ENTERTAINER A MUST WATCH" 
Word of Mouth of #Tiger3 from audiences on Day2
100% POSITIVE🔥🔥🔥#KatrinaKaif #SalmanKhan #Tiger3Review pic.twitter.com/SyAFoCN8G2

— Katy kay (@kay_katrinakaif) November 13, 2023
All Time Record 💥🔥#Tiger3 becomes the First Film to cross $2.5M+ mark on opening day in USA/CAN🔥#SalmanKhan #KatrinaKaif #Tiger3Review pic.twitter.com/N0B4uwvh3w

— MASS (@Freak4Salman) November 13, 2023
And here's how fans celebrated the film in theatres:
Crowd Madly Dancing in theater 💥Liberty, Delhi.#SalmanKhan and fans have started the trend of theater celebrations & with #Tiger3 He's Getting such reactions across every region in India, every state or City💥#Tiger3Review
SALLU KA MOOT SAROOKpic.twitter.com/EzjJFYGVZD

— Its Raj..! (@LoyalSalmanFan1) November 13, 2023
This is Beyond STARDOM 🥺💪🔥#Tiger3Reviewpic.twitter.com/RA4x5dFoNR

— FilmoHolic FarHan (@filmy_farhan) November 12, 2023
Especially Shah Rukh Khan Hyderabad fan club gathered to celebrate their beloved King's cameo in Tiger 3.
How sweet! He danced his heart out caring less abt anything else! #SalmanKhan fans define fanism in true sense🔥#Tiger3 #Tiger3Review pic.twitter.com/GDkhUdyrd4

— Shweta SK (@Shweta7770) November 13, 2023
#Tiger3Review: Public's Final Verdict. This is megastar Salman Khan for you#SalmanKhan #Tiger3 #Tiger3Diwali2023 #Tiger3Booking #Tiger3FirstDayFirstShow #YRFSpyUniverse pic.twitter.com/2bVUJ4ofFa

— Surajit (@surajit_ghosh2) November 12, 2023
Witness the roar of the Tiger and the magic of YRF's spy universe, as Tiger 3 takes Bollywood by storm, lighting up both the silver screen and social media with its explosive reviews and thrilling cameos. Directed by Maneesh Sharma who last directed movies like Band Baaja Baaraat and Fan.
ALSO READ:
Exploring Tabu's Effortless Transition From Innocent To Groundbreaking Roles!
Shah Rukh Khan: A Journey From Ignorance, Criticism To Now Being An Only Actor With Two 1000 Crore Films, An Unstoppable King!
Blaming These Celebrities for Breaking Taboos: The Firsts That Transformed Indian Cinema!