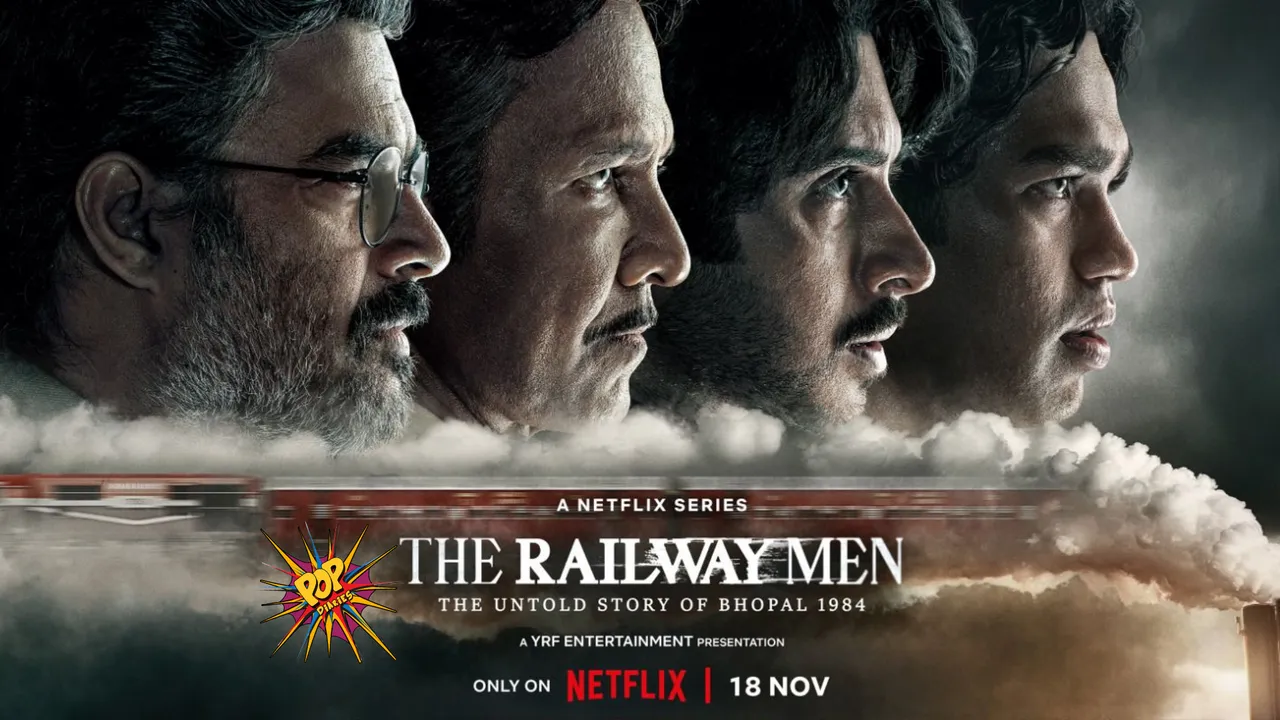 Netflix in association with Yash Raj Films (YRF) revealed the teaser for their upcoming 4-episode character-driven drama series, The Railway Men. Inspired by true stories and helmed by debutant director Shiv Rawail, one of YRF's homegrown talents, the series is set against the backdrop of the Bhopal Gas Leak, the world's worst industrial disaster. The Railway Men showcases the unshakeable courage of the employees of Indian Railways and their efforts to save countless lives during the city's darkest hours. 
The teaser provides a glimpse into heroic efforts which promises a riveting account of bravery and humanity. R Madhavan, Kay Kay Menon, Divyenndu, and Babil Khan's exceptional portrayal of their characters makes The Railway Men a compelling watch. 
The series marks the start of an iconic partnership between Netflix and YRF. With the newly launched preview into the series, the countdown to the launch of The Railway Men on November 18 has officially commenced. 
Watch the Teaser Here:
Produced By: YRF Entertainment
Director: Shiv Rawail
Writer: Aayush Gupta
Cast: R Madhavan, KK Menon, Divyenndu, Babil Khan
About Netflix:
Netflix is one of the world's leading entertainment services with over 247 million paid memberships in over 190 countries enjoying TV series, films and games across a wide variety of genres and languages. Members can play, pause and resume watching as much as they want, anytime, anywhere, and can change their plans at any time.
About Yash Raj Films: 
Yash Raj Films (YRF) is one of India's oldest and most respected story-tellers. YRF is now a 50-year-strong  production house and a vertically integrated studio controlling almost every part of the value chain from production to post production, domestic & international distribution, music & home entertainment, marketing, design, digital, licensing, merchandising, talent management, brand partnerships, music studios and film studios - all in-house facilities, which makes it one of the most coveted entertainment conglomerates in the country.
YRF has been one of the key makers of modern cinema and has heralded cinematic trends since its inception - the way films are made, the way films are marketed and the way films are consumed.
ALSO READ:
The Weight Of Glamour: Bollywood's Heaviest On-screen Costumes!
Bollywood Divas Create History By Being First Indian Ambassadors Of THESE Prestigious International Brands!
Celebs' Posh Residences: 10 Bollywood Actors' Luxurious Home
This Reddit Thread Points That Ranveer Singh Was Angry In This Instance Of KWK 8 Episode! Do You Agree?