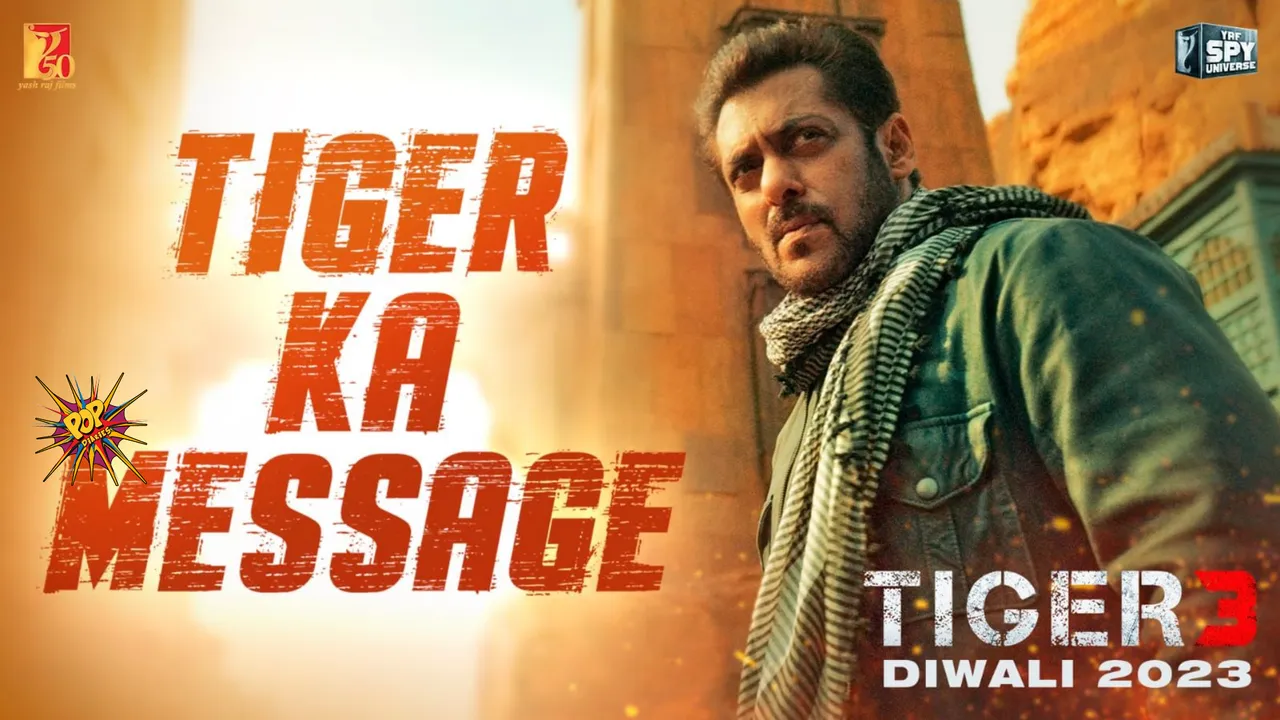 One of India's biggest superstars to have ever graced the silver screen, Salman Khan is back to reprise his much-loved role as super agent Tiger aka Avinash Singh Rathore in Yash Raj Films' Tiger 3!
Directed by Maneesh Sharma, Tiger 3 is set to release on the big Diwali holiday window this year and Aditya Chopra unveiled a video today named Tiger Ka Message that revealed that Tiger is in peril after being framed as Enemy Number 1!
This video sets up the plot of the film that will show how Tiger goes on a life-threatening mission to hunt down his enemies in this vengeful action entertainer. Tiger wants to clear his name for his country, for his family and he won't stop at nothing! ALSO READ: Bollywood Brides' Expression Of Love With Customized Kaliras To Veil!
Watch the video here:  
Tiger Ka Message, a video that is a precursor to the trailer of Tiger 3, marks the start of the promotional campaign for the film. Interestingly, today is YRF's Foundation Day, the birth anniversary of the legendary filmmaker Yash Chopra.
Aditya Chopra is building the YRF Spy Universe brick by brick and Tiger 3, starring Salman Khan & Katrina Kaif, is the next big one from this franchise. This is the fifth film from the YRF Spy Universe and the audience is now invested in seeing the characters of this franchise grow with the life stories of three super spies – Tiger, Kabir, and Pathaan. ALSO CHECKOUT: Pregnancy Glam: These Celebrity Moms Packing Some MAJOR Fashion Goals!
The YRF Spy Universe kicked off back in 2012 with Ek Tha Tiger followed by Tiger Zinda Hai (2017), War (2019), and Pathaan (2023). It was Ek Tha Tiger and Tiger Zinda Hai's humongous success that cemented Aditya Chopra's belief that he could introduce two more larger-than-life spy agents, Kabir aka. Hrithik Roshan in War and Pathaan aka. Shah Rukh Khan in the YRF Spy Universe.
Following Ek Tha Tiger, Tiger Zinda Hai and War, it was in Pathaan that Aditya Chopra officially revealed that he was building the YRF Spy Universe and unveiled the franchise logo. The crossover of characters also started with Pathaan, which saw the union of Shah Rukh Khan and Salman Khan in a larger-than-life action sequence celebrating the aura of these two cinematic icons. ALSO READ: Bollywood Actors & Actresses Who Worked For Free On A Film!
YRF intends to interconnect every spy film in the post-Pathaan world. Tiger 3 follows the events of Tiger Zinda Hai, War, and Pathaan, and will be carrying forward the promise of an edge-of-the-seat action spectacle that people have not seen before on the big screen.
ALSO READ: Charismatic Bollywood Stars In South Indian MASS Avatars!