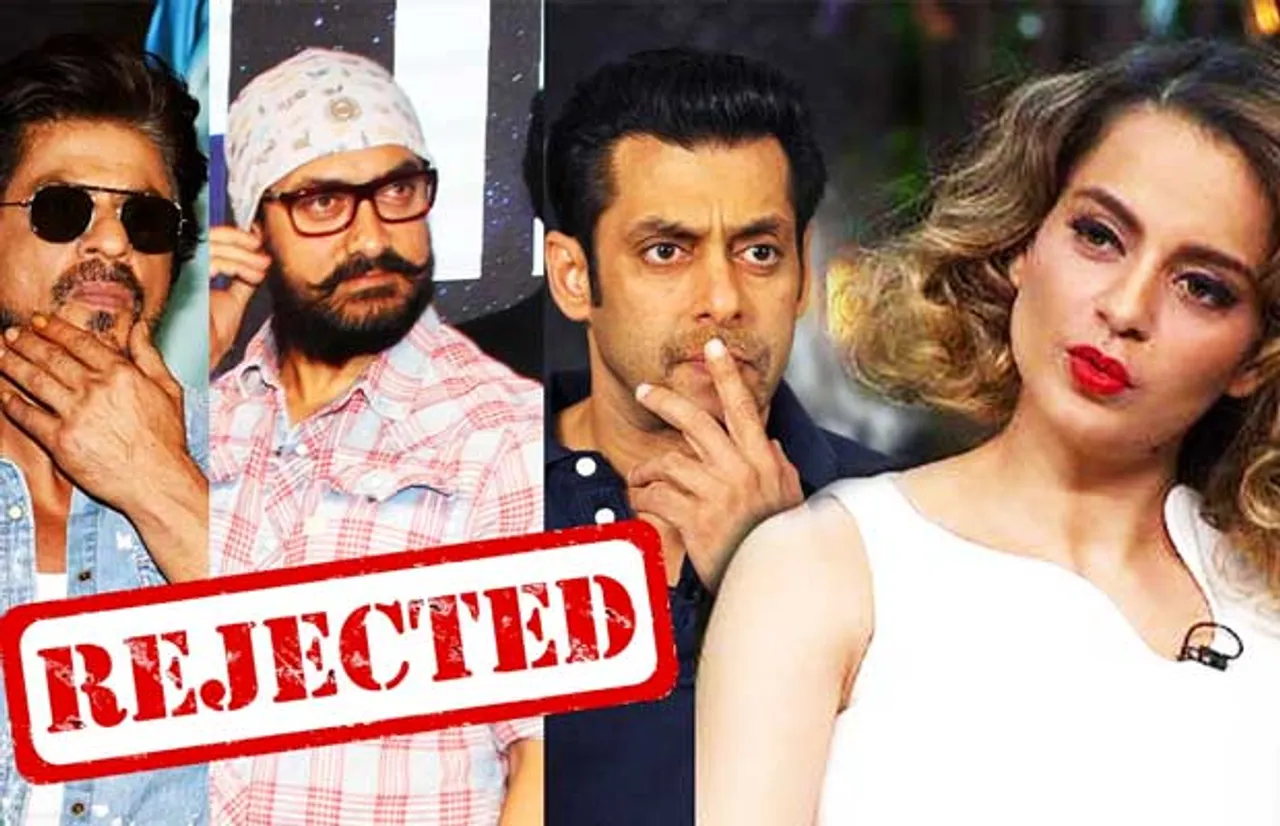 In the world of Bollywood, there have been many legends who have ruled the silver screen for decades. Aamir Khan, Shah Rukh Khan, and Salman Khan are three such iconic actors who have not only entertained the audience but have also shaped the Indian film industry with their talent and charm. However, behind the glamour and stardom, there seems to be a unique trend that has caught the attention of the fierce Kangana Ranaut - the age gap between these Khans and their leading ladies, which often results in them playing the role of their mothers on screen. 
Kangana Ranaut, known for her outspoken nature, has never shied away from expressing her opinions. In a recent interview, she opened up about her "never personal" battles with these Khans and shed light on an interesting aspect of their careers - the age difference between them and their heroines. Kangana, who has always been vocal about the ageism and sexism prevalent in the industry, pointed out the unequal treatment faced by women and the limited opportunities they are given as they age. She highlighted the fact that while the Khans continue to play leading roles even as they enter their 50s, their leading ladies often get sidelined and are relegated to playing the roles of mothers. 
This, according to Kangana, is a reflection of the society's bias towards women when it comes to age. Despite their brilliance as actors, these talented women find themselves trapped in limited and stereotypical roles as they age, while their male counterparts continue to have flourishing careers. Kangana Ranaut, who is known for taking on challenging roles and breaking stereotypes herself, has always been adamant about creating more substantial roles for women in the industry. 
She believes that women should get equal opportunities regardless of their age and that the industry should evolve to reflect the changing times. By addressing the issue of ageism, Kangana hopes to spark a conversation and bring about a positive change in the industry's mindset. The battles Kangana refers to are not personal, but rather a larger fight against the deep-rooted prejudices that exist within the film industry. 
She believes that every woman, regardless of her age, deserves to play impactful and meaningful characters on screen. By drawing attention to the age gap between the Khans and their heroines, she hopes to encourage dialogue and drive change. 
In conclusion, Kangana Ranaut's candid remarks on the age gap between the Khans and their heroines shed light on a pertinent issue prevalent in the Indian film industry. It highlights the need for a more inclusive and diverse representation of women in Bollywood, ensuring that society's ageist and sexist norms does not limit them. As an industry, it is crucial to nurture and provide equal opportunities for female actors to ensure a more balanced and progressive future. Only then can we truly celebrate the talent and dedication of all actors, irrespective of their gender or age.