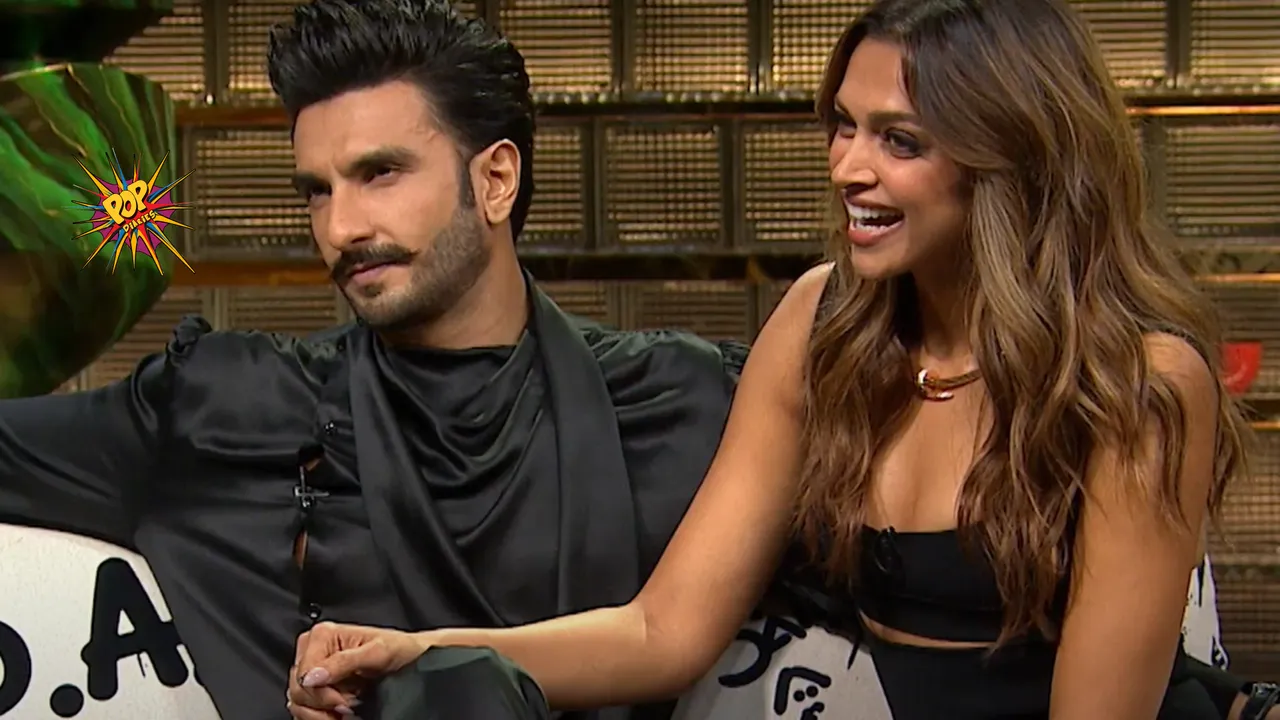 The Indian entertainment industry has seen many reel-life couples turn into real-life couples. While these couples have left a distinct mark on the hearts of the audience, very few have etched their beautifulness in everyone's hearts. One such beautiful couple in the Indian entertainment industry at present is Ranveer Singh and Deepika Padukone. Having delivered Blockbusters on screen together, being the biggest superstars of the country, the duo appeared together for the first time on television screen with one of the biggest talk shows, 'Koffee With Karan Season 8', hosted by Karan Johar. 
Deepika & Ranveer's Koffee With Karan episode feels like a warm, cozy blanket 
In their complete black attire, both of them were looking completely gorgeous and were setting major couple goals for the masses.
The best part about the whole episode was how genuine they were and how they put their realness at the forefront. The conversation they had was so candid, warm and heartfelt that it makes you feel so many emotions - Laugh, cry, smile and a lot more.
When asked when Ranveer knew Deepika was the one, he said, "Six months in, I knew she was the one!" 
Their conversations were so lovely, and their wittiness, humour, and fun element were so spot on in the show that they set a really high benchmark for other guests who are lined up to appear on the show.
Post the release of their first film together, 'Ram Leela' people realised how the couple were truly in love and as Ranveer mentioned in the episode, " Everybody was watching how the love was in the air! And I feel like it may have translated in the film also!" to which, Karan agreed, stating " It did! It seemed like the chemistry was real!"
Despite being the most successful actors globally, they are both so grounded and humble that we fell for them even more. With their screen presence, they cast the magic that kept our eyes glued to the screens till the end of the episode. They looked stunning, there was so much chemistry, it was beautiful.
As Karan watched the couples, 'made with love' wedding video, he teared up and said, " God! There's a line in my film ki aisa lagta hai ki mere dil ka pet bhar gaya hai" which translates to my heart is full!
Meanwhile, on the work front, Ranveer Singh and Deepika Padukone will be seen in Rohit Shetty's Cop Universe 'Singham Again', while individually, Deepika Padukone will be seen in Kalki 2898 AD alongside Prabhas and Amitabh Bachchan and Fighter with Hrithik Roshan and Anil Kapoor.
ALSO READ: 
Bollywood Divas On A Roll: Shraddha Kapoor Splurges on ₹4 Crore Lamborghini & Pooja Hegde Cruises in New Range Rover SV!
WATCH: Viral Video of Rajinikanth's Lookalike Takes Social Media by Storm!
Ranbir Kapoor Speaks Out: Responding to Backlash Over Alia Bhatt's Viral Lipstick Comment
Viral Videos From Durga Puja Pandal: From Kajol, Jaya Bachchan's K3G Reunion, Anjali-Tina KKHH Moment To Sumona Chakravarti's Graceful Dhunuchi Dance