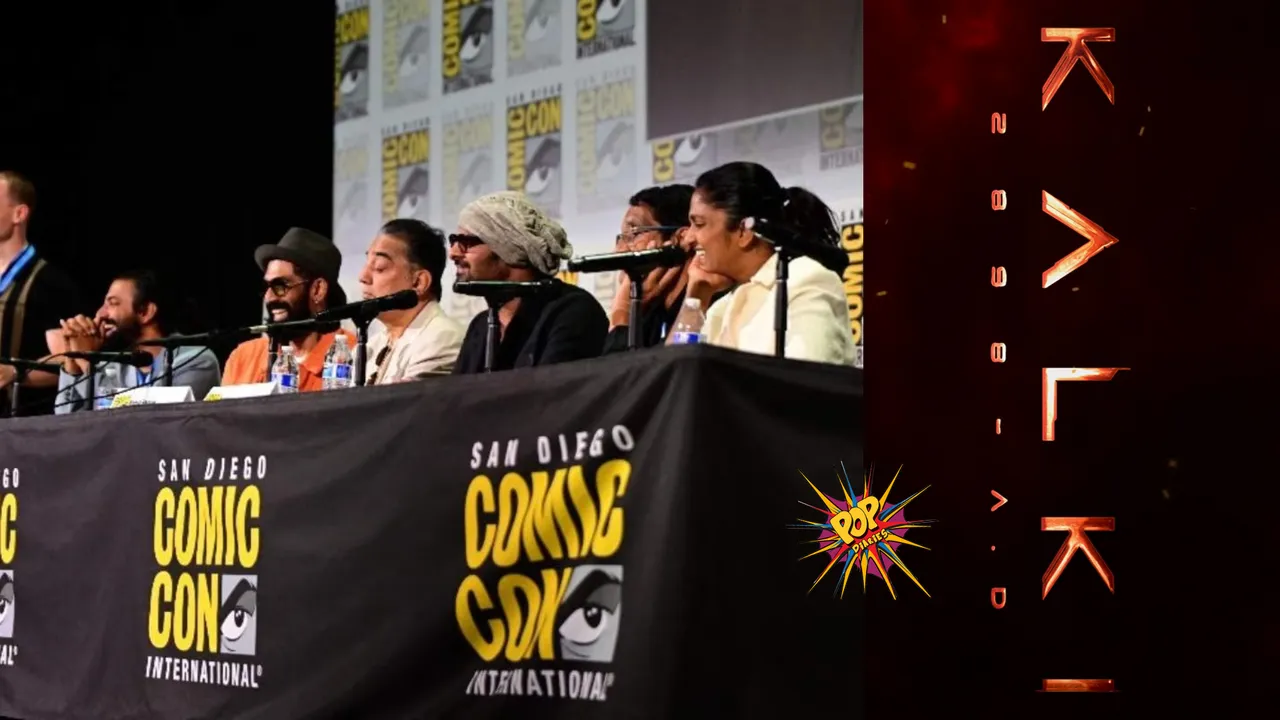 The first glimpse of the most anticipated 'Project K' has now finally got its title and it is 'Kalki 2898 AD' in the teaser video, we spotted the entire cast in their captivating roles excluding Kamal Haasan. To reveal this magnum opus glimpse, the team was invited to Hall H of San Diego Comic-Con (SDCC), making their historic debut which is huge for the Indian cinema industry too at the initial level of the movie. 
ALSO READ: From Suriya, Hrithik Roshan To Alia Bhatt, AI Imagines Indian Actors In Breath-taking Vikings Characters!
Eliciting a warm welcome from the excited audience, who erupted into thunderous applause. The grand event marked a significant milestone as Kalki2898 AD became the first-ever Indian film to participate in the prestigious international Comic-Con.
After the Prabhas' Kalki 2898 AD Glimpse release, here's how netizens have reacted. Have a look.
Been 3 years
Was super happy whn #ProjectK was announced n now super excited to watch it
After #SSRajamouli , #Sukumar n #NagAshwin gonna make our Tollywood proud on global platform #Kalki2898AD #DeepikaPadukone #Prabhas https://t.co/1RsEDeQG1E pic.twitter.com/tlLBaYl9iq

— 𝓢𝓱𝔀𝓮𝓽𝓱𝓪 (@shwetha0811) July 21, 2023
Still couldn't come out of #Kalki2898AD glimpse 😍

Such was the IMPACT 🔥

Truly commendable work,
Still tranding on number 1 on utube with 11M+ view's and 660k likes in just one day 💥 #Prabhas pic.twitter.com/Mi1lfds9VB

— rebel Star Prabhas (@PrabhasAana) July 21, 2023
#Kalki2898AD 💥💥💥 everyone looks are so crazy

— Arijit (@arijit_m_009) July 21, 2023
#ProjectK #Kalki2898AD glimpse ...
BANG ON!!

— RATEEBKS (@VbkShk) July 21, 2023
@ssrajamouli story to insta page...🤩🥳🥳🥳 #Prabhas #Kalki2898AD #ProjectK 🥵 pic.twitter.com/EWvtWZrXgW

— 𝐕𝐀𝐌𝐒𝐈\𝐏𝐑𝐀𝐁𝐇𝐀𝐒👑 (@Vamsidlg) July 21, 2023
And the atmosphere at Hall H was electrifying as the audience was treated to an unforgettable spectacle. A procession of drummers and women gracefully holding candles danced ceremoniously on stage, setting the tone for a night filled with cinematic marvels.
 ALSO READ:

THIS Is The Highest Tax-Paying Actress In Bollywood With Whopping Amount Of Net Worth!
The anticipation reached its peak when the actor's Kamal Haasan, Prabhas along with the director Nag Ashwin, producer C Aswani Dutt, Priyanka Dutt and Swapna Dutt Chalasani stepped onto the stage, sending the crowd into a frenzy of excitement.
Director Nag Ashwin, when asked about assembling such a stellar cast, revealed, "It's their love for storytelling that brought us all together. I had this idea, and the story just came along. I love science fiction and mythology, and I grew up with both Mahabharata and Star Wars. Making a film that combines both these worlds felt ideal, and thus, 'Kalki 2898 AD' was born."
ALSO READ: Viral Videos: From Shah Rukh Khan-Gauri Khan's Cute Nok-jhok To Tourist Assaulted At Agra Taj Mahal!
And Rana Daggubati asked, where is Kamal Haasan sir in the teaser? To which Nagi replied, "Sir is there throughout the teaser, but you don't know!" That raises the excitement level and while the superstar expresses being part of the project, Mr Haasan said, "The Reason I accepted this film is because I come from Analogous Cinema. Without a negative, there's no Positive. So, a negative role is an important role in a film"
Adding to the enthusiasm, Amitabh Bachchan, who joined the panel discussion via a live zoom call, expressed his pride in being a part of the film. "When Nagi approached me for this film, I was drawn by his outstanding work in the past. 'Project K' has been an unusual and exciting experience, with incredible research behind it. I have shared some wonderful moments with the team during the shooting, and I would like to thank everyone at Comic-Con for having us. I hope you like what you see, and when we release the film next year, you like it even better!"
ALSO READ: AI's Imagination Of 'Mahabharata' Film ft. THESE Genius Indian Actors Is Surely Desirable To Make It True!

Mr Bachchan further revealed, "When Nagi told me we were chosen to go to Comic-Con, I was unaware of how significant this was. My son enlightened me about the magnitude of this opportunity."
Interacting with the audience, Kamal Haasan also shared his excitement, stating, "I have tried to make films like this but in a smaller way. 'Kalki2898 AD' has a big vision, and I am glad to be a part of it. I remember when I wanted to create troopers; I had used hockey masks as part of the costume design, but 'Kalki2898 AD' has done it in style, and I love it."
Vyjayanthi Movies founder and Producer C Aswani Dutt also graced the panel along with his daughters Priyanka Dutt and Swapna Dutt Chalasani and reflected on his journey from black and white to sci-fi with Kalki 2898 AD. "I started my career with NT Rama Rao, and it took me 50 years of hard work to reach Amit ji, Kamal Ji, and my friend Prabhas. This is a very proud moment for us."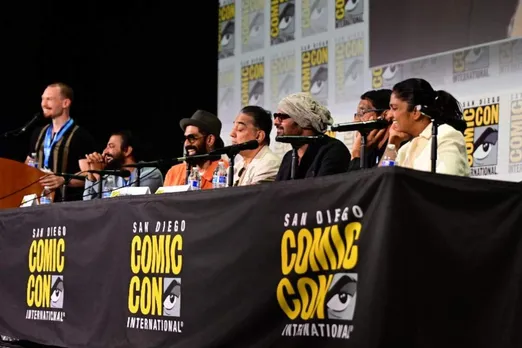 The presence of "Kalki 2898 AD" at San Diego Comic-Con marks a historic moment for Indian cinema as it paves the way for future global recognition.
As previously announced Kalki 2898 AD is all set to hit the theatres next year on 12 January 2024, marking the auspicious festival of Sankranti. Simultaneously being shot in Telugu and Hindi, while releasing in other languages of Kannada, Tamil, Malayalam and guess what? Also, in English too. Santhosh Narayanan is the music composer and cinematography is done by Djordje Stojiljkovic, while editing has been handled by Kotagiri Venkateswara Rao.