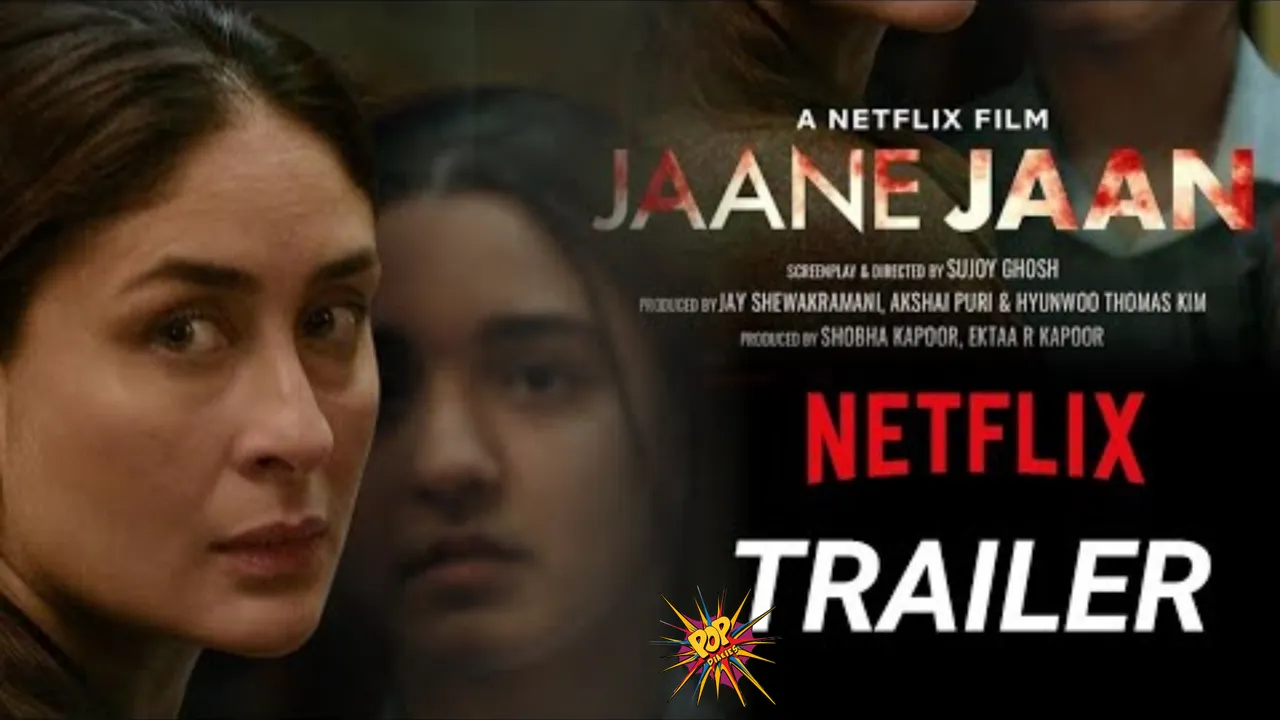 Netflix has unveiled the trailer for its latest film, a thriller like no other, JAANE JAAN, starring Kareena Kapoor Khan, Jaideep Ahlawat and Vijay Varma. The film is directed by the man of many mysteries himself, Sujoy Ghosh, and also marks the streaming debut of Kareena Kapoor Khan. Jaane Jaan will engulf you in its world of intrigue, suspense and deception on the 21st
September 2023 only on Netflix!
Jaane Jaan's trailer gives you a glimpse into all the mysterious happenings in the chilly and pine-tree-covered Kalimpong, as it delves into the complex intertwined relationships and secrets. Maya (Kareena Kapoor Khan), Naren (Jaideep Ahlawat) and Karan (Vijay Varma) navigate through a web of emotions and unforeseen circumstances as they cover up and uncover clues in a bid to outwit each other. Brace yourself for a journey that will evoke both love and thrill and keep you on the edge of your seat as you witness powerhouse performances, all through the lens of Sujoy Ghosh.
Talking about the trailer launch of the film, Director and Writer, Sujoy Ghosh says, "I am so excited that the audiences finally get to see a glimpse of Jaane Jaan, a film extremely close to my heart. Set in Kalimpong the film sees a love story, a criminal investigation, a budding attraction, mastermind plotting and the will to do anything for love. Essayed by my dream cast of Kareena, Jaideep and Vijay, all in roles so different from what they have been seen in before. On 21st September, this film will be yours, across the world you'll get to see this thriller come to life and I cannot wait to see what you think!"
ALSO READ: INDIAN-ORIGIN Presidents, Global Leaders To Top CEOs Who's Making Us Proud!
Adding to that, Producers, Jay Shewakramani, Akshai Puri and Thomas Kim say, "Jaane Jaan will always be a special film for us at 12th Street Entertainment, Northern Lights Films and Kross Pictures. As soon as we read the script, we knew this was something we wanted to back. For us, our aim has always been to bring to the audience impeccable films that leave a lasting impact and we know Jaane Jaane will be just that. We have worked with Sujoy in the past and we are looking forward to bringing with Jaane Jaan, yet another thrilling film for our audiences. This film is a labour of love, which has been  made with a lot of hard work and we only hope the audiences enjoy it as much as we did making it"
Monika Shergill, VP, of Content, Netflix India said, "Jaane Jaan takes us on a thrilling journey where we witness the lengths that someone will go through for love. This mesmerizing film showcases a brilliant convergence of the exceptionally talented Kareena Kapoor Khan, Vijay Varma and Jaideep Ahlawat with the visionary director Sujoy Ghosh at the helm. With its blend of crime, mystery, suspense, drama, and romance, Jaane Jaan is an unmissable addition to your watch list and a fantastic addition to the Netflix film slate."
Speaking on the launch of Jaane Jaan's trailer, Actor Kareena Kapoor Khan says, "I am so excited the trailer is finally yours to see! This is the first time audiences will see me in a thriller, playing something gritty like this. Jaane Jaan was a script that I had to say YES to the first time I heard of it. I have always told Sujoy the USP of this film is its cast and I had a superb time working with Jaideep and Vijay. I cant wait for Netflix audiences to enjoy Jaane Jaan."
ALSO CHECKOUT: Kareena Kapoor, Kiara Advani & Suhana Khan Together Stuns In Style For A Campaign Event!
Adding onto that, Actor Jaideep Ahlawat says, "Ever since I heard the script of Jaane Jaan, I was floored. This role gave me a completely new and never seen before look and offered me an opportunity to do something I've never done before and I'm so glad the audiences are getting to see a glimpse of that today. Working with Sujoy Ghosh was a dream come true, his directive lens helped me put my best foot forward. Sharing the screen space with Kareena Kapoor Khan, was truly amazing as she is a gem of a person. And of course, my good friend Vijay Varma, always a pleasure working with him! Our friendship goes way back since we were together in FTII as well. I genuinely hope the audience also appreciate me in this new avatar and enjoy watching this film as much as I enjoyed shooting for it."
Actor Vijay Varma shares, "Jaane Jaan was a film I jumped at the minute Sujoy shared that he wanted me to play a role like this. I am playing a witty, charming and sharp police officer, refreshing break from the baddies I've played before. The film is directed by an auteur known for thrillers, my co-actors are Kareena Kapoor Khan and Jaideep Ahlawat and we got to shoot this in Kalimpong. Who will say no to this? The trailer is the perfect bait to hook audiences and bring them into the world."
WATCH THE TRAILER HERE: 
'Aa Jaane Jaan'- Join Maya, Naren and Karan in their race to find the truth only on 21st September 2023 on Netflix!
ALSO CHECKOUT: SEE INSIDE Pics Of Shah Rukh Khan's Dubai Mansion 'Jannat'
Director and Writer:
Sujoy Ghosh
Producers:
Jay Shewakramani
Akshai Puri
Hyunwoo Thomas Kim
Shobha Kapoor
Ekta R Kapoor
Cast:
Kareena Kapoor Khan
Jaideep Ahlawat
Vijay Varma
DoP:
Avik Mukhopadhyay
About Netflix:
Netflix is one of the world's leading entertainment services with over 238 million paid memberships in over 190 countries enjoying TV series, films and games across a wide variety of genres and languages. Members can play, pause and resume watching as much as they want, anytime, anywhere, and can change their plans at any time.
About 12th Street Entertainment:
12th Street Entertainment is one of the most sought-after Production Houses in the industry, known for nurturing and protecting all of its creators' visions. The founder Akshai Puri spearheads the company with his desire to work with the best of the best in the industry as well as give a platform to new talent. His understanding of the landscape of media & entertainment in India is unmatched and has allowed him to build a track record of successful releases. Akshai Puri produced one of 2019's most successful releases, Badla, directed by Sujoy Ghosh and starring Amitabh Bachchan and Taapsee Pannu. In 2021, 12th Street backed Bhoot Police, a first-of-its-kind horror-comedy, directed by Pawan Kirplani starring Saif Ali Khan, Arjun Kapoor, Yami Gautam and Jacqueline Fernandez. In 2023, 12th Street released Gaslight, a psychological thriller starring Sara Ali Khan, Vikrant Massey and Chitrangada Singh. As the company moves forward in an ever-changing industry, 12th Street is geared up to deliver fresh and exciting content across all genres.
About Northern Light Films:
Northern Lights Films is an energetic and innovative movie production company, well-known for its dedication to great storytelling and its remarkable knack for discovering and supporting talent. Founded by the visionary Mr. Jay Shewakramani, the company has found a special place in Indian cinema, always bringing out successful and captivating movies that truly resonate with audiences. Mr. Jay Shewakramani, the visionary founder of Northern Lights Films, has been the driving for behind our success. His keen eye for talent, innovative approach to storytelling, and unwavering commitment to quality have set the foundation for our achievements. Our portfolio stands as a testament to our dedication to producing high-quality and engaging films. Some of our notable successes include: "Jawaani Jaaneman": This critically acclaimed film captivated both critics and audiences with its refreshing narrative, exploring the complexities of relationships and generational differences. The movie's success highlighted our ability to tackle contemporary themes with finesse."Malang": A thrilling ride that combines action, suspense, and romance, "Malang" showcases our versatility in delivering diverse cinematic experiences. The film's success highlighted our dedication to pushing genre boundaries and delivering captivating content."Freddy": With suspense as its core element, "Freddy" showcased our capability to create engaging narratives that keep audiences on the edge of their seats. The film's success showed our skill in delivering intriguing and suspenseful stories.
ALSO READ: 'Jailer' Star Rajinikanth Receives A Car Worth Rs 1.26 Cr & A Profit Cheque From Sun Pictures CEO; SEE VIDEO & PICS
About Kross Pictures:
Founded in 2004 by Hyunwoo Thomas Kim, Kross Pictures is a cross-border film & television
production company with offices in Seoul, Los Angeles, and Mumbai. Kross believes compelling stories can work anywhere in the world & strives to identify, acquire & develop proven IPs. In addition to being a major entertainment player in Korea, Kross has been actively collaborating with companies around the world to create content that provides world-class entertainment and has commercial appeal. In India, Kross is actively developing films & series for both Hindi & South markets. Some of the notable & successful productions include - Oh! Baby (2019), Te3n (2016), Netrikann (2021) & Blind (2023). Kross' first Chinese production, The Devotion of Suspect X (2017), became a mega-hit with a global box office revenue of INR 410 Cr. Given the proven track record, Kross is expanding into the Japanese market & exclusively producing films & series based on webtoons. Business Proposal, a Korean rom-com series produced by Kross, broke records by bagging Netflix's Top 10 Series position in over 30 countries. The company has also produced several series including Again My Life, Cheese In The Trap, and Roppongi Class (a remake of the high-rated show Itaewon Class), all of which topped the charts.