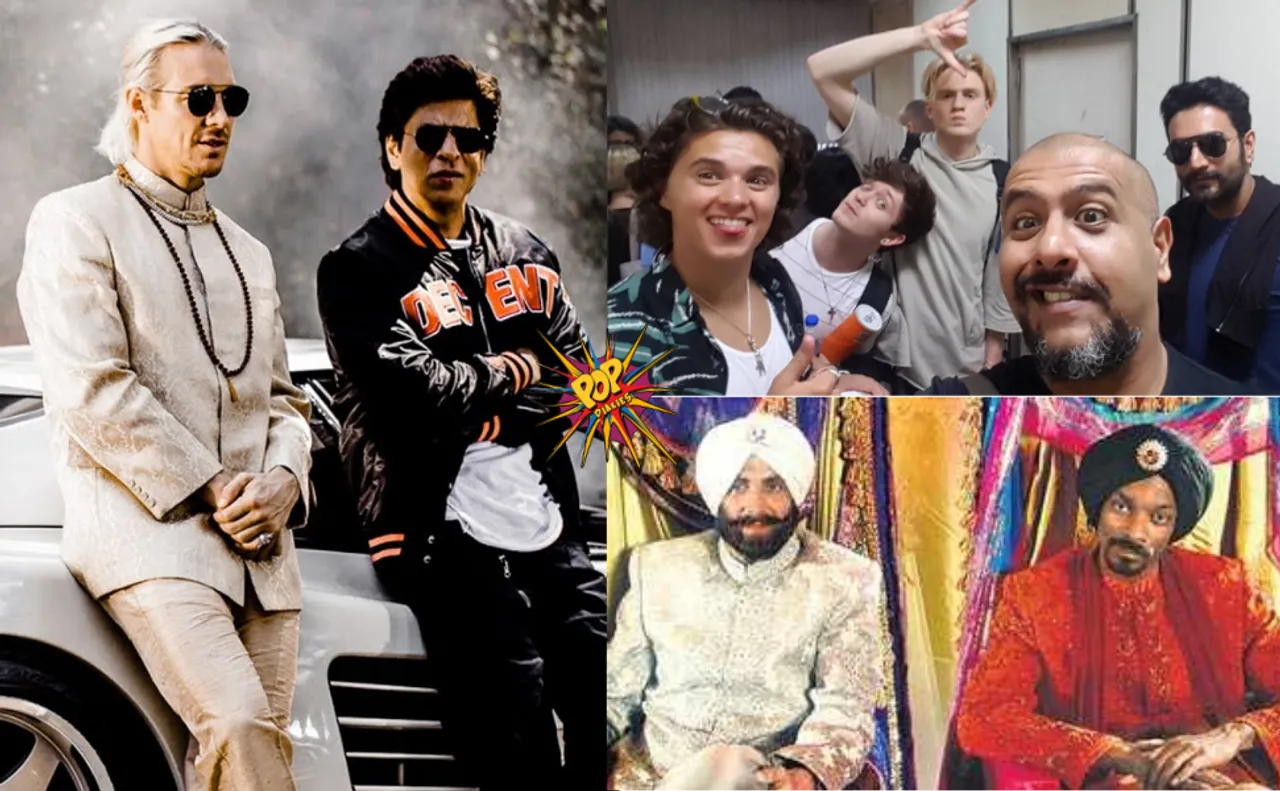 India is famously known for its thousand types of variations in music which easily
catches the audience's attention though amongst the country's people or globally,
our Indian Composers have taken our music to the next level.
So whenever we got to witness our musicians collaborating with some prominent
International personalities had left our eyes sparkling and ears tuning along. And they
were none other than the artists like Akon, Lady Gaga, The Vamps, Snoop Dogg,
Nick Jonas, Ludacris, Nicole Scherzinger etc had joined hands with the Indian
music composers and let us have a look at the ensemble list of tracks that we love
to listen and groove on them.
Vishal-Shekar & Akon for 'Chammak Challo'
One of the most collaboration songs in Bollywood that can never get old, witnessing
legend American singer Akon's vocals merge with the epic duo Vishal-Shekar
music became an instant global favourite.
ALSO READ: 'SEVEN' Campaign Behind-The-Scenes Film: Fascinating Jungkook Visuals Keeping Fans On Their Toes!
Akon has also lent his vocals for the song 'Criminal' in the same film 'Ra. One'. 
Vishal Shekar & The Vamps for 'Beliya'
Must say it is one of the most underrated collaborations, The Vamps is the British
band that joined hands with India's celebrated musical duo Vishal-Shekar. If you
haven't heard Beliya yet then you should not miss it. Playing drums in the flavour
of India, lead singer Bradley's soft vocals and Hindi chorus are what make it catchy.
Mithoon & The Vamps for 'Shivaay'
Mithoon is one of the best composers whose songs instantly become dear to
many and his bringing the British Band to collaborate for Hindi song has made
the title track unique. Though the film didn't go well at the box office, 'Shivaay'
the song received acclaim for its unique fusion of Western and Indian musical
elements.
ALSO READ: 11 Indian Talented Actresses In The Captain Marvel & Black Widow Avatars Will Blow Your Minds!
AR Rahman & The Pussycat Dolls, Orianthi Panagaris, Kylie Minogue
'Jai Ho'
Jai Ho is an Oscar-winning song composed by the one and only music maestro AR
Rahman, its English version is also equally popular where it features Nicole
Scherzinger's vocals along with her band member Pussycatdolls. They also starred
together in its music video and made it worth hearing.
'Sadda Haq'
AR Rahman's music for the film Rockstar is top-notch and one of its track title
'Sadda Haq' the director collaborated with the terrific Australian guitarist Orianthi
Panagaris, who strung some melodious tunes in this song.
'Chiggy Wiggy'
Chiggy Wiggy is one of the blockbuster hits that we can groove on even today,
The Australian singer Kylie Minogue has lent her voice and also featured in the song. 
She was one of the first leading international artists to have worked on a Bollywood song.
ALSO READ: X Reasons Why Shah Rukh Khan Is One And ONLY True Indian Cultural Mascot On Global Stage!
There are many other tracks but these were a few of AR Rahman's collaboration
with the international stars.
Salim-Sulaiman & Lady Gaga for 'Born This Way'
Salim-Sulaiman are one of the fabulous musical duo in the Indian cinema who had
collaborated for Lady Gaga's desi-mix track 'Born This Way', as her love for the
The Bollywood industry's masala, movies, and music are known for all.
Salim-Sulaiman also bought Natalie Di Luccio an Italian-Canadian classical-
crossover singer from Toronto, Ontario who lent her soulful vocals to a song
Aadha Ishq. And since then, has contributed her exceptional musical talent to
several other Bollywood projects, cementing her place in the Indian music
industry.
RBD & Snoop Dogg 'Singh Is King'
Accepting this project on a staggering amount of dollars the hip-hop star Snoop
Dogg instantly gained popularity by featuring alongside the actor Akshay Kumar in
the Bhangra music group RDB's track 'Singh Is Kingh'. The most intriguing aspect
of this track is a mix of hip-hop and bhangra styles, great video no two ways
about it!
RDB had also joined hands with Ludracis for 'Shera Di Kaum' in Speedy
Singhs, Hindi-Punjabi dubbed a movie of English titled 'Breakaway'. The song also
featured Akshay Kumar in the music video and this unique mixture of an American
hip-hop star and British Punjabi artists resulted in a memorable track that
dominated the charts and became a significant milestone in international
collaborations with Indian music.
Pritam & Tata Young for 'Dhoom Dhoom'
The Hindi version of Dhoom Dhoom is sensational on its own and guess what? The
English version featuring Thai Pop singer Tata Young topped the charts in
Thailand, Indonesia, Singapore, Malaysia, and more, signifying the global impact
of Bollywood music.
Diplo & Pritam for 'Phurrr'
'Phurrr' is Shah Rukh Khan and Pritam's collaboration with the world-famous DJ
Diplo is an American DJ-music producer, who is also the co-creator and lead
member of one of the popular electronic dancehall music projects Major Lazer.
The song was the track EDM meet Bhangra everyone was waiting for.
ALSO CHECKOUT The Ensemble List Of Freshly Paired Talented Actor-Actress That We Are Thrilled To Watch Them On-screens Soon!
Also, taking you down a memory lane where more of our Indian
singers/rappers are seen collaborating with global iconic artists or bands, who
surprised us with their phenomenal tracks.
It's indeed a treat always where our dear Indian creators and international artists
come together to break all the charts of the universe. And would definitely love
to wait for more partnerships!