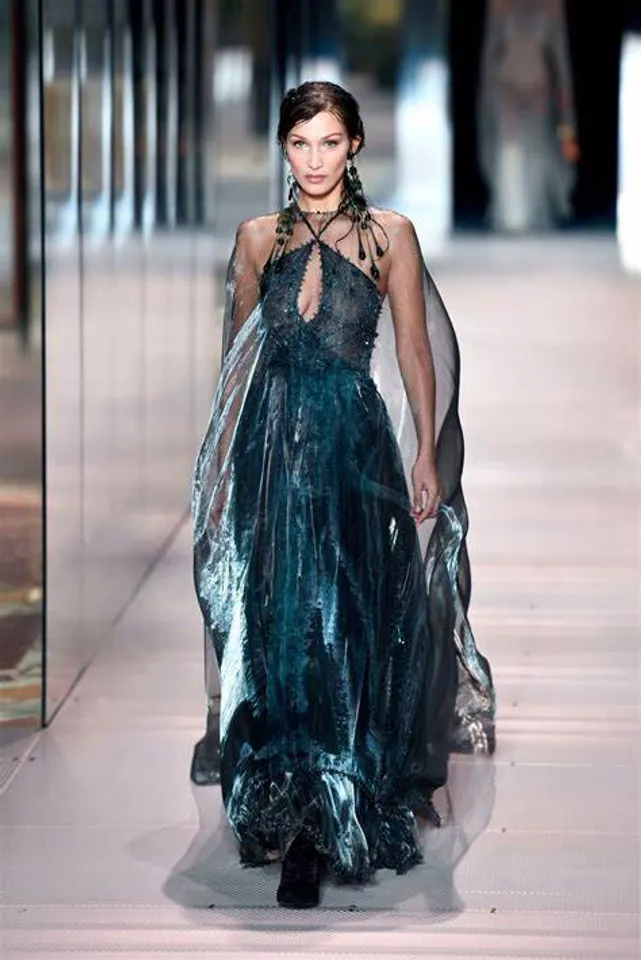 In the world of fashion, Fendi has always been synonymous with luxury, elegance, and innovation. With its latest haute couture showcase, the prestigious  Italian fashion house once again proved why it remains at the forefront of the industry. Held at the historic Palais Brongniart in Paris, the event unveiled Fendi's contemporary interpretation of haute couture, pushing the boundaries of creativity and craftsmanship.
The Historic Palais Brongniart
Located in the heart of Paris, the Palais Brongniart served as the perfect backdrop for Fendi's iconic showcase. As one of the city's historic landmarks, this neoclassical masterpiece provided an enchanting ambiance that elevated the entire event. The grandeur of the building's architecture perfectly complements Fendi's exquisite creations, merging modernity with tradition in the most captivating way.
A Contemporary Take on Haute couture
Fendi never shies away from experimentation, and this haute couture collection perfectly encapsulated the brand's avant-garde spirit. The collection showcased an array of bold, daring designs that effortlessly melded traditional haute couture techniques with contemporary aesthetics. From voluminous silhouettes embellished with intricate beadwork to unexpected fabric combinations, Fendi proved that the world of haute couture is not limited by convention.
The Intersection of Craftsmanship and Technology
Fendi's commitment to innovation was evident throughout the showcase, with the infusion of cutting-edge technology. The use of 3D printing techniques and digital embellishments added an unexpected modern twist to the traditional craftsmanship associated with haute couture. This seamless integration of technology and artistry demonstrated Fendi's ability to embrace the future while still honoring the legacy of craftsmanship that defines the brand.
Celebrity Presence and Global Acclaim
As always, Fendi's haute couture showcase attracted a star-studded crowd, including the fashion industry's elite and A-list celebrities. Their presence affirmed the brand's global appeal and reaffirmed Fendi's position as a leader in the world of high fashion. The collection received rave reviews from critics, further solidifying Fendi's reputation for excellence and pushing the boundaries of creativity in the industry. 
Fendi's contemporary haute couture showcase at the Palais Brongniart in Paris was an extraordinary display of artistry, innovation, and craftsmanship. By seamlessly blending tradition with modernity, Fendi proved that  haute couture can be a platform for experimentation and creativity. This event not only showcased the brand's exceptional designs but also highlighted Fendi's commitment to pushing fashion boundaries and reinterpreting the art of couture for the modern era. With this collection, Fendi reaffirmed its place as a trailblazer in the world of high fashion and left a lasting impression on the fashion industry as a whole.