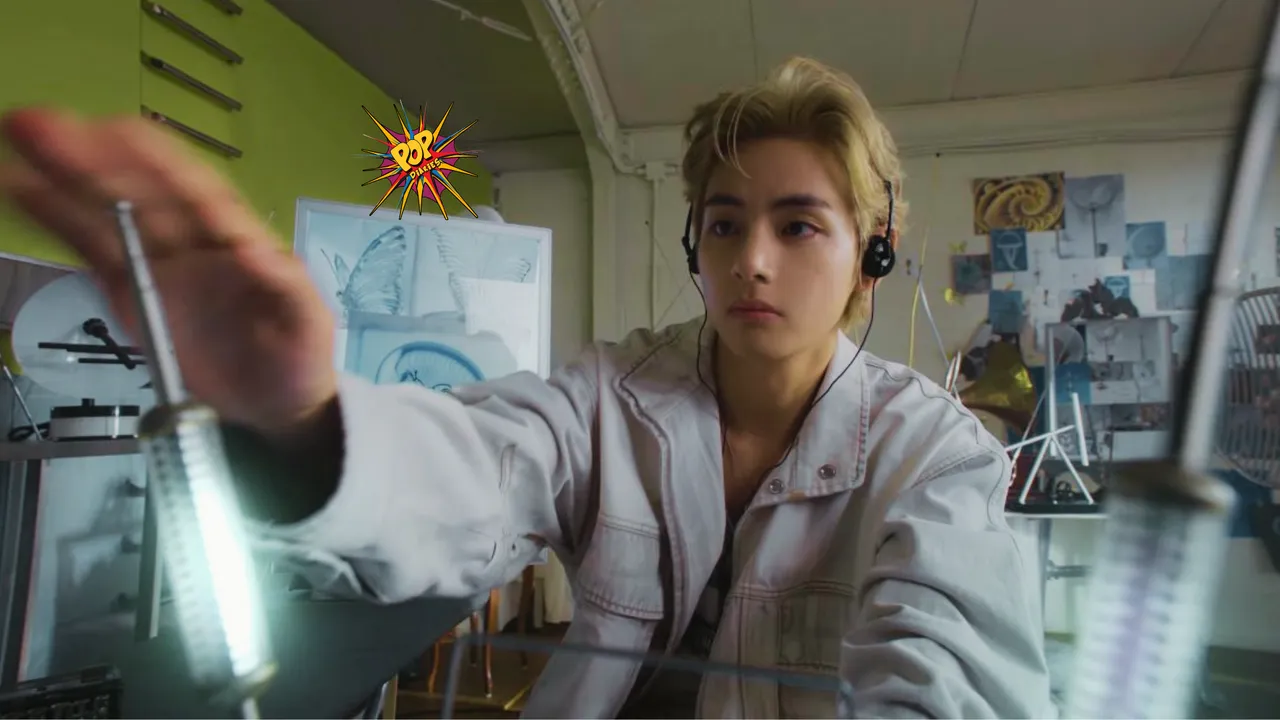 BTS V album 'Layover' is out now!
As promised, BTS V aka Taehyung made his album solo debut with 'Layover' and it consists of six tracks in total – five songs Rainy Days, Blue, Love Me Again, Slow Dancing, For Us and adding a bonus number 'Slow Dancing' (Piano Ver.) And today he dropped the whole album with a 'Slow Dancing' music video too. 
'Slow Dancing' MV is calmer to storm!
After dropping a teaser yesterday, the music video was unveiled today and just like its title the 3-minute 11-second video is also the same very soothing and calming with a 1970s vibe to it. As described earlier, the song is a very 70s romantic soul-style track that exudes a laid-back and free-spirited feeling.
In the same way, even V is seen dancing in a freestyle way who's out somewhere far away with his friends isolating themselves amidst picturesque locations and inspiring us to live in the moment by simply forgetting everything around us. To mention, his smile makes it even calmer! 
Adding extra love to the MV, we also saw a cameo of the singer's pet Yeontan. 
Watch  Video Below:
ALSO CHECKOUT: SEE VIRAL PHOTOS: Joe Jonas First Outing With Daughters After Filing Divorce From Sophie Turner
Here's how BTS ARMY cannot get over the MV and lovely Taehyung:
if taehyung got rocky as a replacement for yeontan in the mv then this guy is a replacement for— [sirens and screams in the background] pic.twitter.com/qWnU6a3Lhc

— tee ꪜ (@firewaterkvs) September 8, 2023
The MV is like queer town and he is the king of that kingdom pic.twitter.com/aWkmJ5oymw

— Mint Yoongi (@peachesminty9) September 8, 2023
ALSO CHECKOUT: Shah Rukh Khan 'Thank each and every Fan Club', As SRKians Celebrates 'Jawan' At A Crazy Massive Scale!
The MV is a mirage, all what happened at the beach in the boat is virtual, computer generated by him. He insert himself in this fantasy (the lighted dots, the model mountain) creating a virtual happy place, escaping from reality ++ pic.twitter.com/hdvunxNG0z

— ⟬⟭ Tsunami⁷ 🌊⟭⟬ (slow)💜🥸🧐 (@tsunami_lonely) September 8, 2023
the mv remembers me peter pan the movie for the magical atmosphere and it just makes sense bc taehyung is literally a peter pan pic.twitter.com/Z8DWQ0YRXu

— laura (@7bogoshipda) September 8, 2023
so interesting how taehyung was messing around with technology in the mv and some of his friends started glowing the same color as the technology? almost as if he crafted his friends by himself and they're not real…. so cool. pic.twitter.com/Uk4ke1jKTO

— ravi loves jungkook (@kkyukirby) September 8, 2023
And in it nothing seems real, the stars planets flow by your side, things glitters exactly like Taehyung glitters in the mv, noticed how he clicks the pics but it's just him? The cloud shape is of a dog, yeontan's face on the hills? It's because it's his imagination. pic.twitter.com/dP4Nh46cyi

— KiKi⁷ 🔍⍤⃝🔎 (@seokjinah070) September 8, 2023
ALSO CHECKOUT: All About Shah Rukh Khan's 'Jawan' Dynamic Release: 'It will create NEW records' Netizens Review, FDFS Opening Madness, A 'Dahi Handi' Salute To Fans Arriving Theatres In Different Looks!
Meanwhile, fans are streaming all the songs on several music streaming platforms, especially to mention 'For Us'. This track has caught fans in a very emotional way and its lyrics have overwhelmed them. As the singer expressed the feeling of longing for someone so beautifully. 
See reactions: 
ME LISTENING TO 'FOR US' BE LIKEpic.twitter.com/dRCeIwZrxh

— hope⁷ (@winnttaebear) September 8, 2023
"You went from my home to
It was nice to know you
And it breaks my heart
That we gave it our best shot
Now I'm in California
I'm still waitin' for ya
Will you change your mind?
I would give it all up
For us." — Kim Taehyung, For Us pic.twitter.com/rhX6zIYVQN

— ˙ᵕ˙ (@taebokkiii) September 8, 2023
the lyrics of 'for us' 🥹🤍 pic.twitter.com/ZBZbbmpu6q

— ꨄ (@fayepjm) September 8, 2023
FOR US?????? THIS IS SO DAMN GOOD WTF THIS IS GONNA GET SO VIRAL pic.twitter.com/i0i0lBBKyQ

— 제이 ʟᴀʏᴏ(ꪜ)ᴇʀ (@diionyssustkk) September 8, 2023
ALSO READ: INDIAN-ORIGIN Presidents, Global Leaders To Top CEOs Who's Making Us Proud!
FOR US SONG IS WHERE TAEHYUNG TELLS HE CAN DO ANYTHING FOR THEM 😭😭😭pic.twitter.com/DYVplVChFw

— Zoe♡ ᴸᵃʸᵒꪜᵉʳ (@taegukkieloverr) September 8, 2023
Before Slow Dancing, Tae Tae dropped two music videos of the songs 'Love Me Again' and 'Rainy Days'. Now, all eyes upon 'For Us' and 'Blue', cannot keep calm to witness what's more hidden from us and to be lovelier than the previous tracks' videos. While he has already kept on raising the bar by unveiling one by one MV. 
However, the teaser for 'Blue' was released much earlier and the song's official music video is expected to drop next week.
To promote 'Layover' Taehyung will appear in multiple shows, the ones which are lined up are: 
Rainy Days singer will perform at the NPOP music show on September 9 and 13, while on September 10, he is performing at the music show SBS Inkigayo and on September 11, SUGA's talk shows Suchwita featuring V will be out on the group's YouTube channel and more. 
After music videos featuring mesmerizing visuals with V's heart-warming vocals, live performances will make it even more mesmerizing. Cannot wait to witness the delightful view of fans singing along with the singer.