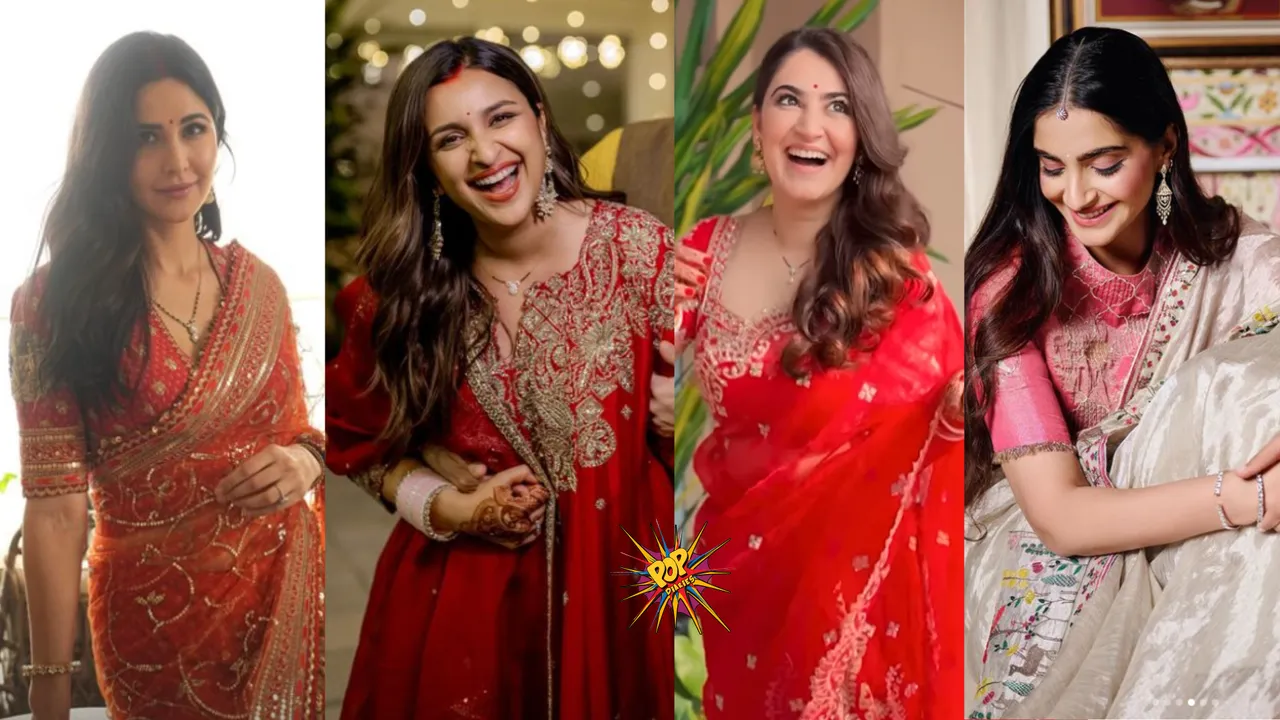 In the enchanting realm of Bollywood, where style meets tradition, Karwa Chauth 2023 unfolded as a mesmerizing tapestry of ethnic elegance and timeless fashion. Our favourite Bollywood beauties graced the occasion in an array of captivating ethnic ensembles, leaving us spellbound and utterly captivated. Have a look at unmissable fashionistas who added an extra touch of magic to this auspicious day.
Katrina Kaif radiated beauty in an orange net saree adorned with intricate golden threadwork, paired elegantly with a vibrant red blouse. Her look was completed with a red bindi, Sindhoor, and a mangalsutra, capturing our hearts with her effortless grace.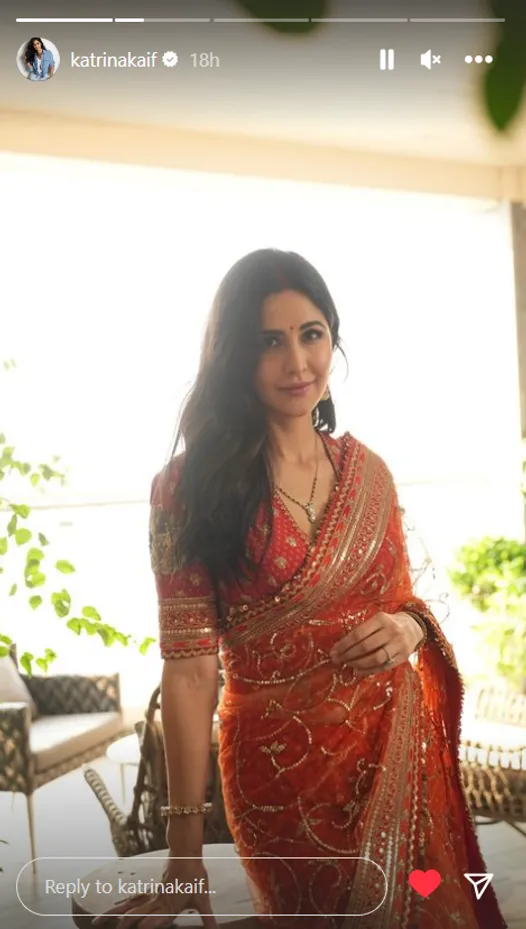 Newlywed Parineeti Chopra looked resplendent in a ruby palazzo dress set, intricately embroidered with golden threads. She paired it with a plain net dupatta featuring a golden border, and her ensemble was beautifully complemented by her pink chooda-set, mangalsutra, bindi, and Sindhoor, exuding timeless charm.
Sonam Kapoor captivated everyone in an off-white tissue saree adorned with floral multi-coloured embroidery, paired elegantly with a pink blouse. She accessorized her look with a delicate diamond maang-tikka, earrings, ring, and bracelets, showcasing her signature grace and sophistication.
ALSO READ: Happy Birthday, Shah Rukh Khan: A Journey From Ignorance, Criticism To Now Being An Only Actor With Two 1000 Crore Films, An Unstoppable King!
Shivaleeka Oberoi embraced her first Karwa Chauth in a delightful manner, wearing her wedding attire in a creative twist. She transformed her marriage outfit veil into a saree pallu, paired with the same blouse, exuding elegance and sentiment on this special occasion. The actress also shared her emotions on Instagram and wrote, "❤️ Ever since I wore my wedding outfit I was sure I wanted to somehow re-wear this for my first karwachauth! 🥰
So here it is, worn as a saree! ✨"
SEE VIDEO:
ALSO CHECKOUT: All About SRK's Night Birthday Bash Outside Mannat: "It's unbelievable," His Love & Care For His Fans Is Never Ending!
Shilpa Shetty shimmered in a pink saree adorned with golden threadwork, radiating sheer elegance. She embraced tradition with Sindhoor, mangalsutra, and a bindi, adding a touch of regality to her stunning ensemble.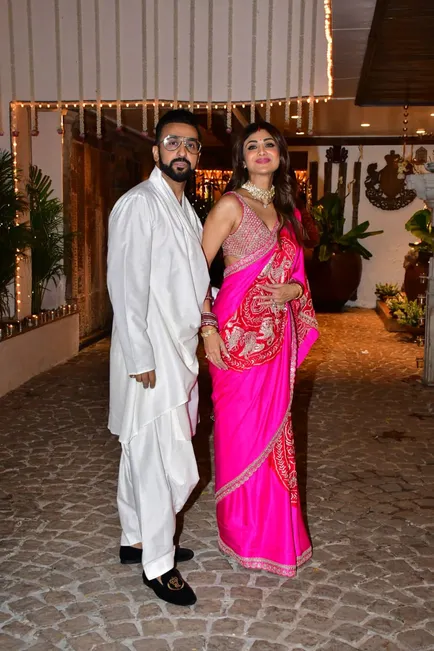 Hansika Motwani graced the occasion in a unique red saree, enhanced with a diamond jewellery set that added a touch of royalty to her ensemble.
ALSO CHECKOUT: Karwa Chauth 2023 Fashion In Classic Red, Inspired By B-Town Divas!
The charming Kiara Advani opted for understated elegance in a simple pink salwar suit featuring golden embroidery at the hem. Her choice showcased simplicity and sophistication, making her a vision of grace on this auspicious day.
In the kaleidoscope of Bollywood's Karwa Chauth fashion, these divas emerged as true icons, blending tradition with contemporary style. Their sartorial choices not only captivated our eyes but also celebrated the essence of this revered festival, leaving an indelible mark on our hearts.