The anticipation for Shah Rukh Khan Jawan has reached a fever pitch and is constantly on the rise. It's just been a day since SRK dropped the latest intriguing poster revealing his 5 different looks. This has indeed elevated the ever-rising craze for the film and adding more to it, SRK's Warriors FAN Club has decided to recreate his looks from the film while taking the promotions way ahead of what people have seen for superstars' last release Pathaan. 
Javed Shaikh, the founder of Shah Rukh Khan Warriors FAN Club, shared an exclusive insight about the same, "Last time, we had put up 20,000 posters. This time, we plan to put up 50,000 posters in 50 cities. On August 15, we did charity as well as promotions in 30+ cities. We distributed food among the underprivileged and also provided notebooks to school and college students."
Link - 
Ahmedabad ke Zinda Bando ne kiya Zabardast promotion #Jawan ka 🔥

Well done @mizsayani & Team ❤️

| @iamsrk @Atlee_dir @RedChilliesEnt |#ShahRukhKhan #Chaleya pic.twitter.com/NNUECsZ54B

— Shah Rukh Khan Warriors FAN Club (@TeamSRKWarriors) August 13, 2023
ALSO READ: Already Creating History! Shah Rukh Khan's Jawan To Release On World's Largest Screen!
Taha Jilani from Kannad, Aurangabad along with other fan members went bald just like SRK in Jawan. He further shared, "We were so excited to see Shah Rukh Khan sir's bald look in Jawan's Prevue that 4-5 people from our fan club, including me, decided to go bald. Later, 6-7 fans also got motivated and shaved their heads!"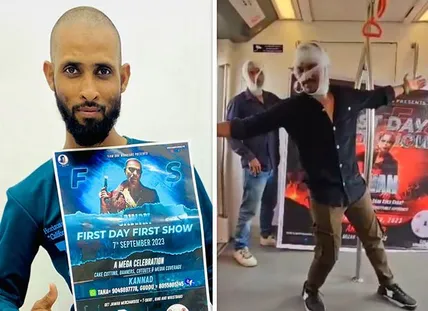 Further while mentioning the public reaction to his recreation of the bald look, Taha said, "Logon ko deewangi dikhti hai Khan saab ke liye. It's quite fun to go around the city with this look and put up posters. Even the onlookers enjoy watching us!"
He added, "We go all out. Even in places where there are no cinemas, we are promoting Jawan."
Mizan Sayani, who replicated the bandaged look of SRK was seen promoting the film in Ahmedabad Metro along with other fan members who also went around with their bandaged faces. Speaking about the same Mizan said, "We had done a screening of Jawan's Prevue the day it was launched. We loved sir's dance in the metro at the end of the Prevue. I told the team then that we should do a metro activity. Then one day, we put up the bandage on our face and entered a metro station."
Mizan said that this campaign was an eye-opener for him and other fan club members, "It made us realize that Khan saab has so many more fans. The moment we entered the station, the police and the security staff got concerned. They asked us, 'Aap logon ko kya hua? Kya aapka accident hua hai?'! We informed them that we were promoting Jawan and showed them sir's bandaged look. They clicked pictures with us and we invited them to watch the film's first day first show."
ALSO WATCH Viral Video: 10 Years Back Award Show Scenario Coming True To Witness The Trio – Shah Rukh Khan, Nayanthara, Atlee For 'Jawan'
He continued, "Then we got into a train. A lot of women passengers were in our compartment. It was apt as Jawan is based on women empowerment. Some of the female members of our fan club gave them posters of the film and explained to them our activity. They expressed a desire to click pictures with us. We held the first day first show poster and clicked snaps with them. Then we went to a different compartment and interacted with more passengers. Some kids were also present and they loved our look. They told us that they loved Pathaan. Even senior citizens were present and they told us how much they love SRK. They were quite surprised to see us promoting the film in this manner."
Javed Shaikh proudly said, "I guarantee you that what we do for Khan saab and at such levels, no one can do. Some people often say that someone must be sponsoring us or it is a paid activity. But it's not true. We do it ourselves and invest money from our pockets. Hamara pyaar hi aisa hai Khan saab ke liye. Well-qualified people from IT and other fields who earn a package of Rs. 15 lakhs are also on the streets and putting up posters of Jawan. Sochiye kis level ka pyaar hai!"
ALSO READ: DEETS INSIDE: Jawan Sold At Whopping Price In Kerala & Tamil Nadu
Talking about plans, Javed said, "The moment the advance booking commences, we'll start booking tickets in cinemas where we'll be doing the celebrations. We are already prepping for the first-day first-show celebrations. We'll install a 50-foot poster, take out a rally etc."
Thankfully, for SRK Fans, there's no negativity surrounding Jawan, unlike Pathaan. Mizan Sayani revealed, "We faced some issues during Pathaan. In Ahmedabad, some groups tore posters of Pathaan, including the ones that we had put up. We held meetings with the police before the first day first show. My family members were also concerned. We were hoping that viewers come in full force and that they wouldn't face any issues. 
Fortunately, it was a grand success. A lot of media also covered our celebrations. Their headlines were 'Shah Rukh ke fans Bajrang Dal par huye bhaari'!"
He continued, "With Jawan, there's zero problem. And we don't know if such a film will ever come again. Hence, we are going full out."
ALSO READ: DEETS INSIDE: Jawan Is A Most Expensive Film Of Shah Rukh Khan Till Date
SRK Universe:
Yash Paryani, the co-founder of the biggest Shah Rukh Khan fan club, SRK Universe, shared his plans with us, "For Pathaan, we had screenings and events in 200 cities. This time, we have gone past the figure of 200. For Jawan, we are organizing screenings in 300 cities and counting. That's roughly 10 cities in every state. We have figured out the major cinemas that are situated even in smaller towns and will be conducting our events there. Also, since Jawan is a Pan-India film, we have also targeted Southern cities compared to Pathaan. There, our celebrations will be full massy, just the way it is for the South films!"
He continued, "The 60-feet cutout of Shah Rukh sir will be there even this time. In some places, we have put up 40-50 feet posters already. In Mumbai, due to the permissions, we'll be able to install only a day before release. We have also ordered lion rings, T-shirts, pants, masks etc. as special merchandise."
Yash also stated, "Our fan clubs have branches in 60 countries. I don't think our films even release in so many countries. The first day first show and all the major promotional campaigns will be held in these foreign countries too."
Last time, SRK Universe organized screenings in Mumbai's iconic single-screen complex, Gaiety-Galaxy. Yash Paryani, on this, exulted, "We' will have the first day first shows not just in Gaiety but also in Ghatkopar and neighboring cities like Navi Mumbai, Badlapur, Kalyan etc."
He added, "During the release of Gadar 2, we put up the cutouts and standees of Jawan in many important theatres across the country." He also said, "Even in London, we had Jawan-themed boat parties. We branded the boat with Jawan's posters. It was a big success."
And that's not all. He revealed, "Some special plans are being made. We'll unveil once it gets confirmed."
Two weeks ago, SRK Universe celebrated the 10th anniversary of Shah Rukh Khan's blockbuster Chennai Express (2013). Yash Paryani explained, "We held Chennai Express's screening in 55 cities. It was a promotional activity as the film had a connection with Jawan. Just like Jawan, Chennai Express also had a South angle and featured Priyamani. We played Jawan's Prevue before the film. The reaction videos went viral."
'Jawan' is a Red Chillies Entertainment presentation directed by Atlee, produced by Gauri Khan, and co-produced by Gaurav Verma. The film will be released worldwide in theatres on September 7th, 2023, in Hindi, Tamil, and Telugu languages.