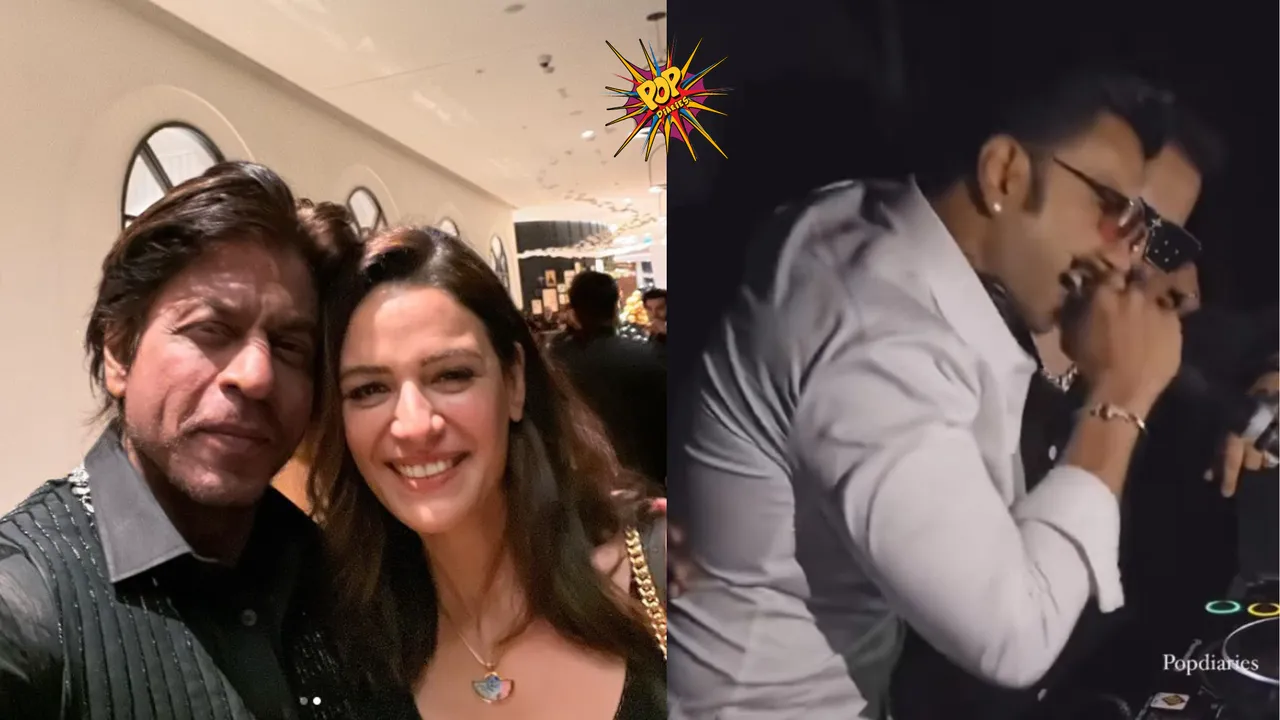 As the clock struck midnight on November 2nd, as always the atmosphere around Mannat was electric! Shah Rukh Khan reciprocated their love with warm hugs and kisses to the fans gathered outside Mannat. In the afternoon, a grand meet-up with dedicated SRKians ensued, creating memories that would be cherished forever. Later, as dusk fell, he reappeared at his balcony, waving and acknowledging the roaring crowd. As the night descended, the superstar concluded his auspicious day in the company of close friends and colleagues, hosting a glitzy party that added the perfect finale to the celebration! 
From the vibrant party, a flurry of photos flooded social media, eagerly anticipated by fans craving a glimpse of their beloved birthday boy, King Khan. Their wishes were granted, all thanks to Mona Singh. The actress shared a adorable selfie with SRK, expressing her gratitude, "Overwhelmed with the LOVE you showered on me, I love u bas ❤️❤️ happy birthday @iamsrk." In the image, Shah Rukh Khan looked dashing in a sharp black suit, captivating our attention effortlessly and of course, his charisma knows no bounds! (ALSO CHECKOUT: SEE INSIDE PICS: Glitzy Shah Rukh Khan 58th Birthday Bash Attended By Deepika, Ranveer, Alia, Kareena & Others)
SEE PHOTOS:
ALSO READ: Happy Birthday, Shah Rukh Khan: A Journey From Ignorance, Criticism To Now Being An Only Actor With Two 1000 Crore Films, An Unstoppable King!
Another clip that took social media by storm was the video featuring Ranveer Singh, who turned into the role of DJ for the night, infusing the party with his unparalleled energy. 
SEE VIDEO: 
ALSO CHECKOUT: All About SRK's Night Birthday Bash Outside Mannat: "It's unbelievable," His Love & Care For His Fans Is Never Ending!
Meanwhile, Shah Rukh Khan's much-awaited Dunki's Drop 1 was finally out on his birthday adding an extra special treat for his admirers. Directed by the one and only Rajkumar Hirani, also stars Taapsee Pannu, Vicky Kaushal, Booman Irani, Vikram Kochhar, Anil Grover and others in pivotal roles. Hitting screens on 22nd December 2023. Anticipating a hattrick of the year for SRK, after two consecutive hits with 'Pathaan' and 'Jawan' making him "The only Indian to have two 1000 crores films in a single year".
ALSO CHECKOUT: King's 58th: Heartfelt Birthday Wishes Pour In From Atlee, Kajol, Kamal Haasan, Saira Banu & Farah Khan For Beloved Shah Rukh Khan!