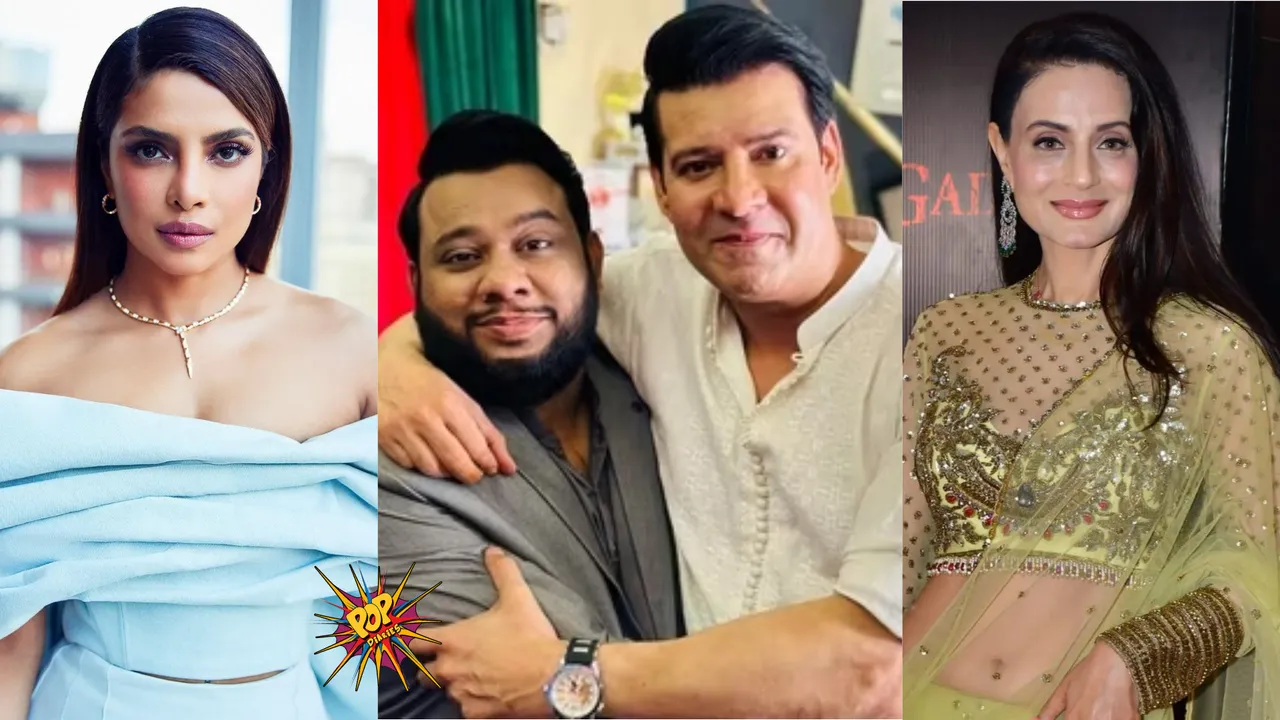 Pakistani YouTuber Nadir Ali's latest guest on his podcast show was Pakistani actor and director Moammar Rana. And the netizens caught both of them making derogatory comments about Indian actresses Priyanka Chopra and Ameesha Patel comparing them in a very bad way. 
On Tuesday, the YouTuber released a podcast video in which Nadir asked the actor to name a film personality who looked 'Bhayanak (ugly)' without makeup. He said he has met no one such in the Pakistani film industry but talked about Indian actresses. 
Recalling the time when he didn't recognise Priyanka Chopra, Moammar said, "This has happened to me… I was seated when a woman came and sat next to me and talked to Salman…I did not know what to do," and in between that the host interjection and claimed, "Maid hai ki kya hai (Was she a maid)?"
ALSO READ: Already Creating History! Shah Rukh Khan's Jawan To Release On World's Largest Screen!
Adding further he said, "He later asked me whether I recognised the woman… Salman told me that she was Priyanka Chopra…My crush died at that point," then Nadir went on to compare the actress to 'kala namak' (black salt). The Pakistani actor laughed and said, "I was like go to hell." 
Then Rana further claimed that actress Ameesha Patel was 'genuine and beautiful," While the YouTuber prodded the actor to describe the attributes that made the actress beautiful in her eyes and indicated the bust size of the actress with his hand actions Ali made a lewd suggestion saying, "Chehra kya dekhta ho, dil mein uttar kar dekho (Why do you keep looking at the face…Come and settle in my heart)." The actor giggled at the remark and said, "Should I tell everything here?" 
Watch Video Below:
MENTALLY OF COMMON PAKISTANI MEN.. convo made me so uncomfortable pic.twitter.com/Umawzay4Gd

— Pakiza Amir🦋 (@amir_pakiza) August 23, 2023
ALSO READ: Ayushmann Khurrana In 'Dream Girl' To Riteish Deshmukh In 'Apna Sapna Money Money': Bollywood Male Actors Who Nailed Full-fledged Women Look With Utter Excellence!
Backlashes Hits on YouTuber & Actor!
Soon after this went viral on social media, the netizens started slamming them both for their disturbing and disrespectful comments about the two prominent Bollywood actresses.
Shame on Nadir & Moammar Rana https://t.co/fiUtvGj430

— Ambreen Fatima (@AmbreenFatimaAA) August 24, 2023
ALSO CHECK OUT: Sunny Deol's Luxurious Properties Spread In Mumbai, Lonavala, Manali & United Kingdom! SEE PICS
Nadir Ali is so entitled man that he is not gonna look himself before calling Priyanka kaala namak

— freefolk (@buddha4westeros) August 24, 2023
Nadir Ali & his equally vile guest Moammar Rana made deeply offensive rac1st & elitist comments on Priyanka Chopra comparing her to a 'maid' owing to her complexion. Domestic workers are beautiful, Ms. Chopra is an achiever but the minds of these 2 failed men are HORRIBLY UGLY pic.twitter.com/7tZNUmdOHO

— Muneeb Qadir (@muneebqadirmmq) August 24, 2023
ALSO READ: AI Imagines Of These Indian Heroes On The Moon, Makes Us Nostalgic And Proud Of ISRO & Chandrayaan-3!
Nadir Ali is a Pakistani YouTuber personality and comedian known for his work for channel P4Pakao, started it in the year 2016 and went on to become the first Pakistani to get over three million subscribers on YouTube. And Moammar Rana is an actor and director of Lollywood, who has also worked on the small screen in Pakistani soap operas and television serials.