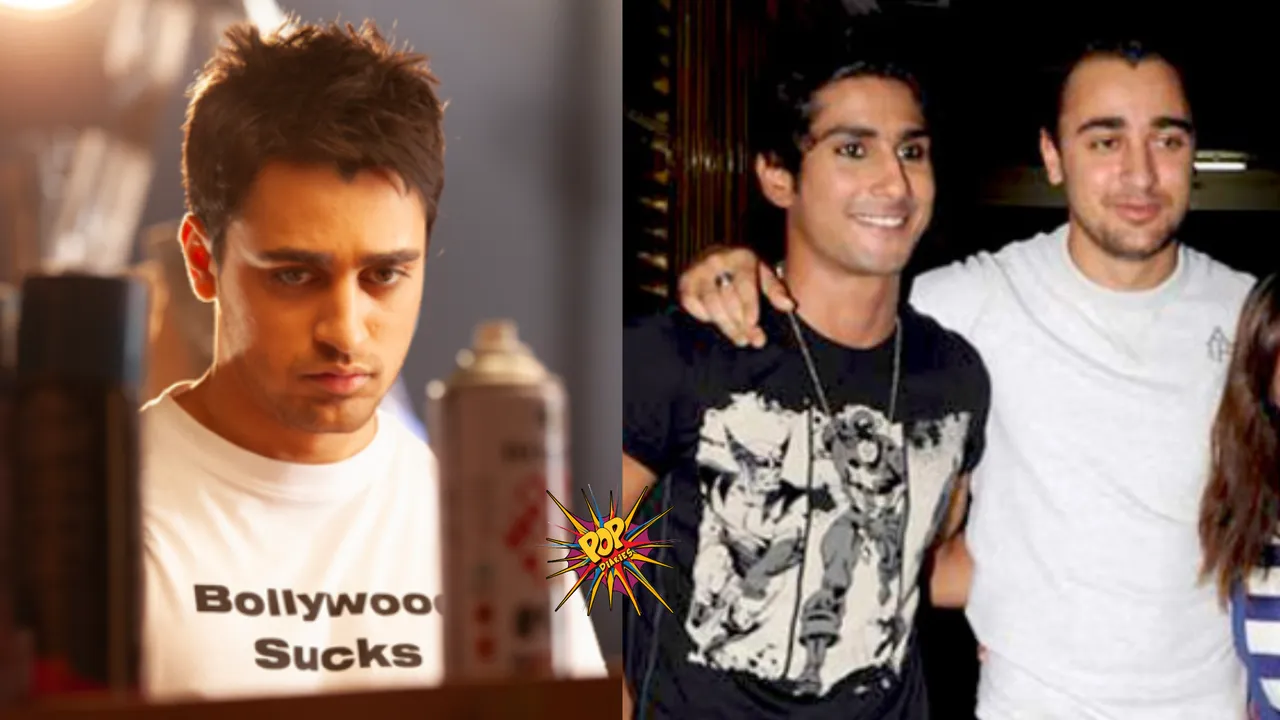 Imran Khan is one of the core heartthrobs of many and the actor who won hearts with his natural and charming acting skills. But he left everyone saddened when he never returned after his last 2015 film 'Katti Batti'. Also, social media is always flooded with posts urging him for an acting comeback. 
Amidst this Imran Khan started being active on social media unlike ever before, indirectly spilling beans on his comeback and reminiscing about his beautiful hit movies' with throwback pictures and sharing several interesting facts behind it. From Luck, Break Ke Baad, Delhi Belly, Mere Brother Ki Dulhan, Ek Main Aur Ek Tu to now sharing photos from the sets of 'I Hate Love Storys'.
The throwback pictures feature Imran himself with co-star Sonam Kapoor and director Punit Malhotra. Captioning the post revealing on the reason behind the butchered spelling of the title, also talking about the filmmaker and co-star.
ALSO SEE VIDEO: Rajinikanth Starrer 'Jailer' Producer Kalanithi Maaran Gifts 300+ Gold Coins To Crew Members
He wrote, "I Hate Luv Storys; First, let's address the spelling of the title, which always made me feel like I was wearing my shoes on the wrong feet. The orthographic butchery was done in service of numerology, which I personally never bought into, but here we are 13 years later still talking about the film's popularity, so... what do I know.
What can I tell you about making this film; I instantly hit it off with @punitdmalhotra and we quickly developed a great working relationship. The energy was amazing, and since we were telling a story about the movie business, there was an extra twinkle in everyone's eyes, and we always cracked up while filming scenes that we knew were based on reality... everybody knows the famous director who inspired the scene where @samirsoni123 punishes his ADs like a schoolteacher, or @aamirali 's movie star who needs massive cue cards for his lines! And the ethereal @sonamkapoor as my costar... as you can imagine, it wasn't much of a challenge to spend those months staring admiringly at her, playing the part of a guy falling in love.
I have so many pictures from the shoot of this film, it was hard to choose just a few... but it's still plain to see how much fun we all had."
See post:
ALSO READ: Sunny Deol Opens On Hiking His Fees To Rs 50 cr, "Paise kya lene…" & Fight With Shah Rukh Khan Calls "It was bachpana"
As always, soon the comments were filled with all the urge messages for his comeback and also the actor interacting with them. When a fan asked, "What's making you go back in time and post throwbacks?? Are you missing working or missing the old times?" he replied saying, "check my highlight titled 'Perspectives'. I'm reconnecting with my films, and adjusting the way I feel about them."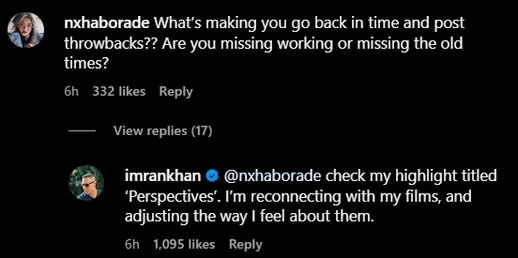 And the one who mentioned 'Bin Tere' song from the movie as 'The most heartbreaking gut wrenching tears inducing song' to which Khan shared the fact of himself suggesting the director to add it in the climax scene. He wrote, "that was always my favorite track from the album. In fact, I was the one who pushed Punit to use it during the climax, when J is running from the airport!".
ALSO Watch BTS Viral Video Of Shah Rukh Khan's Stunt For 'Jawan', Fans Lauds The Superstar
Another user mentioned that the film should've been 'more aware perspectives of men's feelings in cinema that don't negate them'. And the actor completely agreed with him and clarified saying how 'that sort of thing was far more common at that time, and I was not always successful.' 
Prateik Babbar Confirms Comeback Of Imran Khan?
Meanwhile, in the recent interview of actor Prateik Babbar who acted alongside Imran in the 2008 film 'Jaane Tu Ya… Jaane Na' and went opening up on the Luck actor's comeback.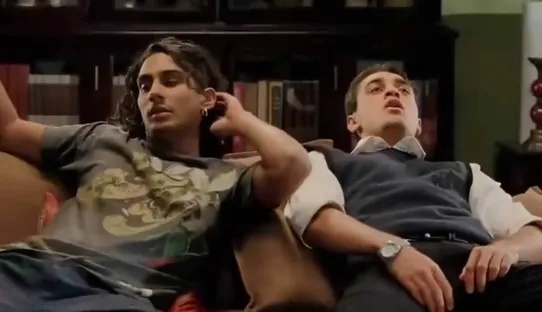 He said, "Yeah, of course, we spoke on the phone. It was good to hear his voice. Something is cooking. We all miss him. I had given up on him. But we spoke on the phone a week ago and I think something is cooking." 
Further, when he was asked what message he wanted to give his co-star, he said, "The country wants to see you back on the big screen but the ball is in your court."
Meanwhile, a few weeks ago reports came in that Imran Khan is making his comeback by donning the shoes of an intelligent officer with a web series that will also mark his OTT debut.
ALSO READ: Akshay Kumar, The Master Of All Genres, 5 Films That Prove His Versatility