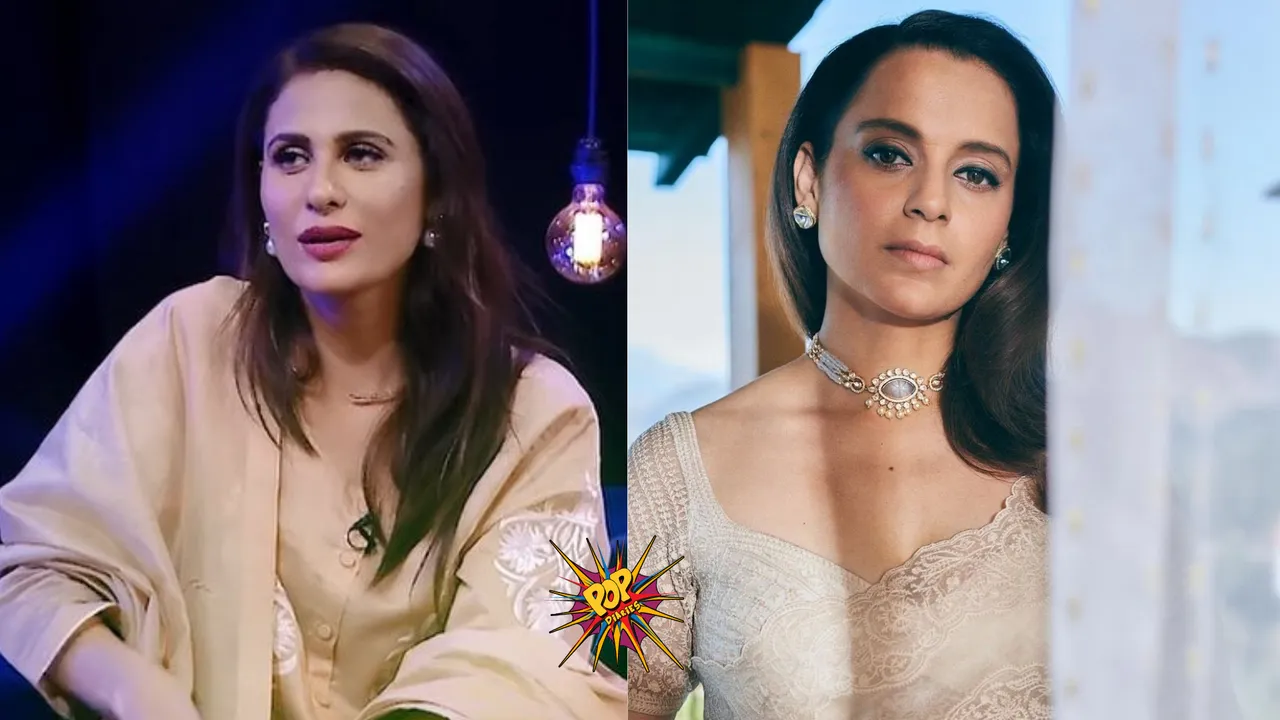 Not only within India, Bollywood actress Kangana Ranaut do not fail to talk about international matters too. Recently, a Pakistani actress Nausheen Shah expressed her desire to meet and slap her. Here's why: 
Bollywood actress Kangana Ranaut's popularity in talking about different matters and celebrities is widely known. Recently, a Pakistani actress Nausheen Shah appeared on the talk show 'Hadh Kar Di', in which she slammed the Indian actress.
Nausheen To Slap Kangana?
In the talk show, Nausheen was asked which Bollywood actress she wanted to meet and in reply, she said she really wants to meet Kangana Ranaut. 
She said, "The way she says sh** about my country, the way she says a lot of crap about the Pakistan army, I salute her audacity. She has no knowledge but talks about the country, that too someone else's country. Focus on your own country, focus on your acting… focus on your controversies and ex-boyfriends and whatnot."
ALSO WATCH Viral Video: Megastar Mammootty Waves At Fans Gathered On His 72nd Birthday And Social Media Flooded With Wishes!
Further questioning Ms Ranaut's knowledge, she added, "How do you know people are mistreated in Pakistan? How do you know about the Pakistan army? How do you know about our agencies? We ourselves don't know, the agencies are in our country, the army is our country's, they don't share these things with us. They're secrets are they not?'."
Praising the Bollywood actress at the end, the Pakistani actress said, "Brilliant actress. Beautiful, she's an extremely beautiful woman. But I'm sorry, when it comes to respecting other people and countries, very bad… she's an extremist."
ALSO READ: All About Shah Rukh Khan's 'Jawan' Dynamic Release: 'It will create NEW records' Netizens Review, FDFS Opening Madness, A 'Dahi Handi' Salute To Fans Arriving Theatres In Different Looks!
Meanwhile, on the professional front, Kangana Ranaut is gearing up for the release of her Tamil film 'Chandramukhi 2', which is set to release in theatres on September 19. She also has 'Tejas' and her solo directorial feature 'Emergency' in the pipeline.
ALSO READ:
ALSO READ: Shah Rukh Khan 'Thank each and every Fan Club', As SRKians Celebrates 'Jawan' At A Crazy Massive Scale!
ALSO READ: INDIAN-ORIGIN Presidents, Global Leaders To Top CEOs Who's Making Us Proud!