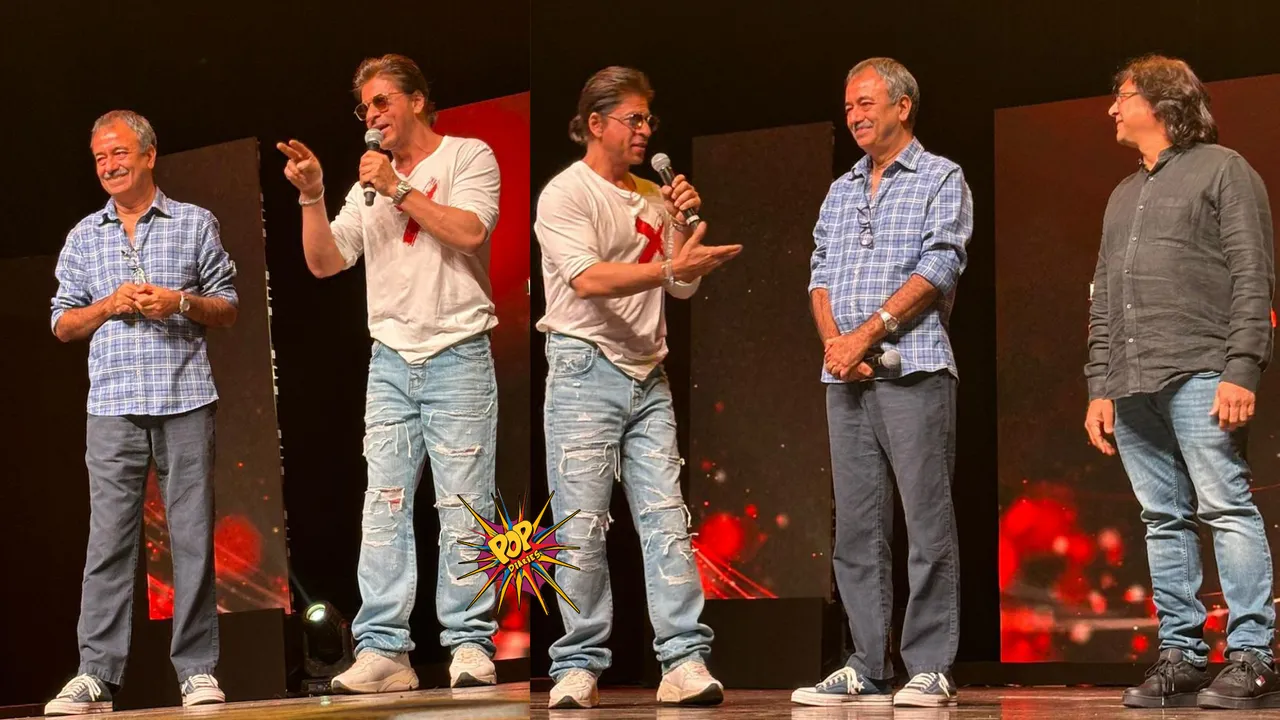 Presenting an absolutely heartwarming treat on the birthday of Shah Rukh Khan, the makers of Rajkumar Hirani's directorial Dunki released an immensely pleasing video unit titled, Dunki Drop 1. While the fans indeed were truly immersed in the sweet, loving, and endearing world of Dunki, the fan event held in Mumbai on the special occasion of King Khan's birthday witnessed the presence of the director Rajkumar Hirani writer Abhijat Joshi, Shah Rukh Khan with a crazy crowd of fans. 
The fan event went on to become more special as the director Rajkumar Hirani and Shah Rukh Khan were seen sharing special things about the film.  
ALSO CHECKOUT INSIDE PICS: Glitzy Shah Rukh Khan 58th Birthday Bash Attended By Deepika, Ranveer, Alia, Kareena & Others
Rajkumar Hirani on Dunki & SRK
Raju Hirani was overwhelmed by seeing the love of the fans for Shah Rukh. He said at the fan meet, "It's heartwarming to see so much affection. Looking at a full house of fans, Mr hirani joked…ye toh vaise hi houseful lag raha hai! (The film already seems to be houseful). Thank you so much for showering so much love on Shah Rukh and Dunki.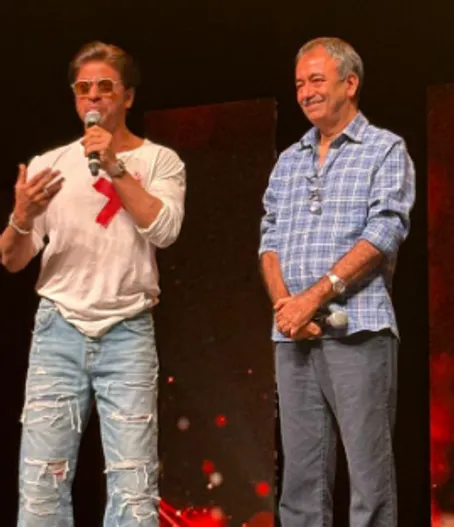 Rajkumar Hirani on noticing SRK first time in circus and wanting to work with him Since than
He also shared the first time that he thought about casting Shah Rukh in his movie. And, at the time, Hirani had not even become a film director. "I used to study at a film institute and I used to wonder, 'I am graduating from here, but who would work with me?' I used to look at big stars like Bachchan sahab and think, 'Why would a star like him work with me?' So, one day, in my hostel's TV room, I was watching Circus. In a particular scene, a young actor was performing at a platform. It was a big monologue. I thought, 'Who is this guy? This is so wonderful. He is not a big actor. I can take him in my film after I graduate,'" shared Hirani. However, i couldn't work with Shah Rukh after i graduated from the film institute. "It took me two years to graduate from the film institute and by that time SRK had become a big star! (ALSO READ: Happy Birthday, Shah Rukh Khan: A Journey From Ignorance, Criticism To Now Being An Only Actor With Two 1000 Crore Films, An Unstoppable King!)
Shah Rukh Khan on Rajkumar Hirani and him finally getting together for Dunki, "So, when he narrated Dunki, I caught him in the Covid-19 bubble and told him not to go away this time!"
SRK who stood beside him on the stage, joked how he was unaware of how big a filmmaker he was. Recalling the times when he was offered Munna Bhai MBBS and 3 Idiots, Shah Rukh Khan shared, when Raju was narrating Munna Bhai to me, I thought, 'naya director hai kar hi lega agar main bolunga 6-8 mahine baad karenge (He is a new director, he will agree if I will tell him that I will do it after 6-8 months). So, I told him I would do it after 9 months. But he went away. Then when he came for 3 Idiots, I again thought, how big he would have become. Then again he went away. That is when I decided ki ab chance nahi lena. So, when he narrated Dunki, I caught him in the Covid-19 bubble and told him not to go away this time!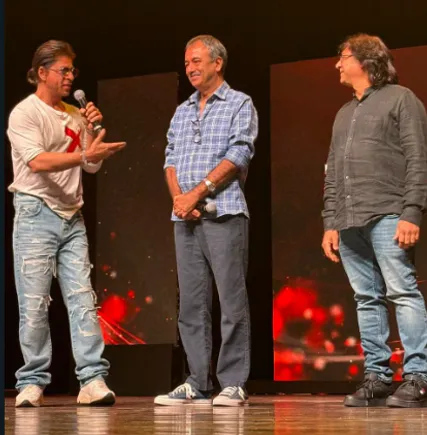 We became so big for each other that it took us some time to come together. So, during the COVID-19 pandemic, I caught him in the bubble and said, 'Please don't go away this time, make this film ('Dunki') with me'. I didn't even let Raju meet other heroes, SRK said jokingly. I'm still not allowing him, you never know he might add someone in a guest appearance! (ALSO CHECKOUT: All About SRK's Night Birthday Bash Outside Mannat: "It's unbelievable," His Love & Care For His Fans Is Never Ending!)
Shah Rukh Khan on Dunki at the fan event!
After working on Dunki for 2-2.5 years, we are excited to share the first glimpse, or "drop 1 ," with you all. We will continue to share glimpses of the film, as we are now cool enough to call them "drops." Srk joked about using the new terminology. So, Dunki Drop 1 has arrived, and there's more to come.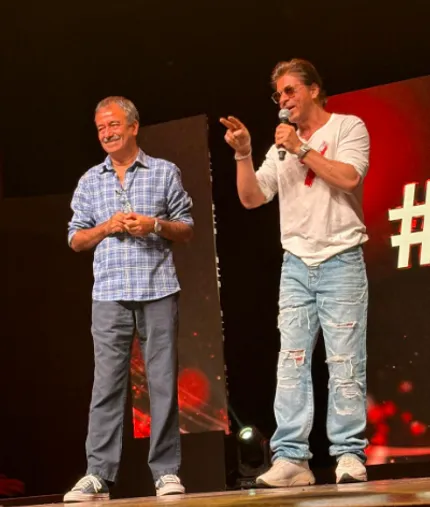 SRK said, "It is meant to be more entertaining than Pathaan and Jawan, with a simplicity that captures the heart"
Talking more about the film, SRK said, Dunki is a film that speaks volumes. It is meant to be more entertaining than Pathaan and Jawan, with a simplicity that captures the heart. While the drop  1 intentionally doesn't revealed much, we have Drop 2 and Drop 3 coming soon to introduce what I am doing in the film, as well as Taapsee's role.
"His (Rajkumar Hirani) films are unique in that the story takes the lead", says SRK
Adding further, SRK said, Working with Raju sir (Rajkumar Hirani) has been a wonderful experience. His films are unique in that the story takes the lead, rather than any particular actor. Of course, in Dunki I will bring dance, romance, and song to the screen. It's been years since I've had the opportunity to romance in a film, and the romance in Dunki is truly beautiful. (ALSO CHECKOUT: King's 58th: Heartfelt Birthday Wishes Pour In From Atlee, Kajol, Kamal Haasan, Saira Banu & Farah Khan For Beloved Shah Rukh Khan!)
A JIO Studios, Red Chillies Entertainment and Rajkumar Hirani Films presentation, produced by Rajkumar Hirani and Gauri Khan. Written by Abhijat Joshi, Rajkumar Hirani and Kanika Dhillon, Dunki is slated to release this December 2023.