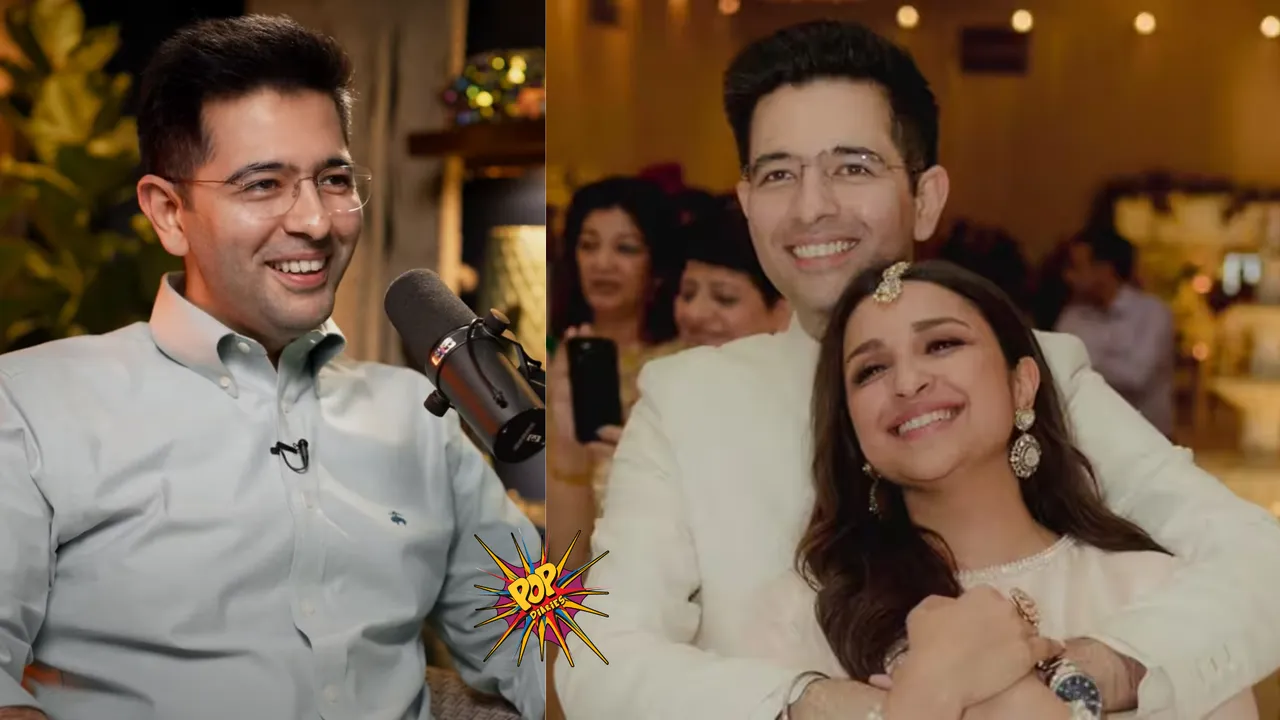 For a few days now, the wedding reception invitation for the much-awaited marriage of Bollywood actress Parineeti Chopra and Aam Aadmi Party leader Raghav Chadha has been doing rounds on the internet amidst netizens anticipating their bigger day's details ever since the couple got engaged with the month of May in Delhi's Kapurthala House.
After everything was official, Pari's old interview video surfaced on the internet in which she says that she does not want to marry a politician but destiny indeed had the same plans, showering all the love and blessings with life partner Raghav Chadha. 
Raghav & Pari's first meet was magical
Sharing how the first meet was, in the recent interview with YouTuber Ranveer Allahbadia the political leader opened up saying how magical it was meeting his fiancee. Mr Chadha said, "Hum jaise bhi mile (However we met), it was very magical and a very organic way of meeting. It is something that I thank god every day for, for giving me Parineeti in my life… Bahut badi blessing hai (It's a huge blessing) and I am extremely happy that I have her as my partner. As I said, I thank god every single day for giving her to me."
ALSO WATCH Viral Video: Megastar Mammootty Waves At Fans Gathered On His 72nd Birthday And Social Media Flooded With Wishes!
Talking about wedding plans?
Further talking about wedding plans, he simply said, "Main desh se zyada khush hoon (I am happier than the country)."
As per the reports, Parineeti Chopra and Raghav Chadha will tie the knot later this month on September 23 in the beautiful city of Udaipur, Rajasthan and the wedding festivities will begin on September 17. 
Also, a wedding reception card shared by a popular Bollywood photographer DOP lensman Pradeep on social media, read, "Alka & Sunil Chadha invite you for the reception lunch of their son Raghav And Parineeti, daughter of Reena & Pawan Chopra on 30th September 2023. TAJ Chandigarh." It features a rose-gold-coloured motif design on a white background and it looks simple yet classy. 
Have a look:
ALSO READ: All About Shah Rukh Khan's 'Jawan' Dynamic Release: 'It will create NEW records' Netizens Review, FDFS Opening Madness, A 'Dahi Handi' Salute To Fans Arriving Theatres In Different Looks!
While this grand Punjabi wedding is near, the soon-to-be-married pair has visited the Golden Temple in Amritsar and was also spotted offering prayers at the Mahakaleshwar Temple in Ujjain.
ALSO READ:
ALSO READ: Shah Rukh Khan 'Thank each and every Fan Club', As SRKians Celebrates 'Jawan' At A Crazy Massive Scale!
ALSO READ: INDIAN-ORIGIN Presidents, Global Leaders To Top CEOs Who's Making Us Proud!