BTS's Jungkook And Suga's 7 Fates: CHAKHO" OST has broken the record and it's so fascinating.
On 11th February at 2 p.m. KST, Jungkook and Suga released OST "Stay Alive" for  BTS's original webtoon and web novel "7 Fates: CHAKHO." Both of them, brought heaven down with their promising new masterpiece "Stay Alive."
7Fates: CHAKHO 7 is an urban fantasy story inspired by the tiger hunters of the Joseon Dynasty.  South Korea was once home to a high population of Siberian tigers, to the point of being overrun. Tiger attacks became so common that in 1421, King Sejong introduced Chakhogapsa, the tiger hunters. The Chakhogapsa were specially appointed soldiers who had proved their hunting abilities, including the accuracy of hitting targets while riding horses.
7Fates: CHAKHO takes place in a city soon. Its plot will draw on old stories about the tiger hunters while creating a brand new story for readers to enjoy. Much like Save Me, 7Fates: CHAKHO follows seven boys, the tiger-hunting CHAKHO, whose destinies are intertwined. Together, the CHAKHO face trials and tribulations while taking down the "Beom."
Within just three hours of its release, "Stay Alive" had already shot to the top of iTunes Top Songs charts in 51 different regions around the world, and within six hours, it had become the fastest song by any Korean soloist in history to hit No. 1 in 80 different regions.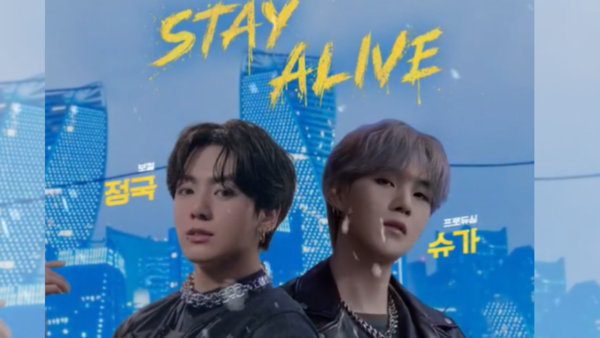 As of 4 a.m. KST on 12th February just 14 hours after its release" Stay Alive" had gone on to reach No. 1 on iTunes Top Songs charts in at least 93 regions across the globe.
Additionally, "Stay Alive" has set a new record for the fastest song by a Korean soloist to sweep the No. 1 spot on iTunes Top Songs charts in all eight of the biggest music markets in the world: the United States, the United Kingdom, Japan, France, Canada, Australia, the Netherlands, and Germany.
Congratulations to both Jungkook and Suga on their historic achievements!