BTS's Jungkook and Suga has brought heaven down with their promising new masterpiece "Stay Alive."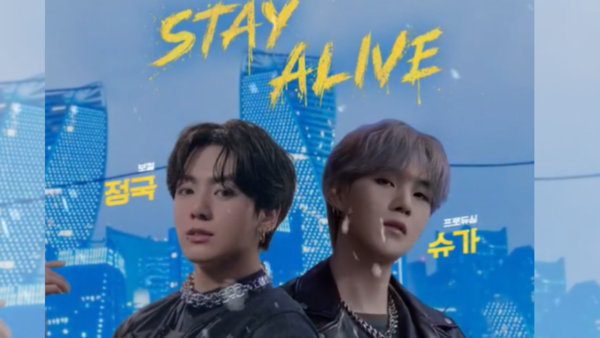 Recently BTS released the OST "Stay Alive" for their upcoming webtoon 7 FATES Chakho which is just filled with magic.
The soundtrack is produced by Suga and performed by Jungkook. Both of their combinations created a magical experience. Jungkooks soft, claiming, relaxing, and healing voice is just breathtaking.
The song was partially revealed on February 4, along with Episode Four of 7FATES: CHAKHO, exclusively via digital comics platform WEBTOON. This marks the first time WEBTOON uses an OST as background music in global releases of all 10 languages.
"Stay Alive (Prod. SUGA of BTS)" is a pop ballad that exudes dreamy, sublime energy that complements the storyline and atmosphere of the urban fantasy story that portrays confrontations between humans and the Beom tribe in a corrupt world. BTS' SUGA took on the role of producer of the song while Jung Kook's soulful vocals capture the essence of the story's characters and narrative.
The title, "Stay Alive," is a nod to the characters in the story as they try to survive in a vicious world. The lyrics explore an isolated boy's earnest heart and message to himself and friends he meets in that vicious world.
The track was initially previewed by Webtoon alongside the premier of 4th Ep.
The vocal, the beat, the flow, the lyrics and the meaning behind the song are just amazing. They are just like taking us to paradise. ARMY got crazy over the song and here their craziest reactions.
7Fates: CHAKHO 7 is an urban fantasy story inspired by the tiger hunters of the Joseon Dynasty.  South Korea was once home to a high population of Siberian tigers, to the point of being overrun. Tiger attacks became so common that in 1421, King Sejong introduced Chakhogapsa, the tiger hunters. The Chakhogapsa were specially appointed soldiers who had proved their hunting abilities, including the accuracy of hitting targets while riding horses.
7Fates: CHAKHO takes place in a city soon. Its plot will draw on old stories about the tiger hunters while creating a brand new story for readers to enjoy. Much like Save Me, 7Fates: CHAKHO follows seven boys, the tiger-hunting CHAKHO, whose destinies are intertwined. Together, the CHAKHO face trials and tribulations while taking down the "Beom."