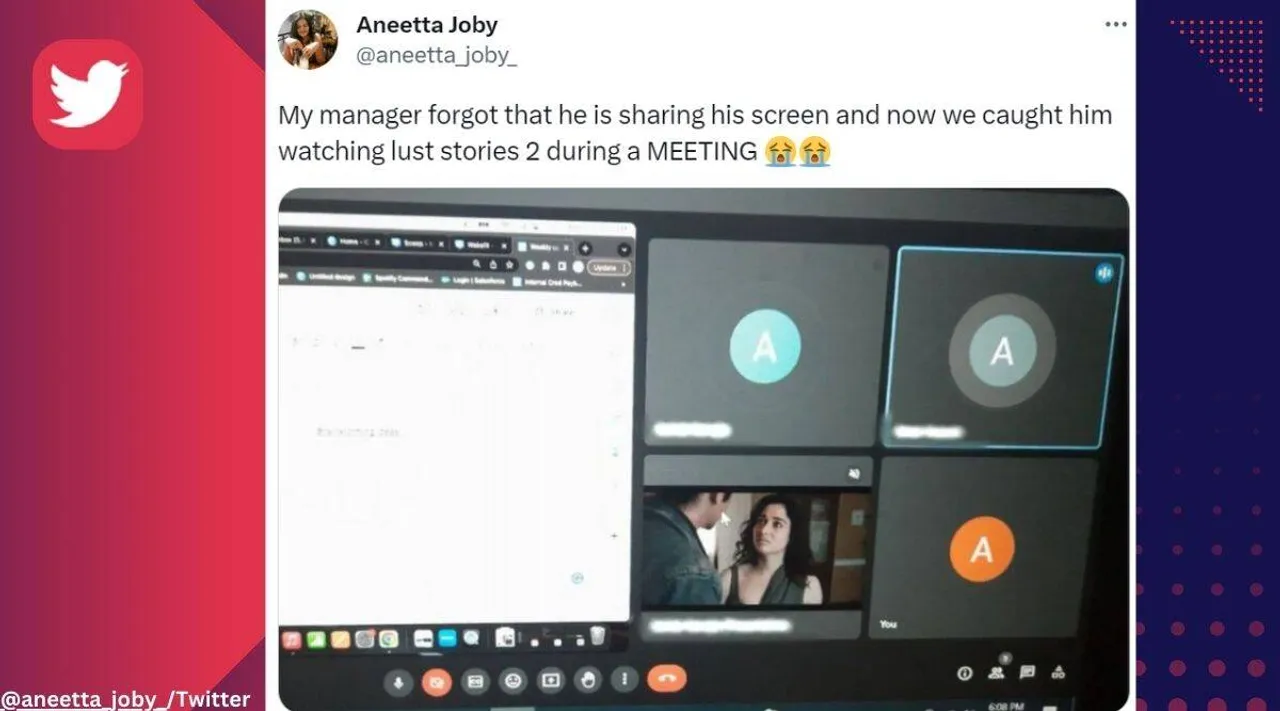 Eversince the pandemic has hit virtual meeting has become a daily part of our professional life. Our home has become a part of our worklife. From working online to attending important meeting everything with a one switch has become digital. From past three years the work culture has completely changed and people are adjusting and moving with these new changes.  But there is always a fear of oversharing the person life and enviornment. People have been in the situation where their personal space have been exposed to others. There are many stories and news where people have experienced such situation. There are many meme and joke on social media about the virtual meeting scandals. Recently social media is buzzing with the news of virtual meeting scandal. An employee shared the screenshot of her manager getting caught while watching a movie during a meeting.  Recently a twitter handle named @aneeta_joby_ shared a screenshot of her manager watching Lust Stories 2 while attending a google meet. The manager had accidently forget that he was sharing the screen with his employees. These news has been buzzing on socila media and it became viral. This incident has brought back the jokes and meme related to virual meetings. People are enjoying and sharing this screenshot all over the social media. Some people are in disbelief  that he actually did while some are apperciating the man and calling him "a man of culture". Well such funny and commedy incidents spreads like widfire on social media and this incident somehow gave limelight to Lust Stories2. 
The question of security and privacy rises with the incident.
This viral news has again raised the question of security and privacy. Some poeple on social media have raised the question about it. Many people feel that the employee should have not posted about these matter on social media. They feel his personal space has been intervene and exposed on social  media. The major concern that has always occured during these virtual meet's are the intervene in people's personal space.  It raises the importance of improving the security level of such app's and it is also people's responsibility to become more responsbile and alert towards such situation.